Shopping Cart
Your Cart is Empty
There was an error with PayPal
Click here to try again
Thank you for your business!
You should be receiving an order confirmation from Paypal shortly.
Exit Shopping Cart
The New Millennial Gay Experience
Being gay in our emerging new world
By Andy Nemec
The Greenwich Village district of New York City had, since the 1950s, been home to artists, poets and musicians along with a comparatively large LGBT population. It drew gay people, particularly young gay people, from all over the country. Many of these young people had been rejected by their families, their communities and by society in general. Some arrived with little more than the shirts on their backs and few, if an...
Read Full Post »
By Andy Nemec
This year marks the 44th anniversary of the Stonewall Riots. We're taking a look back at not only the event itself, but some of what came before it, and what happened afterward. It is perhaps one of the most significant events in gay history and deserves a good look. After all, things don't happen in a vacuum, and to understand why Stonewall happened we have to look at what came before it. To understand the impact it had...
Read Full Post »
By John
With the rapid, sometimes dizzying, forward momentum on same-sex marriage in recent times, it's easy to forget that the fight for marriage equality dates back over 40 years. What follows are some of the highlights and lowlights of that battle.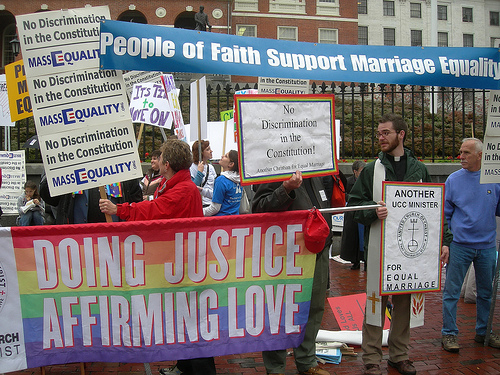 P...
Read Full Post »
By Andy Nemec

 

Virtually everyone who is gay knows that June is Pride month. It's the month that we celebrate who we are, let the world know that we're here for the long haul and how far we've come. But how did Pride month come to be?

...
Read Full Post »
By Dennis Stone
Most people know that the Nazis persecuted gay people as part of their attempt to purify the German people. They sent between 5000 and 15,000 to concentration camps wearing the infamous pink triangle. As part of their hopes to cure homosexuality the Nazis performed various tests and procedures on the prisoners, often with horrific results, including castration.
Read Full Post »
By Andy Nemec
How did we come to call ourselves "Gay"?
Interesting question, isn't it? Those of us who know we're gay in the modern age don't give much thought to why we say "Hey, I'm gay!" The names we are known by are important to a lot of people, particularly those of us in a minority group. It's part of our identity and culture. However, we might not give too much thoug...
Read Full Post »
By Dennis Stone
The establishment of PFLAG – Parents, Family and Friends Of Lesbians and Gays – was one of the most important events in our decades long battle for acceptance and rights. Think of what it was like for a young person in those days to realize he was gay. Religion said he was going to hell, psychology told him he was sick, society as a whole never talked about the subject, unless it was to talk about ̶...
Read Full Post »
/