Shopping Cart
Your Cart is Empty
There was an error with PayPal
Click here to try again
Thank you for your business!
You should be receiving an order confirmation from Paypal shortly.
Exit Shopping Cart
The New Millennial Gay Experience
Being gay in our emerging new world
| | |
| --- | --- |
| Posted on June 18, 2013 at 12:40 AM | |
By Dennis Stone
The establishment of PFLAG – Parents, Family and Friends Of Lesbians and Gays – was one of the most important events in our decades long battle for acceptance and rights. Think of what it was like for a young person in those days to realize he was gay. Religion said he was going to hell, psychology told him he was sick, society as a whole never talked about the subject, unless it was to talk about "perverts". There was no one or no institution to look to for support. Imagine that scenario for a minute.
In 1972, Jeanne Manford's son Morty was beaten while handing out gay rights flyers in New York. The police appeared to do nothing, and the New York Times hung up on her when she tried to complain to them. The New York Post published her letter, which included the lines "My son is a homosexual, and I love him." A floodgate of response opened up, from gay people and parents alike.
In June of that year Manford marched with her son in the Christopher Street Liberation Day March, the precursor of today's Pride marches. She hand-lettered a sign which read "PARENTS OF GAYS: UNITE IN SUPPORT FOR OUR CHILDREN". (You can see Jeanne and Morty in the accompanying photo.) Again, the response was electric, with the crowd wildly cheering for her. She thought they were cheering for Dr. Benjamin Spock, who was behind her.
As a result of the response, she and her son decided that a support group was needed. And so they started one, which first met in 1973. The movement grew throughout the country and then the world, and there are now 350 chapters. In the early days PFLAG gave parents a resource, and it gave gay people the knowledge that they weren't alone, and families could indeed be there for them. Beyond that, it made society as a whole look a lot closer at the issue. These weren't dangerous perverts out to corrupt society and rape their sons. They were someone's children, and they were loved by their parents and their friends. The path toward acceptance and understanding was laid.
Jeanne Manford, one of our heroes, died this past January at the age of 92.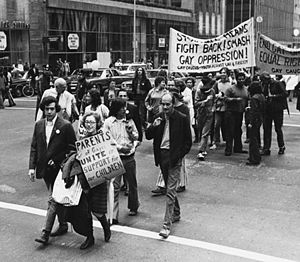 Categories: History Lessons
/