Shopping Cart
Your Cart is Empty
There was an error with PayPal
Click here to try again
Thank you for your business!
You should be receiving an order confirmation from Paypal shortly.
Exit Shopping Cart
The New Millennial Gay Experience
Being gay in our emerging new world
| | |
| --- | --- |
| Posted on June 24, 2013 at 11:05 AM | |
By Andy Nemec
Virtually everyone who is gay knows that June is Pride month. It's the month that we celebrate who we are, let the world know that we're here for the long haul and how far we've come. But how did Pride month come to be?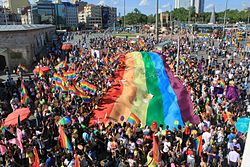 To understand why Pride month came to be, one first has to understand the atmosphere, living conditions and ostracization that LGBT people endured in the 1950s and 1960s. The American Psychological Association still regarded homosexuality as a mental illness – we weren't merely different, we were considered dangerous. Rather than "Don't Ask, Don't Tell" being repealed, saying that you were gay could get you booted out of the Armed Forces. The general public was convinced that you were a "pervert," and treated you accordingly. In many places it was illegal to have same-sex sexual relations. If you were gay, lesbian, bisexual or transgendered and wanted to succeed in the world, you hid it. The only time you expressed who you truly were was in a safe place – a gay bar, a friend's home, etc.
Prior to 1969 there were few organizations promoting gay rights. Those organizations worked to normalize homosexuality by putting on polite demonstrations featuring well-dressed people marching while holding signs. Such organizations had names that were obscure (e.g., the Mattachine Society and the Daughters of Bilitis), and their purpose and mission were not readily discernible at first glance. While they were making painfully slow progress, gay people were still victims – and lived the part. Others withi ranks knew the sting of discrimination and felt that in order to truly make progress, we had to be more vocal and less passive when it came to getting our rights.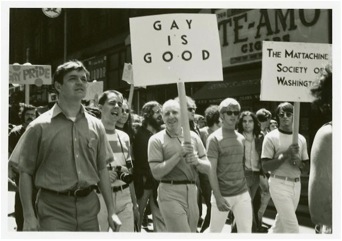 Mattachine co-founder Frank Kameny is in the middle with the sign.
The opportunity to speak out in a more assertive way presented itself in the form of a conflict at a tavern in June of 1969. The Stonewall Inn, located on Christopher Street in Greenwich Village, was a magnet for various LGBT people. It was one of the most prominent gay bars in New York City at the time. Run by organized crime, it was officially known as a private club and for a time, was not shut down by the police simply because they were paid off. Police had been in the business of shutting down such places in the 1960s, spurred on by politicians' belief that such places were full of immorality, perversion and generally undesirable characters.
On June 28th, 1969 the New York City police finally raided the Stonewall Inn. But something unusual happened in those early morning hours. In past raids at other such clubs, people stood passively and didn't offer much resistance. This night would be different – the crowd did not acquiesce, it fought back against what was characterized as brutal mistreatment. At one point NYPD officers were trapped inside the tavern. This marked the start of the famous "Stonewall Riots" of 1969. Over the course of the following three nights, there were varying levels of civil disobedience and vandalism.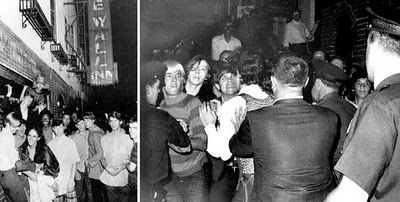 While gay people were previously calm and cool in what amounted to requests for equal rights and humane treatment, we now were demanding such. New organizations such as The Gay Liberation Front and The Gay Activists Alliance were formed. A new kind of more radical gay activism was just getting started.
Fast forward one year. "Christopher Street Liberation Day" was observed in New York City, named for that street in Greenwich Village on which the Stonewall Inn was located. It started with a march from Christopher Street to Central Park. Other cities held simultaneous marches. The following year, it expanded to include still more cities.
Brenda Howard, a bisexual woman, was the one person credited with the renaming of "Christopher Street Liberation Day" to "Pride" and is now known as "The Mother of Pride." She, along with Robert A. Martin and L. Craig Schoonmaker, popularized the usage of the word "Pride" and promoted it. Since then, we've seen presidents, governors and mayors proclaim June as Pride Month.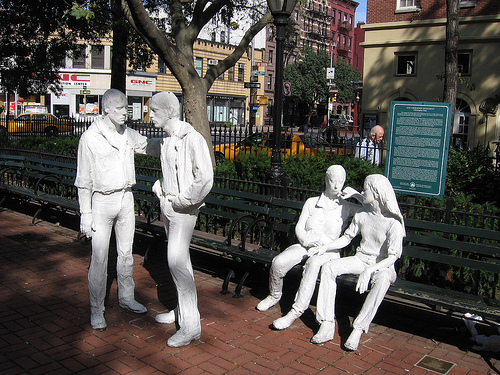 Photo:  "Stonewall Statues" by Mechanicat via Flickr Creative Commons.  License:  http://creativecommons.org/licenses/by-nc/2.0/
Not that it's been smooth sailing since then, for us and for Pride events held around the country. Some question the relevancy of Pride parades and celebrations and are embarrassed by the displays seen there, calling them overly sexual in nature for a public event. Still others don't see how such displays advance their cause of "gay assimilation."
In light of this, it may be prudent to remember what Pride is all about – celebrating the birth of the more radical side of the gay rights movement, and the impact it had. If a bunch of people had not stood up and demanded that they have a "place at the table," we would have no gay rights movement. Without the gay rights movement, we would not have seen the repeal of DADT, no hope to see marriage equality, and no way of obtaining equal rights in so many other areas of our lives. And forget about assimilation – if people had not stood up and confronted the status quo, we would never have gotten the message out that we are worthy of assimilation.
In the end, Pride month, Pride parades and Pride festivals are all a remembrance and a celebration of the day a group of LGBT people had enough, and decided to fight back.
If you'd like to learn more about the Stonewall Inn riots and the early gay-rights movement, look for our coming series in the Gay History Lessons.
Categories: History Lessons
/