Shopping Cart
Your Cart is Empty
There was an error with PayPal
Click here to try again
Thank you for your business!
You should be receiving an order confirmation from Paypal shortly.
Exit Shopping Cart
The New Millennial Gay Experience
Being gay in our emerging new world
| | |
| --- | --- |
| Posted on June 28, 2013 at 11:45 PM | |
By Andy Nemec
This year marks the 44th anniversary of the Stonewall Riots. We're taking a look back at not only the event itself, but some of what came before it, and what happened afterward. It is perhaps one of the most significant events in gay history and deserves a good look. After all, things don't happen in a vacuum, and to understand why Stonewall happened we have to look at what came before it. To understand the impact it had, we'll explore what came after it.
It's been said that Stonewall marked the beginning of the gay rights movement. That's not entirely correct – it actually marked the beginning of a more assertive and even militant gay rights movement, as opposed to the one with a slightly different focus that had existed much longer. The Gay Liberation Front was one of the more militant gay rights organizations to emerge after the Stonewall Riots, and is well remembered. However, there were many predecessor organizations that were involved in what was previously called the "Homosexual Emancipation" and "homophile" movement, as well as several individuals.
One of the first such American organizations that we know much about was the Society of Human Rights, founded in 1924 by Henry Gerber in Chicago. Not only did Gerber document the founding and history of the organization, but he also wrote about homosexuality in a self-published periodical.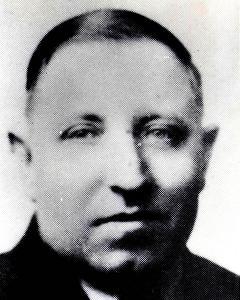 Henry Gerber - founder of Society of Human Rights
The wording of the organization's charter was interesting and reflective of the era: "To promote and protect the interests of people who by reason of mental and physical abnormalities are abused and hindered in the pursuit of which is guaranteed them by the Declaration of Independence, and combat the public prejudices against them by dissemination of facts according to modern science among intellectuals of the mature age. The Society stands only for law and order; it is in harmony with any and all general laws insofar as they protect the rights of others, and does in no manner recommend any acts in violation of present laws nor advocate any manner inimical to the public welfare."
While the Society of Human Rights had a name that didn't seem like it, it was truly an early "homophile" organization. Gerber was on the 7-member board that operated the organization. In spite of his noble goals, he had a great deal of difficulty enlisting members, let alone getting anyone to bankroll the organization. The organization suffered an untimely demise, dissolving in 1925 after a corrupt Chicago police department levied trumped-up charges against Gerber and two other board members for operating a "Strange Sex Cult," as sensationally reported by a Chicago newspaper.
This did not spell the end of Gerber's activism. He continued to write articles in defense of homosexuality under various pen names. He then re-enlisted in the army, was honorably discharged in 1945, and continued his writing and work on behalf of the homophile movement well into the 1950s. He died on December 31, 1972.
Henry "Harry" Hay was the man who was primarily responsible for the founding of the Mattachine Society. The idea first came to him in 1948 in Los Angeles, but it took two years of careful persuasion of friends, associates, ministers and psychologists to get it off the ground. Hay's primary reason for the formation of the society was a fear that Senator Joe McCarthy would make homosexuals his next target, the next scapegoat. McCarthy had already gone after the Communists. Other minorities were well-organized in their own defense, so Hay felt that gays would be in his sights next. He was especially sensitive to the anti-communist witch hunt; he was a member of the Communist Party, USA. This membership in the Communist Party was the subject of much controversy and eventually led to his resignation from the society that he founded. He remained active in gay rights causes for quite some time in spite of being disillusioned with the politics of the movement.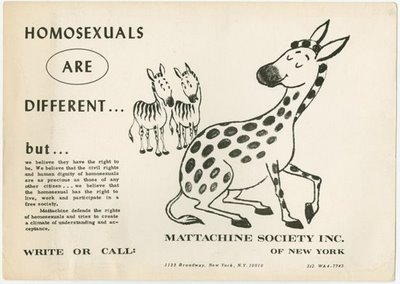 The society did not assume the name of Mattachine until 1951. The name refers to medieval French secret societies of unmarried men who wore masks to insure their anonymity when performing publicly, often in performances that were critical of the ruling classes of the time. Secrecy and anonymity were part and parcel to the group's formation and operation at first, and Hay saw a parallel with one of these secret societies, the Mattachine. Remember that at the time, same-sex encounters of a sexual nature were illegal and androgyny was at least frowned upon.
The Mattachine Society eventually got a bit bolder in its operation, pressuring politicians and exposing entrapment of and brutality toward gay people by the Los Angeles police department. What's significant about this is the framing: civil rights. It could boast that in its early years it had helped to free one of its founding members, Dale Jennings, an "admitted homosexual",from vagrancy and lewdness charges.
Hay stated that his original dream for the society was to "find ways to make our contributions to our parent hetero society. It would be upon such contributions that we would renegotiate the relationships of Gays to the hetero majority." After Hay left the society in 1953, it became less confrontational in nature and adopted a philosophy of legal change and "respectability." Membership dropped, and eventually the Los Angeles Mattachine Society closed in 1961.
Hay himself had an on-and-off relationship with gay rights activism and was later responsible for, among other things, the formation of the Los Angeles chapter of the Gay Liberation Front and served as its first chair. He died at age 90 in 2002.
Some early members of the Mattachine Society were also involved in another gay rights organization, ONE, which formed in November of 1952. ONE's primary vehicles of activism were through ONE Magazine, the ONE Institute of Homophile Studies and the ONE Institute Quarterly, an academic journal devoted to the study of homosexuality. Unlike the Mattachine Society, ONE also admitted women to its organization.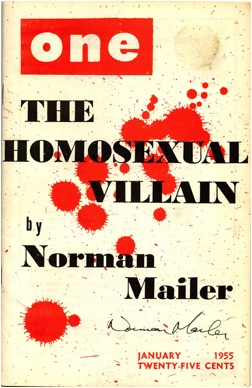 ONE Magazine was sold on the streets of Los Angeles for a time, as well as being delivered by mail. The Post Office refused to deliver the magazine in 1954, declaring it obscene. ONE fought back by suing the Post Office, eventually winning in 1958.
Internal disputes in 1965 caused both a court battle and split in the organization, each part being absorbed into other organizations. The magazine stopped publishing in 1967.
During its prime, ONE served as a sort of a bridge between the Mattachine Society, which was exclusively a gay male organization, and the Daughters of Bilitis, considered a lesbian counterpart to the Mattachine Society.
The Daughters of Bilitis started as a social club of sorts for gay women. Founded in 1955 by Del Martin and Phyllis Lyon in San Francisco, it expanded with a New York chapter founded by Barbara Gittings in 1958. Ms. Gittings also was editor-in-chief of The Ladder, the official magazine of the Daughters of Bilitis, which was published until 1972. She had become aware of ONE, Inc and the Mattachine Society, who put her in contact with the San Francisco branch of the DOB. This is the first recorded lesbian "emancipation" organization and it had expanded to have chapters in two other cities and a state by 1959. It also had a chapter in Australia in its later years.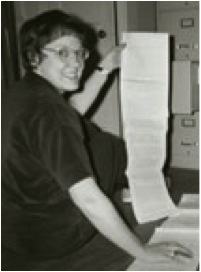 Barbara Gittings  (Photo:  New York Public Library)
Soon after its founding, the missions of the Daughters of Bilitis were to help women come out and educate their members about gay history and gay rights. In the late 60s, the feminist movement had begun to take root, and the DOB found itself at philosophical odds with the movement. Like many other gay rights organizations, it fell victim to internal problems and as a national organization it folded in 1970. However, The Ladder kept publishing until 1972.
A common trait of these organizations in their early days was their desire to assimilate rather than confront. In the early 1960s, homophile organizations struggled to demonstrate that homosexuality was a normal part of the human experience and that gay people did not deserve to be singled out as immoral sex fiends and prosecuted for violations of various morality laws. Secrecy and conformity were necessary for survival. When these organizations were finally brave enough to publicly make their case, they were still in survival mode. When Frank Kameny, founder of a Washington, D.C. Gay rights organization called the Mattachine Society (not related to Hay's Mattachine Society) organized demonstrations, he insisted that participants dress in a business-like manner - dresses for women and suits for the men. This reflected the custom of the times. These demonstrations were similar to the demonstrations and protests held by African-American activists of the time.
However, other minorities and special interest groups were entering a more militant phase by the second half of the 1960s – the times were definitely changing. Protests and demonstrations were becoming commonplace, and some were even turning violent. A younger generation was coming of age, and they were less patient and far less formal in their approach. While their elders had negotiated acceptance, these younger members of the gay community had begun to demand fair treatment and legitimacy. This set the stage for the confrontation that was to become the more aggressive face of the gay rights movement – Stonewall.
Categories: History Lessons
/