Shopping Cart
Your Cart is Empty
There was an error with PayPal
Click here to try again
Thank you for your business!
You should be receiving an order confirmation from Paypal shortly.
Exit Shopping Cart
The New Millennial Gay Experience
Being gay in our emerging new world
| | |
| --- | --- |
| Posted on July 21, 2013 at 5:45 PM | |
By Dennis Stone
We generally don't report stories from other media outlets here, but I just came across a story on Outsports.com that is so good I have to share it with our readers.
Until he graduated this spring, Taylor Edelmann was a volleyball player for Purchase College, located 30 miles north of New York City on the Connecticut border. He was one of the best players on the team throughout his four year career, and was voted to be captain following his junior season.
When I was in college it was all I could do to keep up with my studies while trying to adjust to my new identity as gay (I didn't fully come out to myself until I was 19). Taylor, on the other hand, in addition to being the volleyball captain, was also a resident advisor, a co-president of one of the campus clubs, and a drummer in a jam band. Oh, and he switched genders after his sophomore year and moved from the women's team to the men's team.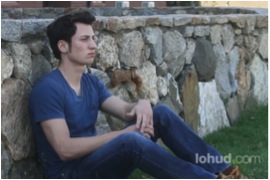 Photo:   Taylor Edelmann, from Lohud.com
According to Outsports: "The difference between men's and women's volleyball is stark. Like tennis, the women's game is more finesse with longer volleys; the men's game is a power game that puts brute strength on display." There was a lot of work involved to convert from a lifetime of playing the women's version of the sport to playing the men's version. The fact that he was voted captain is a testament to his success in making that transition.
The best part of the story is the universal support and acceptance he received. The captain's vote is the best indication of that, but the entire campus – from students to teachers to administration – rallied around him. Said VP of Student Affairs Ernie Palmieri: "Purchase College is very proud of Taylor as both a student and as an athlete and he personifies the cultural diversity found at Purchase College. He has shown tremendous leadership both on and off the court."
Trans acceptance has lagged way behind gay acceptance in our society, but stories like this give me hope that things may be changing in this area faster than I had thought.
Here is the Outsports article. It includes a video of Taylor from Lohud.com that worked fine last night, but isn't working right now as I post this.

Categories: Commentary
/