Shopping Cart
Your Cart is Empty
There was an error with PayPal
Click here to try again
Thank you for your business!
You should be receiving an order confirmation from Paypal shortly.
Exit Shopping Cart
The New Millennial Gay Experience
Being gay in our emerging new world
| | |
| --- | --- |
| Posted on August 14, 2013 at 1:50 AM | |
By Andy Nemec
In the process of writing gay history pieces, it occurred to me that while there are plenty of stories to tell about the people who've made gay history, we don't often pay much attention to those who keep the historical record of our struggles and the evolution of gay rights throughout history.
One of my go-to sources for gay history is the book Gay American History – Lesbians and Gay Men in the U.S.A. It was written by Jonathan Ned Katz in 1976. It's a huge book, very comprehensive, and features great interviews with some of the movers and shakers of gay history in the modern era. It's a formidable job to chronicle the history of the gay rights movement, but consider how especially difficult it is to explore such history when most people in earlier times were secretive about their own sexuality. Consider also that records of people like us were often not considered worthy of keeping except by serious academics. Jonathan Katz does a remarkable job against some formidable odds. What's more, he's been a part of gay history himself.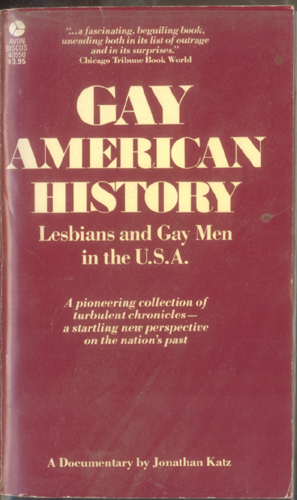 Jonathan Katz was born in 1938. He spent his formative years in New York (and still lives there) and graduated from the High School of Music & Art in New York City with a major in art. He continued his studies at Antioch College, The City College of New York, The New School and Hunter College.
He later taught at Yale University, New York University and Eugene Lang College. Katz was a guest lecturer at innumerable colleges across the country. His specialty has been sexual research as well as the history of the gay, lesbian and queer rights movements.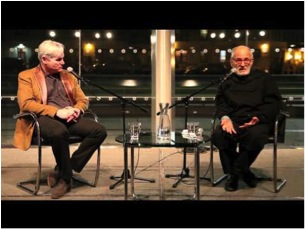 Jonathan Katz with Larry Kramer  
As an historian, he has quite a portfolio of comprehensive work involving sexual research and queer history. He has written 7 books (five about gay history) and many major articles about human sexuality.
One of his most fascinating books is "Love Stories: Sex Between Men Before Homosexuality". The book describes the world of the 19th century, when men had intimate emotional or sexual relationships even though the concept of "homosexuality" was not part of the social discussion. There was no sharp distinction between the "gay" and "straight" worlds. Those terms weren't even used then, and almost no one thought of "homosexuals" as a distinct class of people. Married men had flings, then returned to their wives; young people fell in love with someone of their own gender, and then later entered a traditional marriage. Katz presents several stories of intimacies between men in that era, including Abraham Lincoln.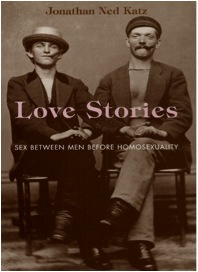 Katz was a founding member of both the Gay Academic Union, the Center for Lesbian and Gay Studies and was on the formation committee of the National Writer's Union. Katz also was instrumental in founding outhistory.org, and co-directs it to this day. Outhistory.org is a searchable online resource covering all aspects of gay history. It's part encyclopedia, part almanac, part archive, part museum. (Access the site via this link.)
While he has spent many years as an historian and author, the last 9 years have found him returning to his artistic roots. He actually never completely left the art world; he created scenery for two off-Broadway plays in the mid-1960s. In the mid-1970s, he created two posters that once hung in the Gay Activists Alliance "Firehouse 99" headquarters in New York City. For many years, however, gay history was the focus of his work.
Gay people owe a great debt to Jonathan Ned Katz. His careful research and thoughtful writing have shown the world that being gay has always been with us, and always will be.
Categories: History Lessons
/