By Dback
A few thousand years ago (well, okay, 1971, but it might as well have been B.C.), there was a movie called "Some Of My Best Friends Are…" which played a handful of theaters and vanished into the ether. To this day it hasn't been released on DVD, and the rights are apparently in limbo. I saw a print of it in the early 90's during an afternoon revival showing at the Castro theater (when I wasn't sitting on top of the marquee with my friend Mark, the box-office boy—but that's another story).
"Some Of My Best Friends Are…" is one of those hopelessly well-intentioned yet homophobic films that was post-Stonewall but pre-self-respect, pre-Pride, pre-AIDS, pre-…well, everything that gay life is today. It's a "come see the sad and pathetic freaks in the gay bar on Christmas Eve" movie, where there will be self-loathing, alcohol drunk to excess, at least one assault, the word "faggot" tossed around like a sodden hunk of fruitcake, and sad music over the closing. In this case the closing was a song provided by composer Gordon Rose called "Where Do You Go?" (His unspoken answer, in another song title: "The Bar.")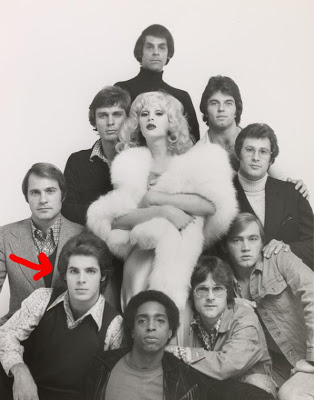 The cast of "Some Of My Best Friends Are..."  Also in the cast, but not pictured, was Rue McClanahan.
This movie could probably be consigned to the trashcan of history, but I was thinking of that theme song for a couple key reasons recently. One, "A Different Light," the cornerstone gay bookstore on Castro Street, closed up shop a couple years ago after an almost twenty-five-year run, along with its Los Angeles forerunner. Two, "Giovanni's Room," the nation's oldest gay bookstore, has just announced that it is for sale. (Other prominent closings in recent years are "Lambda Rising" in Washington, D.C. and Rehoboth Beach, DE., and the "Oscar Wilde Memorial Bookstore" in New York City.) And three, a good friend from the Bay Area who was struggling with stress and depression was referred by his doctor to a gay men's discussion group (where, as a former actor, he was surprised and probably secretly pleased that several of the members there recognized him from past productions).
The bookstore closings are, of course, sad indicators of the times in which we live; all major bookstores are struggling. (R.I.P. "Borders Booksellers" in Cedar Hills, whom I saw every week without fail for almost seven years, making it my second-longest relationship.) However, it's especially poignant for gay bookstores, which often served as headquarters for political groups, held readings, sold gay media, etc. On any given day at "A Different Light" I could bump into someone I knew, and chat about whatever big new thing was going on in the gay community.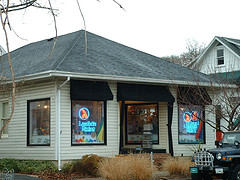 Lambda Rising bookstore in Rehoboth Beach, DE.  Photo by kroo2u via Flickr Creative Commons (License:  http/creativecommons.org/licenses/by-nc-sa/2.0/)
But the news about my depressed friend catapulted me back to my college days where, before there was a gay youth group, there was a gay men's discussion group that met every Wednesday night from 7 till 9 (so we could all go home and see Steven Carrington on "Dynasty"—the only openly gay character on network TV at the time). This group fluctuated dramatically; it could be as small as five or ten, or as large as forty or fifty, at which point it would break into smaller subgroups. Topics were wide-ranging, as were the ages of the participants: there were eighteen and nineteen-year-olds just starting their freshmen years of college all the way up to senior citizens discussing life pre-Stonewall. There were outrageous queens who practically sashayed their way in the door; there were also big, butch men whom you'd never guess were gay outside of this context. The first time I saw one of these latter men—a former military guy whose T-shirt was living on borrowed time stretched over his muscles—give another muscle hunk a tender and lengthy kiss at the end of a meeting was a moment that is indelibly seared into my brain.
I attended these meetings semi-regularly until a new youth group became established on Monday nights, and then I attended that for a couple years until I graduated. When I moved to the Bay Area the first group I joined was LYRIC, San Francisco's version of a giant gay youth group, and many of the friends I made there are still in my life today, though time has scattered us to the winds. These are the friends of my early twenties whom I barhopped with, and who kept me from going home with scuzzballs when I was drunk. These were the people who told me where the free STD clinics were and took me to the Naked Tribal Heat party, but who also came to my wedding to my partner in 2000. These were the people I marched on Washington D.C. with in 1993, though I had "aged out" of the group by then.
Today, if I wanted sex (outside of my relationship), I wouldn't have to go to a bar or a club; all I have to do is turn on my computer—hell, I could even just turn on my phone. Voila! Bear411, Growlr, Grindr, and a host of other sites are only a few clicks away, and they encourage me to order up any partner for which I'm in the mood. I can specify age, race, height, weight, interests, sexual preferences, etc., rather like ordering a Thanksgiving dinner to go from a high-end market. The days of making eye contact across the room, of the first time you leaned in close and smelled someone's hair and cologne, are largely gone by the wayside. You could even tell a date you're setting up online that you're allergic to cologne, or you hate the smell of lemongrass, or to use Irish Spring if he wants to drive you wild. It is no longer necessary to adjust to others; you can make them adjust to you.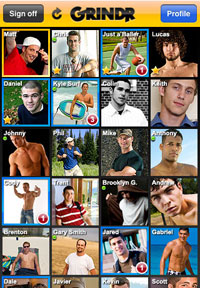 Gay movies, according to Peter Knegt at indiewire.com, don't make money anymore; people are happy with the representation on TV or can dial up gay erotica on their computers, so why go out to movie theaters and support "art house" gay films about our lives and loves? (Last year's "Keep The Lights On," a shattering drama about a gay couple wrestling with drug addiction, could barely muster half a million in grosses despite glowing reviews and Independent Spirit Award nods.) Gay bookstores are closing. Gay bars are still around, but are often much more dance-and-party focused than they used to be. You can look up various gay social clubs (Hikers! Bikers! Hip Chicks Doing Wine! Men In Recovery! Trans People Playing Board Games!), but that's narrowcasting. So where can one go these days for…gasp!...conversation? For just hanging out with gay friends? Especially potential friends who may nonetheless be different from you?
For that, of course, was the secret of early gay spaces: they were all gay people had, so everyone was there. Joan Baez had an upbeat sketch of a gay bar in her song "The Alter Boy and the Thief" (available on the "Club Verboten" CD box set) wherein she described the incredible mixture of people in a bar, including her slow-dancing "favorite couple," the title characters, seeking "a little relief." The best thing about being in such gay-friendly venues "back in the day" was that you had a mixture of all kinds of people—all races, all body types, all ages, all interests. People made small talk and found out about people's lives (beyond "'Sup?" and "U horny?"). People discussed politics, sports (!), gay history and culture. Sandpaper on wood creates friction, which results in a shinier, smoother polish; extra ingredients can turn a watery broth into a rich, savory stew. You may or may not have hooked up, but you might make a friend, a business contact, or who knows what else that could enrich your life?
Obviously, I don't want to over-idealize the bar scene of yore—alcoholism continues to affect the gay community at higher rates than for straight people. And yes, cruising in public instead of behind the safety and ego-preservation of a glowing screen can be hard. A gay horoscope book once likened me and my fellow Sagittarians to characters in a Tex Avery cartoon: when we see a potential object of love or lust, our jaws drop, our eyeballs pop out about a foot, our head may or may not turn into a screeching steam whistle. To then buy a drink for said intended with puppy-dog enthusiasm and receive a polite (or not-so-polite) brush-off can definitely put a damper on things—and it's not resolved as quickly and blithely as clicking on another profile button.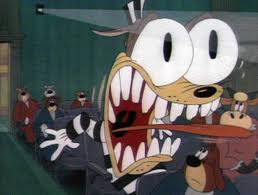 How Dback and his fellow Sagittarians look when they spy a sexy guy (a Tex Avery cartoon).
But I do think there was something to be said for creating and championing gay spaces, where you could get a cross-section of "the community" together to inspire and challenge each other, and learn from each other. I had a moment on public transportation one time in my mid-twenties, after I'd worked a LYRIC breakfast for GLBT seniors, and two much older men who'd been there spoke to me. "It makes such a difference for us," one nattily-dressed gentleman said to me, in my sleeveless-flannel/cut-off shorts/boots. "So many of the generation just behind us disappeared (in the 1980's), so to see you young people living your lives so out and proud…" I was enormously touched by his words, and as my father continues his slow slide towards dementia, I wonder what the future will hold for my partner and me. Will we one day need a gay retirement community? Will we join a gay senior group, or just a brunch club?
My father, who just stopped driving, does not lack for visitors: he gets a home visit every day, plus breakfast out on weekends and church on Sundays. What he lacks is getting together with friends—people to talk to in person. Face-to-face interaction. The expression on a good buddy's face when he laughs. Sharing food together. Having a frou-frou drink, and enjoying it despite the comments. Seeing the young people who've just met, and the old people who've been together for years. A life lived in public—or "out loud," if you saw the Holly Hunter movie of the same name.
In author Ethan Mordden's book "Everybody Loves You," he posits an eclectic mixture of gay men inextricably bound together:
What is a striped-tie-and-vest ad exec doing in the company of a man whose work clothes are chest hair? What did the opera maven and the pilot talk about? Ah, but was not this very sophistication of identities one of Stonewall's revolutions? Have we not made the bourgeois discretions of status and culture irrelevant? Sex outranks status. Friendship purifies culture.
He adds several pages later:
…good friendship is harder to find than good sex. And you can live without sex, but you can't live without friends…I've known men who made wonderful lovers but terrible friends. But I never met a wonderful friend who couldn't also be a wonderful lover.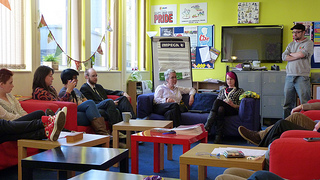 The Big Gay Lunch Belfast.  Photo by The Big Lunch
via Flickr Creative Commons (License: http/creativecommons.org/licenses/by-nc-sa/2.0/)
So I challenge you, as well as myself: unplug for a weekend. Stay off your electronics, and take a break from cruising only the type of guys you normally go for. Go out somewhere to a gay or gay-friendly space and give them your money. Have a cocktail or coffee; it doesn't matter. Try to see a gay play, buy a gay-themed novel, listen to an openly gay singer-songwriter whose story may be different from yours, and look for commonalities. And if at all possible, talk to someone outside of your "zone," and be glad that you live in an era where we finally have so many of these spaces available. And if you run into me, don't be afraid to hug hello.