Shopping Cart
Your Cart is Empty
There was an error with PayPal
Click here to try again
Thank you for your business!
You should be receiving an order confirmation from Paypal shortly.
Exit Shopping Cart
The New Millennial Gay Experience
Being gay in our emerging new world
| | |
| --- | --- |
| Posted on October 16, 2013 at 12:50 AM | |
by Andy Nemec
Bayard Rustin, born in West Chester, Pennsylvania on March 17, 1912, is perhaps the most famous forgotten figure in American history. While he was known as the man who introduced the non-violent resistance concepts of Gandhi to Dr. Martin Luther King, Jr., he was also gay and worked for gay rights later in his life. He also lived as openly gay at a time when it was not only socially unacceptable, but when being an openly gay black man could be hazardous to one's well-being.
Rustin was raised by his maternal grandparents. His drift toward non-violent methods of promoting change was natural, considering that his grandmother was a Quaker. She was also a member of the National Association for the Advancement of Colored People (the NAACP). If one said that activism was in his blood, they'd be right.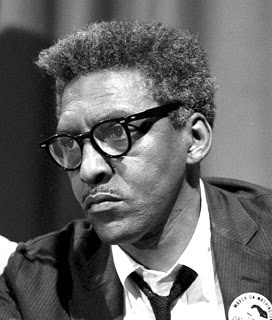 Bayard entered Wilberforce University at the age of 20, and four years later left to attend Cheyney State Teacher's College in Pennsylvania. He then went on to attend an activist training program provided by the American Friends Service Committee. He also joined the Young Communist League and moved on to the Communist Party USA, but later became disillusioned with the Party. He joined the Socialist Party, and found his mission of working toward equality to be more in line with that organization. He also became a member of the Religious Society of Friends when he relocated to Harlem in 1936.
His earliest and most famous activism centered around racial equality. Rustin became affiliated with the pacifist organization Fellowship of Reconciliation (FOR) after involvement with the Japanese internment camp prisoners. Rustin was appointed to the position of Secretary for student and general affairs.
At that point Rustin's dedication to passive resistance began to take hold. He was instrumental in forming the Congress of Racial Equality (CORE) in 1942, which was based on Gandhi's principles of non-violent resistance.
Rustin was no stranger to arrest; his first came when protesting the segregation of interstate bus travel in 1942. Later, he was arrested for and convicted of violating the Selective Service Act, and spent two years in prison. In 1953, he was arrested for "sex perversion" after being found in a parked car with two men with whom he had been engaging in sexual activity. This captured the attention of the FOR board members. He was then fired from the Fellowship of Reconciliation, and moved on to the War Resister's League after his conviction and incarceration.
Rustin took a leave of absence from the War Resister's League to advise Dr. Martin Luther King, Jr. on non-violent resistance in 1956. They later formed the Southern Christian Leadership Conference, which Rustin was pressured to leave after only three years of involvement. This was solely due to his homosexuality; Congressman Adam Clayton Powell, Jr. had threatened public exposure of both Rustin's homosexuality and his California arrest record.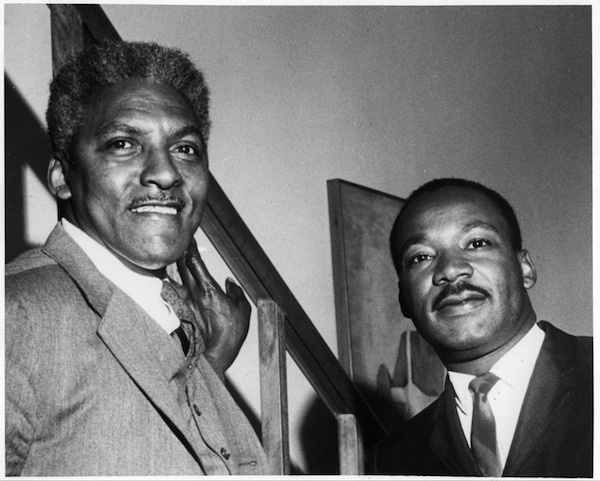 Bayard Rustin and Dr. Martin Luther King, Jr.
While Dr. Martin Luther King, Jr. was the public face of the racial equality movement of the late 1950s into the 1960s, Bayard Rustin was very heavily involved as well. His top-notch organizational skills were largely responsible for the "March on Washington for Jobs and Freedom." His analysis of the racial equality movement was not only accurate, but in some ways prescient; he noted the need for alliances between the racial equality movement and the Democratic Party and labor unions, and accurately forecast the impact that automation would have on working-class African Americans.
In spite of the efforts of some of the movement's leaders to place Rustin in the background because of his sexuality, he nonetheless captured public attention, both good and bad. Senator Strom Thurmond entered Rustin's California arrest details into the Senate record, referring to him as a "Communist, draft-dodging homosexual." Thurmond also flashed a picture of Rustin talking to King while King was in the bath as proof of a same-sex relationship between King and Rustin. A more powerful picture appeared on the cover of Life Magazine. Along with A. Philip Randolph of FOR, he was touted as one of the leaders of the March on Washington.
Much more was to come from Bayard Rustin when he was active in the African American civil rights movement. What was most interesting though, were the parallels he drew between the racial Civil Rights movement and the gay rights movement.
In his 1986 speech titled "The New Niggers Are Gays" Rustin said:
"Today, blacks are no longer the litmus paper or the barometer of social change. Blacks are in every segment of society and there are laws that help to protect them from racial discrimination. The new "niggers" are gays. … It is in this sense that gay people are the new barometer for social change. … The question of social change should be framed with the most vulnerable group in mind: gay people."
He was quick to note that the black civil rights movement was not completely won. Although there had been significant progress made, there was still a lot of work to do. But the comparison was drawn; Civil Rights are deserved by the minority as well as the majority, no matter what it is that makes them a minority.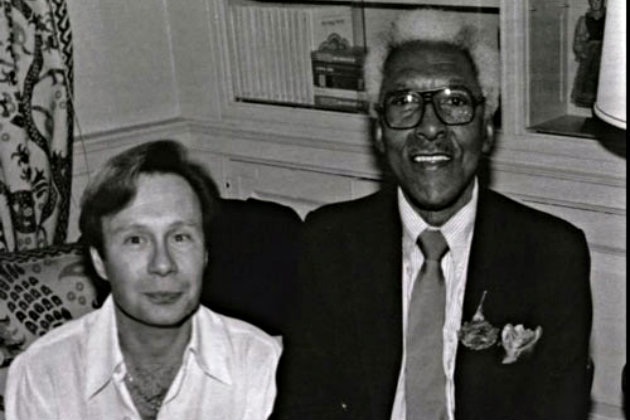 Bayard Rustin and Walter Naegle
Rustin's gay activism was primarily done by public speaking at this point in his life. He had worked tirelessly on behalf of Civil Rights for so long that he only had two longer-term relationships; one early in his career and one at the end of it. In 1977, he met Walter Naegle, with whom he enjoyed a 10-year relationship.
Rustin was a trailblazer in another area, too. During his lifetime, same-sex marriage was a pipedream. His partner Walter Naegle was 38 years his junior, which put both in an interesting situation. Even though Naegle was 27 when they met, it presented them with an opportunity for Rustin to adopt Naegle. In addition to this being an expression of love and commitment, it was also a legal maneuver – Naegle could then inherit anything that Rustin owned. Among committed gay couples, adoption was the only way that partners could insure that the surviving partner had any legal estate rights. This situation is at the heart of the gay marriage effort to this day, and was one important consideration in the recent Windsor case heard in the Supreme Court.
Bayard Rustin died on August 27, 1987 at the age of 75. Walter Naegle accepted the Presidential Medal of Freedom, awarded posthumously by President Barack Obama, on his behalf on August 8, 2013.
More on Bayard Rustin:
This site is dedicated to Rustin and is maintained by the producers of the documentary of his life, "Brother Outsider":
This article covers a bit of his personal life:
http://www.out.com/news-opinion/2013/08/28/bayard-rustin-walter-naegle-partner-gay-civil-rights-activist-march-washington

Books:
Time on Two Crosses: The Collected Writings of Bayard Rustin by Bayard Rustin, Devon W. Carbado and Don Weise
Lost Prophet: The Life and Times of Bayard Rustin by John D'Emilio
(A hat tip to our editor Emilie for the book references.)
Categories: History Lessons
/