Shopping Cart
Your Cart is Empty
There was an error with PayPal
Click here to try again
Thank you for your business!
You should be receiving an order confirmation from Paypal shortly.
Exit Shopping Cart
The New Millennial Gay Experience
Being gay in our emerging new world
| | |
| --- | --- |
| Posted on December 12, 2013 at 1:10 AM | |
By Dback
 A few weeks ago it seemed the internet had a minor rash of fluffy-but-fun articles listing various "Things Every Gay Man Should Do By Age 40" or "Things No Gay Man Should Do After 35," etc. As the "New Millennial Gay" website tends to focus on a slightly younger demographic—and since I like the number 21 as it's my birthday this month—I've decided that our site needs a list of its own. Call it "Things Every Gay Man Over 21 Should Know." (And yes, this is completely my own opinion, and I welcome other's contributions and bon mots.)
Read part 1 here.
11) Know how to be a good friend. Return phone calls and e-mails. Remember birthdays. Send an occasional reach out: "I was just thinking about you." Listen. Make each other laugh. As Marlene Dietrich (look her up!) said, "It's the friends you can call at 4 AM that matter." Have at least three of these friends.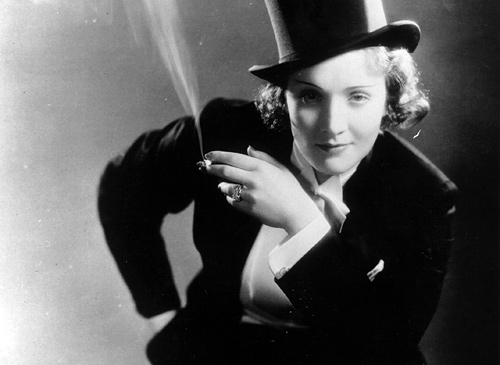 Marlene Dietrich
12) Know how to be a good son/brother/cousin/etc. Obviously this depends on your family dynamics, but: see above, and double it. Be especially kind to small children; hopefully they'll remember your kindness in turn later on. Remember that your best friends are also your chosen family; don't be afraid to integrate them if possible.
13) Know how to be alone. At some point in your life, you're going to be alone, and it's a good idea if you can handle it without wanting to crawl out of your skin. After a couple days of jerking off, watching junk TV and eating mac & cheese out of the pot, what are you going to do with yourself? Can you take care of chores, deadlines, and responsibilities? Do you have hobbies? Can you enjoy your own company? Can you resist the siren songs of alcohol, drugs, or sex with the first available person you can find? Do you need a pet? Try various things, but make sure that you are able to be alone. What doesn't kill you makes you stronger (thank you, Kelly Clarkson).
14) Know how to cook delicious, well-balanced meals—at least three of them. Yes, the world is full of microwaves and prepared foods. But it's a lot cheaper—and healthier, and oftentimes, just more fun—to really cook something. In the long run, being able to throw together your own protein, starch and vegetable (OK, you can skip the starch/carbohydrates if you're one of THOSE people) is going to save you money, probably help your waistline, and make you that much more of a catch. If you can throw together a simple but delicious dinner for a date—and, even better, cook him breakfast in the morning—you're going to prove yourself a keeper. (Learn how to make a quick omelet, roast a piece of fish or a chicken, tear up a salad or quick-sautee frozen veggies, get some really good bread for toasting, and always have a bottle of wine and some great coffee—ice cream is a bonus—in the house.)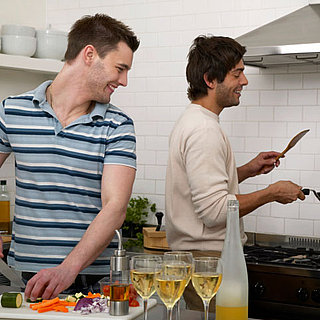 15) Know what your basic values/beliefs are. You don't have to be religious—or even spiritual—but it's helpful to have some sort of philosophy of life to guide you along the way. You can quote Socrates, the Bible, Shakespeare, Oscar Wilde, Dorothy Parker, Oprah or Bugs Bunny—and it may change depending on the situation and where you're at in life—but it's good to be able to stand up and say, "I believe this." If you're too unsure or believe in nothing, you may be more likely to fall prey to what others are telling (or selling) you.
16) Know current events. As someone named "nuseramed" posted online a year ago, "I possess a device in my pocket that is capable of accessing the entirety of information known to man. I use it to look at pictures of cats and get into arguments with strangers." Follow current events. Know who world leaders are. Track what's going on with gay rights and the movement worldwide. If you're bored, surf Wikipedia. There is no excuse in this day and age to not know who the vice-president is, how the electoral college works, what's in your food, or who people as diverse as Nelson Mandela and Lucille Ball are/were.
17) Know how to be healthy, and get help if you're not. Know what makes up a balanced diet. Know how much exercise you should be getting, and try to do it in a fun and appealing way. Know what habits are toxic to your body. Know, if you are sick or injured, what steps you need to do to take care of yourself. Get insurance. Know who to call in an emergency.
18} Know your own vulnerability. Know your pressure points. Know what makes you sad, depressed, lethargic, apathetic, withdrawn, resentful, frustrated, or angry. If you can't avoid these things, learn how to cope with them or manage them. You can be hurt, taken advantage of, or make poor decisions when you're in a vulnerable space; however, you can also have emotional breakthroughs, experience soul connections with others, and feel the warm breath of the divine and stardust coursing through your veins. Know when to open the shell, lower your defenses, and be vulnerable.
19) Know when/how to pose nude. At some point in your life, you may be at a state of psychological readiness where you may get the urge to pose nude for a photographer or artist. Nothing wrong with this whatsoever, so long as 1) you get to see the results (or even better, get a copy), and 2) you're very clear on where/how the results will be shared, if they will be. (I tried to get some tasteful, playful shots done for my partner as a gift, and not only did the guy never send me the pics, he shared them with a bunch of Italian bears. Apparently, I was briefly quite a hot commodity in Italy—but I had no control over it. Those pics may still be out there.) No commitment/clarification, no posing.
20) Know your gifts/talents, and put them to use. There has never been, and will never be, another you. You have talents, abilities, and life experiences no one else has. Share them with the world; you might even change it in the process. How dare you keep your light under a bushel! Glow, baby, glow.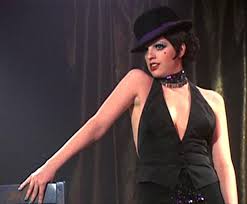 Liza Minnelli:  "Life Is a Cabaret"
21) Know that you are fabulous. Barbra sang "Don't Rain On My Parade." Rosalind Russell and Angela Lansbury said "Life is a banquet and most suckers are starving to death." Liza Minnelli sang "Life is a cabaret." Every day, find a reason to be grateful you're alive, and to celebrate the fabulous, one-of-a-kind, one singular sensation that is you!
And if you're reading these on December 21st, send me some birthday wishes!

Categories: Other Voices
/