Shopping Cart
Your Cart is Empty
There was an error with PayPal
Click here to try again
Thank you for your business!
You should be receiving an order confirmation from Paypal shortly.
Exit Shopping Cart
The New Millennial Gay Experience
Being gay in our emerging new world
| | |
| --- | --- |
| Posted on January 24, 2014 at 11:15 PM | |
By Lane Forsman
So this past Sunday HBO premiered its new series Looking, and I have to say I'm hopeful. Here are my first impressions: Looking tells the story of a particular set of friends who live in San Francisco, but it's not attempting to tell the universal gay story or even pretending to, and I like that. I don't think there really is a universal gay story anymore, and trying to show there is one tends to come off as contrived. For an example I'll compare Looking to another well-known gay themed cable series, Queer as Folk. Let me start off by stating that none of what I am about to say is meant as a judgment against QAF. It came out at a different time and was groundbreaking for bringing gay life into the homes of so many people on a weekly basis.
But now the contrast: in Looking the characters are simply real individuals living their lives honestly, and they each relate to people differently and at different times. In QAF the characters were intentionally archetypal; each character was intended to represent a particular subset of the gay community. At times even the QAF guys were caricatures of themselves in order to accomplish the story's goal. I can't say that Looking will never do this, but based on first viewing it isn't a storytelling device I expect.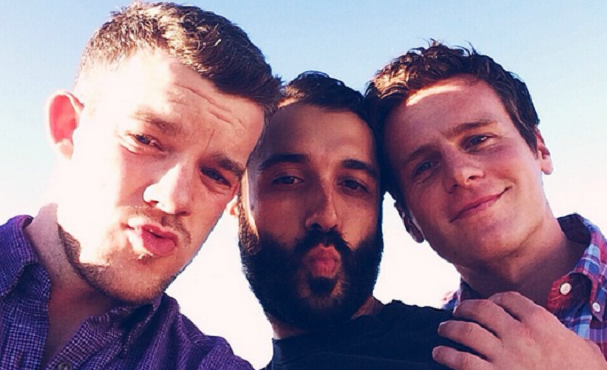 Another thing QAF occasionally did by telling the "universal" experience is that it unintentionally boiled the gay story down into a single experience. By trying to tell everyone's story it would make it appear as though the story it was telling was the only one. It oversimplified the community it attempted to represent. If Looking holds true to what I've seen in the first episode it will simply tell this story while owning the fact that it is of a particular experience. In this way it won't dismiss, intentionally or otherwise, those that the show doesn't actively represent.
Again, I'm not degrading QAF. We only had so many outlets to share the gay experience in media at that time, and so we almost had to try and cram it all in to two shows – QAF and Will and Grace. So, maybe the ability to tell a story like this is just a symptom of the current TV landscape. Either way, it's something I'm happy to see develop. Now, on to the episode…
We open on Patrick (Jonathan Groff) meeting a hook-up in a park, and since this is HBO that's not all that surprising. (I mean, this is the network that brought us the advertising campaign "It's not porn. It's HBO.") Patrick is dealing with the fact that in his late 20's he's single, and the only real boyfriend he's ever had is getting married. And has invited him to the bachelor party. Which in the gay community doesn't strike me as overly weird. Studies have shown that same-sex partners tend to remain friends with their exes at a much higher percentage than straight partners. Regardless, this has sparked somewhat of an existential crisis for Patrick (as it probably would for me in the same position), so on the advice of his friends he tries something new for him: cruising. However, it doesn't go down as planned, and an ill-timed phone call ends the experience before it has really begun.
Then we move on to meeting the friends. Augustin (Frankie J. Alvarez) and Dom (Murray Bartlett) round out the core cast. We get a fun line from Patrick about thinking the phone call was from his mom as though "she knew what he was doing and was calling to stop me from becoming one of those gays who hooks up with people in a park." Then they're sitting around Patrick and Augustin's backyard drinking, smoking a joint, and having a conversation pretty typical of a group of friends discussing someone's ex getting married. It's almost normal enough to be boring, but it's refreshing to see in its simplicity and it moves the story along just well enough to keep you interested.
The next morning Patrick awakes to the sound of Augustin, his boyfriend Frank (O. T. Fagbenle), and some morning glory. I'm sure plenty of us have been there. Thin walls, amirite? Anyway, this appears to be the beginning of what looks like a somewhat tumultuous stretch for Augustin and Frank. The actors have really good chemistry, which should make for good tension surrounding this storyline. What drama we immediately get out of it is that, though Patrick is outwardly supportive, his sense of singledom is heightened to DEFCON level, and so he decides to go on a date with a guy from OkCupid. (Make fun if you want, but I've met a few really nice guys on that site).
So now it's time for our first close-up on Dom. We discover that he is living with Doris (Lauren Weedman), who he used to date, presumably before coming out. Dom, the oldest of the group, is having a life crisis of his own, and is considering reconnecting with a potentially homicidal ex-boyfriend. Like any dutiful best friend Doris metaphorically bitch slaps Dom into realizing what an idiot he's being, and then takes the time to honestly check in with him. I like these two together and the way they play off each other. Also, I'm relieved that they went with strong ex-girlfriend and not over-the-top fag hag for Dom's foil. It'll make for more interesting storylines.
Our next big development is when Augustin, a "hipster," is introduced to his assistant for the day, "Mr. Tall, Dark and Equally Hipster." After some light banter we can tell that something is going to happen. We're just not sure what yet. Then we jump to boyfriend Frank joining the guys. They're all sitting around Augustin's studio, drinking and talking. One thing leads to another, and a threesome begins, which gives us a little more understanding into the disconnect between Augustin and Frank. It seems that Frank is wanting to solidify the boundaries of their relationship, while Augustin wants to open them up a bit more. If not handled correctly this storyline could get trashy and stereotypical really quickly, but so far the writers have me believing that they know how to handle this journey.
Dom begins to show what will likely be his big flaw, that he hasn't realized he isn't 22 anymore. He's still working as a waiter and chasing after guys 15 years younger than he, and when it doesn't work out it cracks his self-perception and sends him running toward the ex-boyfriend Doris so emphatically warned him to stay away from.
Patrick has his date with "Mr. Online Doctor." Everything goes wrong, but Patrick tries to salvage it even though they clearly don't belong together. OD is dismissive of his career, asks if he's drug and disease free within the first 30 seconds as though this were a Grindr hook-up and not a first date, and condescendingly inquires about his age. In other words he's a class A jerk, and he ends the date in jerk style. While I'll be honest that someone confessing a park hook-up to me on the first date would be a bit off putting, OD was acting superior from minute one, so he gets no pass from me on that one.
Patrick's night isn't going to be a complete loss though. While riding the train he meets Richie (Raul Castillo), who begins to flirt with him. Richie is a barber and a doorman at a nightclub - pretty much the antithesis of the OD. He gives us the cute line, "We've got a special tonight. Pretty blue eyes drink 2 for 1." Patrick's response is an adorable grin. We also get a little bit of mistaken identity when Richie takes OD's business card out of Patrick's shirt pocket and believes that is who he's talking to. The show seems to be telling us that Patrick is running toward a stability that he isn't ready for, but that he thinks he should want. I'm betting that Richie is going to be just the guy to teach him that. I'm also betting there will be some talk of him dating "down" with Richie, which again could get messy in a hurry if not handled right.
All in all it was a very good first episode, and set up the world our characters will be living in. The cast has great chemistry, and even if I don't like everything about each character I'm invested in them. I want to see them succeed. It isn't often that shows create full buy-in for me on first viewing, but I think Looking has accomplished that. As long as the writing holds up and the characters stay true to their established identities this show has a long and interesting run ahead of it.

Categories: Other Voices
/