Shopping Cart
Your Cart is Empty
There was an error with PayPal
Click here to try again
Thank you for your business!
You should be receiving an order confirmation from Paypal shortly.
Exit Shopping Cart
The New Millennial Gay Experience
Being gay in our emerging new world
| | |
| --- | --- |
| Posted on January 26, 2014 at 5:05 PM | |
By Dback
It's a short, simple word, but one fraught with meaning. It hints of danger—of speeds raced too fast, cigarettes inhaled deeply, and cross-dressing in the "opposite" gender's clothing. It implies pleasure, hedonism, and transgression. Hear it whispering in your ear, and experience a faint frisson:  Drag!
My experiences with drag are, to understate, minimal. I haven't worn female garments since my grammar school days, and even then it was more to complete a character than to achieve a forbidden thrill of femininity. (When you've already booked four of the girls from your family or neighborhood for your grade backyard production of "Cinderella," SOMEBODY is going to have to pull double-duty as both the Fairy Godmother and the Prince.) I even won a fifth grade talent show in music class by channeling my inner Carol Channing via a fright wig, smock, and a cracked recitation of her "Housework" monologue from "Free To Be You And Me." (My prize: a Seattle Supersonics poster—a rather useless prize for a nascent gay.)
Once I crossed into adolescence, however, I was done. I have never done drag, never wanted to do drag, and am frankly a tad suspicious/uncomfortable with those who do—though at least two of my various boyfriends have done so on Halloween (one as The Church Lady, one as Julia Child).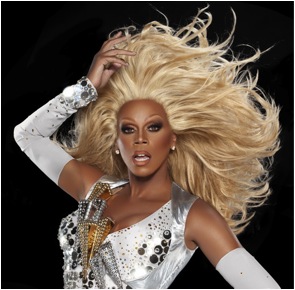 Drag has long been a mysterious but powerful thing, often associated with cross-dressing shamans or tricksters in ancient society, or the cause of confusion in Greek or Shakespearean dramas. It was largely drag queens, of course, who got busted at the Stonewall riots; those were the fearless-yet-rejected gays who couldn't hide in a 3-piece suit or jeans and a T-shirt, couldn't "pass," couldn't conform. They were "out there" because there was no way the closet could hold them. Drag was, and still is, the last taboo, the vehicle by which someone is allowed to become someone larger than life, to say that which polite society suppresses. To watch Zsa Zsa make up in "La Cage Aux Folles" or Molina summon up the image of Aurora the movie goddess in his hellhole of a prison cell in "Kiss of the Spider Woman" is to watch magic transpire.
Yet there can also be a tawdriness to drag, almost a kind of horror—the worst kind of crassness and vulgarity of over-sexualized men wedded to the most unattractive or nightmarish visions of womanhood. Add in some political satire—or just plain bad taste—and you can wind up with "Sister Vicious Power Hungry Bitch" from the Sisters of Perpetual Indulgence (Google it if you don't know), or Divine and her legendary screen exploits. Drag is the bull in gaydom's china shop; it doesn't give a darn about how many vases it knocks over, so long as it makes you laugh or makes its point. No wonder the Log Cabin Republicans and their ilk wring their hands every time the TV cameras make for the drag queens during Pride parades.
Perhaps it's internalized homophobia on my part that makes me a little skittish about drag. For many years I regularly turned down an invitation by some dear gay friends to join them on Halloween when everyone in their circle dressed up in drag and then went out, and they would not allow me to just be a spectator. I have days when I feel I'm not that handsome as a man; why would I want to be even LESS attractive as a woman? A college mate called me on my cowardice, noting pointedly—and accurately—to a crowd that I wouldn't hug or kiss him while he was in drag. it took every ounce of my courage and testosterone to dip him in a movie-star clinch, and give him a deep lip-lock.
One of my most vivid drag memories involves a man for whom I didn't care much in "the real world." But, while watching him do a set in a club as a drag performer, I had to admire his commitment to his craft. Then—oh horror!—his pump slipped on the stage, and he landed flat on his tuchus—but he kept going, still lip-synching to the song, and scooching along the floor. He flung one foot up in a defiant kick, only to have his pump soar into the lights above and break something in a shower of glass—and he STILL KEPT GOING, lip-synching "for his life" to a degree RuPaul can only imagine. That's a kind of berserk integrity that, to me, symbolizes the best kind of courage that drag can represent.
Drag will always be controversial; it's too loaded with symbolism, too much of a bazooka aimed at patriarchy, at male privilege, at "passing," not to be. But now, as I'm older, it's not as off-putting or threatening. If one end of the gay spectrum would be the butch, sexy leather man decked out in chaps, harness, boots and cap, the other end of the continuum must surely be a magnificent drag queen. (Hell, Tennessee Williams basically used the collision between these two extremes for "A Streetcar Named Desire.") Our community needs these two outermost endpoints; they're signifiers that help everyone in the middle find their places.
And, as RuPaul said so wisely, "We're all born naked—everything else is drag."
Categories: Other Voices
/