Shopping Cart
Your Cart is Empty
There was an error with PayPal
Click here to try again
Thank you for your business!
You should be receiving an order confirmation from Paypal shortly.
Exit Shopping Cart
The New Millennial Gay Experience
Being gay in our emerging new world
| | |
| --- | --- |
| Posted on January 28, 2014 at 12:25 AM | |
By Paul Johnson
Recently, a Tumblr user named ShutTheFuckUpStraightPeople responded to allegations that they were displaying heterophobia with this:
"Heterophobia cannot exist BECAUSE STRAIGHT PEOPLE ARE NOT OPPRESSED ON THE BASIS OF THEIR SEXUALITY. Being mean to straight people is nothing more than that. Being a bit mean. You don't get to make a comparison between THE LONG TERM OPPRESSION of gay people and a few people being mean on isolated occasions. Regardless, such conduct is a reaction to the oppression exerted by heterosexuals."
This person has displayed a frustration and rage with straight people as a whole. Not because every single straight person hurt them, but because (presumably) some have, and they see fit to group the rest in with those.
This is not a unique phenomenon. One doesn't need to look far into Queerty, Huffington Post, or Tumblr to find a large handful of articles displaying all caps rage at STRAIGHT PEOPLE in general. A May 2012 Queerty article recounted the story of a straight couple on a date in a gay bar who were kicked out solely for being straight. One reader commented: "Hets have been invading our spaces for far too long. They make no effort to make us feel welcome in their places, yet they expect us to bend over backwards to accommodate them in ours. It's typical heterosexual arrogance, and superiority. Kick 'em out."  No mention is made of straight people not being one homogenous mob, or the couple in question likely not being the least bit homophobic.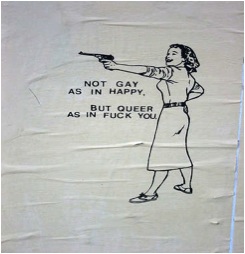 The gay rights movement was founded on camaraderie and discovering other people like yourself. Since gay people are not solely born to and raised by other gay people, safe spaces and gatherings had to form for the Mattachine Society to congeal and the Stonewall riots to occur. In an age where having sex with people to whom you were attracted was illegal and likely would lose you every straight friend you had, self-segregation was, to a certain extent, necessary for healthy gay lives.
This is not that age. Today's children are not their forefathers. I never seriously hated myself for being gay, or doubted that I would be able to have a husband. My two years of denial were mostly derived from confusion that I could be gay, as opposed to being like other people.
By the same token, my classmates have never hated me for being gay, or even cared that much. When I went through a brief, vigorously political phase in 9th grade, it was straight classmates who pulled me aside and reminded me: "Paul, you are too interesting of a person with too many things to say and do to let this one thing define you." This realization helped me to grow and spend my teenage years studying and discovering my passions.
I am not worse off for having spent my first four post-closet years outside of gay ghettos. I still got to make dirty jokes and have celebrity pictures in my locker. I had two boyfriends, both introduced to me by straight friends. I know I have benefited from forming several strong male friendships without the specter of romance complicating matters. Those friendships have enriched my life.
My straight friends have challenged me as a person, forced me to look at who I was and what I really wanted from my life. Neither of my (short-lived) relationships did that.
So why is it necessary to hate them as a group for the crimes committed by an ever diminishing portion of them?
Categories: Other Voices
/