Shopping Cart
Your Cart is Empty
There was an error with PayPal
Click here to try again
Thank you for your business!
You should be receiving an order confirmation from Paypal shortly.
Exit Shopping Cart
The New Millennial Gay Experience
Being gay in our emerging new world
| | |
| --- | --- |
| Posted on January 29, 2014 at 2:10 AM | |
By Lane Forsman
The episode opens with Agustin officially moving out. As he and Patrick are talking about Patrick's semi-awkward obsession with Richie, who he met on the train in episode one, he says, "you should at least try to blow him this time." As this discourse continues we get to Patrick saying that he's just looking for a fuck buddy, and he clearly doesn't believe it any more than Agustin or Dom do. Or any viewer who has seen 10 minutes of this series. It's cute that he thinks he can manage that type of relationship, but the writers are clearly setting Patrick up as the marrying type.
Then, as is only fitting for an episode titled "Looking for Uncut," Agustin feels it is his duty to inform Patrick that Richie will likely be intact. The concept that men freak out about the status of someone's foreskin has always bewildered me. At most it seems as though it should be about as important as hair color, but nonetheless there are a subset of men who are hardliners one way or the other, and their first interaction with someone who is not of the same foreskin level as they are sends them into a spiral of uncertainty. Weird.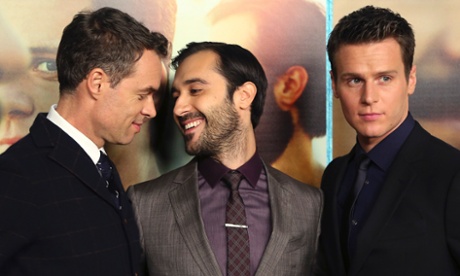 Murray Bartlett (Dom), Frankie J. Alvarez (Agustin), Jonathan Groff (Patrick)
So, after Patrick finishes meekly trying to maintain his status as "on the prowl for friends with benefits" with no desire to settle down, the three friends get on the road to move Agustin to Oakland, where he'll be living with Frank. Agustin spends the entire ride extolling the virtues of his latest life decision, and I can only believe he's spending more energy trying to convince himself than he is the other passengers in the car.
After Agustin reveals his and Frank's ménage-a-hipster from last week we get into the sex versus intimacy and monogamy versus open relationship debates. Something tells me these will not be short lived topics for this show, and while they may be somewhat clichéd for a gay themed show it's pretty relevant when you look at our current political and social landscapes, and you start considering the arguments for and against marriage equality.
So far Looking takes us to the edge of stereotype and then humanizes it. If they can keep that up then I think it will be compelling, but if they ever get it wrong it could become offensive and tired really quick. But, back to the story. While Agustin is shouting from his soapbox about the pitfalls of monogamy he gets the pointed question about Frank's feelings on the situation, and his answer clearly communicates that perfect agreement does not exist within his own relationship.
As Dom and Patrick are leaving we get one of my favorite things that has happened so far. Patrick begins to say goodbye to Agustin, and he does so by quoting the Golden Girls theme song. I'll admit, the episode won me right there.
After we get some scenes of Patrick adjusting to no longer having a roommate, Dom's moment arrives, and he meets up at a Starbucks with what turns out to be not just merely his potentially murderous ex-boyfriend, but his formerly strung-out and potentially murderous ex-boyfriend. Ethan speaks with an entirely therapeutic cadence the entire time. I don't know if this is supposed to be a holdover from his recovery, but I'll admit it's a bit off-putting and predisposes me to like the guy even less. Regardless, Ethan's success is clearly disturbing to Dom since his formerly addicted ex is now a successful businessman, while he's still waiting tables - which is exactly what he was doing when they broke up eight years before. He rebounds from this less than stellar meeting through a Grindr hook-up (played by Andrew Keenan-Bolger).
We jump back to Agustin, who is joined by Frank pleading to display a piece of his boyfriend's art that he finds charming. Agustin thinks the piece needs to be burned, at least outwardly, but he clearly still has it for a reason.
Patrick googles images of "uncut latino cocks." Then the show gets a little weird for me. Patrick goes on a date with Richie and is unintentionally mildly racist the entire time. I know they've set him up as the more naïve member of the group, and that isn't always charming. This particular execution was a little hard to watch though. Maybe it's just the social worker in me. Maybe I'm so trained in racial sensitivity that it makes it hard for me to remain engaged with this part of the plot. The interaction ended about as I expected it to. Richie and Patrick were three seconds from being the episode's second sex scene, but Patrick's inability to shut up kills the mood for Richie. It ends with Richie telling him that they're looking for different things, which I don't think is true. Patrick just THINKS he should be looking for random sex. He could probably have the relationship he wants with Richie if he could just stop being so awkward.
We get a little more story about Dom's relationship with Ethan, and the fact that he spent $8000 to get him sober. So far Dom's scenes simply seem to be setting him up for larger action later in the season. He isn't as central to the plot as the other two are at this point. Maybe we'll get more out of Dom when they introduce Scott Bakula's character.
We make one last visit to Agustin, and he hangs the art piece that Frank kept badgering him about. I know the writers are trying to tell us something with that, but I have no idea what.
Two episodes in and I'm still really enjoying the show. I'll admit that they aren't really shocking me with the outcomes of the storylines so far, but I don't think they need to. The characters are engaging and likeable and the storylines are honest and compelling. It's just enough real life and just enough heightened storytelling to be a good 30-minute distraction in my week.
Categories: Other Voices
/