Shopping Cart
Your Cart is Empty
There was an error with PayPal
Click here to try again
Thank you for your business!
You should be receiving an order confirmation from Paypal shortly.
Exit Shopping Cart
The New Millennial Gay Experience
Being gay in our emerging new world
| | |
| --- | --- |
| Posted on January 30, 2014 at 11:35 PM | |
By Farid-ul-Haq
(Editor's note: I've never seen Shameless since I don't get Showtime, but I can now stream it via Netflix. I've always had a bit of a thing for Noel Fisher, who plays Mickey, and from what I've read the gay plotlines on the show are not the same old thing. Farid is a fan of the show, and will be contributing commentary whenever he feels inspired to do so.)

Last week's episode brought another Gallagher into play: Frank's oldest daughter Sammi, from whom he needs a liver. Episode three had good plot development, even if one of the storylines went towards the "creepy" side.
Frank and Sammi
The episode showed Frank finding his oldest daughter, who also has a son. She doesn't know her relationship to Frank, and that's where the "creepy" came in. She ends up falling for Frank, and the scene where she tries to sleep with him is just wrong (well, that's Shameless for you!). However, things turn out in Frank's favor and she agrees to give him a piece of her liver. I'm interested to see how Frank plays this one, and if Sammi finds out he's her father.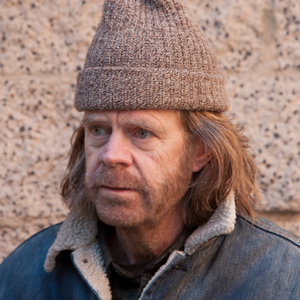 Frank (William H. Macy)
Frank and Carl
Carl is the only one who's showing sympathy towards Frank. While it's heart-warming to see what the kid is willing to do to help his father, it kind of made me uncomfortable because I know things will end badly for the boy. Frank isn't the type to feel anything for someone. I just hope Carl wakes up before it's too late.
Fiona and her downward spiral
Fiona feels out of character to me this season. In season three we saw her fight to become the legal guardian of her siblings. But three episodes into this season she is still on the track to self-destruction. She doesn't seem to care about the kids either. Sheila is the one taking care of the house while Fiona spends most of her time with her boyfriend. She even cheats on him with his brother. Maybe she just can't handle a normal relationship and likes to complicate things? I was happy to see her get a nice job last season but seeing how things went this episode I'm certain we will soon see the Gallaghers fighting to make ends meet…again.
Mickey and Ian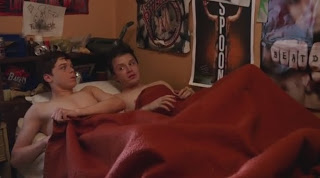 Ian and Mickey (Cameron Monaghan and Noel Fisher)
It's good to see the show not shying away from the gay content. Even if Ian hasn't appeared, the show seems to be trying to make up for it by developing Mickey's character. His story is something a lot of young gay men can relate to. He deeply misses Ian, and we get a scene where he hooks up with a woman who is similar to the Gallagher he likes. Even if Ian does show up (and I know he will; the Army not realizing the I.D is fake doesn't make sense), I don't think Mickey will be able to openly express his feelings. It would be interesting to see the dynamics if Ian has "moved on" and Mickey is still unable to confess his feelings and come out the closet.
Categories: Other Voices
/