Shopping Cart
Your Cart is Empty
There was an error with PayPal
Click here to try again
Thank you for your business!
You should be receiving an order confirmation from Paypal shortly.
Exit Shopping Cart
The New Millennial Gay Experience
Being gay in our emerging new world
| | |
| --- | --- |
| Posted on February 1, 2014 at 2:15 AM | |
By Dback
The first gay love scene I recall viewing—as a very horny, very closeted sixteen-year-old—was between Michael Ontkean and Harry Hamlin in Making Love, when it was broadcast on late-night cable circa 1983-'84. Though comparatively chaste by today's post-QAF standards—two kisses, mutual removal of shirts, and some silhouetted rolling around under the sheets—to my sex-starved libido, it was one of the hottest things I could ever have hoped for. (To this day, if viewing gay erotica, I often find a really seductive kissing-and-undressing scene hotter than full penetration.)
It wasn't until many years later, viewing the scene again, that I took a more objective look at the actors, and noticed something intriguing about their dark, wavy/curly hair, and similar heights and builds. A surprising subtext thus emerged—one which may have helped make the film even more problematic for straight moviegoers way back in 1982. Due to the resemblance between Ontkean and Hamlin, many audiences may have had to adjust to more than watching two men "making love"; they were two men who may have looked uncomfortably close to being brothers.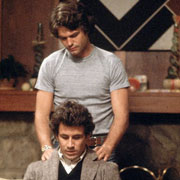 "Making Love":  Brothers?
If this theory comes across as whackadoo, just go with me for a second. Though human beings seem to instinctively like to match up by their similarities, we are taught/acclimatized from a young age that men and women go together because "opposites attract." How, then, do we reconcile this conundrum when dealing with a love scene, or loving images, between two people of the same gender? Is there something that can make such couplings more "palatable" to straight audiences?
Part of the "success" of such images crossing over to a straight audience is, I believe, rooted in the appearance of physical difference, enough that it "tricks" the brain into focusing less on the fact that both parts of the couple are male. Consider the caramel-colored, curly hair of Heath Ledger vs. the dark, thick hair of Jake Gyllenhall in Brokeback Mountain, the highest-grossing gay romance of all time. Or Sean Penn paired opposite James Franco in Milk, or Tom Hanks and Antonio Banderas in Philadelphia, to name two more award-winning examples. The Birdcage and Glee have utilized butch/femme dynamics to help differentiate their lovers in audiences' eyes. Even though Will Truman and his boyfriend Vince D'Angelo on Will and Grace had similar hair color and builds, the show took great pains to contrast Will's preppy WASP lawyer vs. Vince's Italian cop; same thing with curly-haired lawyer Kevin and chef Scotty on Brothers and Sisters. Gay male couples are also being increasingly shown in interracial relationships in TV shows and movies, thus possibly fulfilling this visual "difference" even more handily: exhibit A, Michael and Keith from Six Feet Under. (See also: Ugly Betty and Southland.)
Is it a coincidence that in the 1980's, just as blonde, handsome Steven Carrington on Dynasty was finally proclaiming himself a proud and openly gay man, he was paired up with the dark-haired beauty of Billy Campbell? (Campbell's height provided nice contrast with Marcus D'Amico and Paul Hopkins in the three Tales of the City miniseries.) Didn't the older, dark-haired Gale Harrold contrast sharply with the younger, blonde Randy Harrison on Queer As Folk, and the smoldering Italian Chris Meloni contrast with the sandy-haired Lee Tergesen on Oz? TV's current #1 gay couple, Mitch and Cameron from Modern Family, not only fulfill butch/femme dynamics as well as bear/chaser roles, but Jesse Tyler Ferguson's ginger hotness plays off of Eric Stonestreet's brunette coloring.
Even in real life, gay couples who are noticeably different from each other physically seem to get more media exposure and more affection/acceptance. Neil Patrick Harris and "better half" David Burtka, Justin Mikita and the aforementioned Jesse Tyler Ferguson, and John Barrowman and his husband Scott Gill are but three high profile gay couples who are markedly different from each other physically. Not only do Tom Daley and Dustin Lance Black have the two-decade age difference, but the all-American blonde Mormon and the pint-sized British athlete/stud contrast in multiple other ways.
I have no idea if all of this makes it any more likely that we'll eventually see an onscreen love scene between ultimate silver fox George Clooney and hot hippie dad Brad Pitt. However, if I were a writer/director/casting agent, I'd keep such previously successful pairings in mind next time I was working on a gay-themed project. Maybe when Channing Tatum and Jonah Hill reunite for a third time after 22 Jump Street, we'll see them in a gay love story playing romantic leads opposite each other. I'm already dying imagining the "how we met" scene.
Categories: Other Voices
/