Shopping Cart
Your Cart is Empty
There was an error with PayPal
Click here to try again
Thank you for your business!
You should be receiving an order confirmation from Paypal shortly.
Exit Shopping Cart
The New Millennial Gay Experience
Being gay in our emerging new world
| | |
| --- | --- |
| Posted on February 8, 2014 at 2:10 AM | |
By Lane Forsman
Recently several "news" sites began speculating on the sexuality of Colin Kaepernick. If you are unaware of who he is, he's the quarterback for the San Francisco 49ers football team. Qweerty started the rumor mill churning by "reporting" that Kaepernick was photographed with "openly gay circuit DJ Luis Perez" while at a Super Bowl party in Atlanta hosted by Sports Illustrated. Perez posted a couple of the pictures on his Facebook page, leading Qweerty to wonder: "Another gay false alarm, or secret gay power couple to watch?"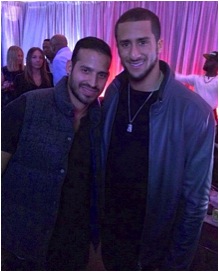 D.J. Perez and Colin Kaepernick
I immediately had a lot of reactions to this as I have a huge issue with outing people, and I'm incredibly against the tabloid establishment. I started writing a piece about it and realized it was more angry and spiteful than anything, and so I stepped back for a minute and looked at the issue. Really, there is one overarching idea that came out that I want to address. One that I don't think has really been talked about before.
To begin with I want to state that I don't believe celebrities inherently have less right to privacy than the general public does. The belief that they do have less privacy rights is bred of a selfishness and voyeuristic nature in our own selves, not in any legitimate claim that can be laid. However, this is the world we live in today, and so celebrities do have less privacy. With that understanding maybe there is a better way to be handling this story than speculating on Kaepernick's sexuality. The way I see it, the main problem is that the story is based on an assumption that gay and straight men can't just be friends.
It's common for straight guys to suggest that gay men just can't control their attractions, and therefore could never really just be friends with a straight guy. (Or share a locker room with them.) It's an outlandish statement and reeks of so much arrogance. But when you harp on a guy like Kaepernick for associating in public with a known figure in the gay community you are making the same argument. You're saying the only reason these two could be spending time together is that they have a gay relationship. You're doing more damage than the straight guy who makes that claim, because you're agreeing with him. You're giving credence to the lie.
I understand the fantasy of some that these prominent individuals could be gay, and there are plenty of media reports that a glass closet exists in the NFL. To the extent it does exist that's a sad thing. The question is whether this is how we want to go about shattering that closet, or if we even want to shatter it at all. Perhaps we should instead help people out of it until it eventually becomes dusty and unused. If we speculate that every friendship between a gay man and a straight man is really covering a romantic relationship, are we not doing significant damage to positive friendships in the process?
Can we not simply celebrate a friendship and the possibility of having an ally instead of jumping immediately to the conclusion that these guys are lovers?
Categories: Other Voices
/