Shopping Cart
Your Cart is Empty
There was an error with PayPal
Click here to try again
Thank you for your business!
You should be receiving an order confirmation from Paypal shortly.
Exit Shopping Cart
The New Millennial Gay Experience
Being gay in our emerging new world
| | |
| --- | --- |
| Posted on February 11, 2014 at 10:35 PM | |
By Farid-ul-Haq
So, a lot happened in this episode, and that's why I enjoyed it. Some of the storylines came to a conclusion and new ones emerged. To top it all off, Ian showed up!
Frank, Samantha, and Carl
Frank is still bonding with his eldest daughter. I can't see Frank as a father figure. I just can't! It's weird to see how well he gets along with his daughter and grandson. Their storyline focused on building a sweat lodge in order to cure Frank's liver. The important thing was Carl finally seeing the truth about Frank and leaving him. I hope that continues. I don't want Carl to get hurt. He needs to stick with the family members that really care about him. Frank loses consciousness inside the sweat lodge and is oblivious to what the rest of the family experiences in the episode.
Fiona's fall comes to an end?
The whole "cheating on her boyfriend with his brother" thing came to an end…finally! The good news is that Fiona was able to keep her job. The bad news…let me take a deep breath…she rejects the brother, keeps his cocaine, celebrates her birthday with Kev and Vee, does drugs, rushes to the hospital when Liam gets into the cocaine, and gets arrested, leaving the kids without adult supervision!
I don't like Fiona this season. Here's to hoping the whole ordeal serves as a wakeup call and she gets her life on track. And I hope nothing serious happens to Liam.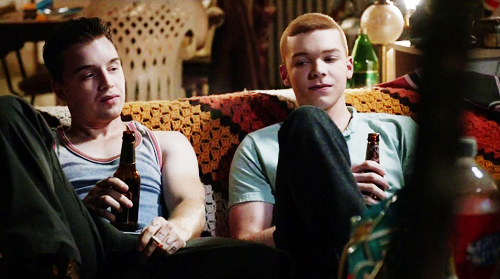 Mickey and Ian:  Is a reunion coming?
Lip, Mickey, and Ian!
Lip gets another visit from the military at his college because of Ian's identity theft. Ian is also wanted for trying to steal a helicopter (Cool!) and being absent without leave. Lip is worried about his brother and sets out to find him. He shares a touching moment with Mickey. It's very clear that Mickey misses Ian and I can't wait to see them interact on screen. Lip and Debbie check out Jimmy/Steve's dad's apartment and they find out Ian crashed there for a few days and then headed to where their mother lives. Once there they get to know he's working at a gay bar. Okay, I was not expecting Ian being high on drugs and handling the bar. I really want to know what went wrong with Ian in the Army. He was so determined to set his life straight last season. Even if the fake I.D thing got him caught, what happened that made him act this way?
I have read previews of the next episodes and it seems Ian will be crashing at Mickey's place for a while, and they will be spending time together. Maybe this time Mickey will be the one who helps Ian come to terms with whatever he is experiencing? Lip seems to be the only sane one right now. I just hope he doesn't have to leave college to take care of the kids and Ian. Fiona had better get hold of the situation, and fast. There's a lot of uncertainty regarding what might happen to the Gallaghers.
Categories: Other Voices
/