Shopping Cart
Your Cart is Empty
There was an error with PayPal
Click here to try again
Thank you for your business!
You should be receiving an order confirmation from Paypal shortly.
Exit Shopping Cart
The New Millennial Gay Experience
Being gay in our emerging new world
| | |
| --- | --- |
| Posted on May 22, 2014 at 9:55 PM | |
By Dennis Stone
Now THERE'S a pairing you wouldn't expect to see!
I originally wasn't planning to make a connection between them. I'm trying to get in the habit of writing more "blog posts" as opposed to full fledged articles, and I was planning to write a post that briefly mentioned each of them in totally separate contexts. But the more I think about it the more I see logic in combining them. But first I have a couple of things to say about each of them independently.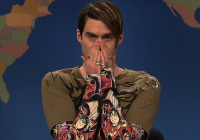 Stefon, of course, was the gay "city correspondent" for "Weekend Update" on "Saturday Night Live." Played by Bill Hader in 16 appearances from 2010 to 2013, Stefon was outrageously funny, even more so in my opinion because Hader could never get through an appearance without breaking up at his own jokes. I discovered that one reason for that was that SNL co-writer John Mulaney usually did rewrites of jokes up until airtime, and Hader was seeing some of the more outrageous lines for the first time as he read them on the cue cards.  I thought of Stefon today because Hader has just been signed to create and star in a new comedy show on HBO. Good luck with that, Bill!
It's amusing to me that Stefon is now considered by many gay people to be a beloved gay character, and I read a couple of posts today that used exactly that phrase to describe him. However, he was not so beloved in the early days. There was a lot of criticism of the character for being an extreme stereotype, with a voice and mannerisms that screamed "gay caricature" to many. I used to read comment sections where people railed against how offensive the character was. Over time, somehow, "offensive" morphed into "beloved," especially when Stefon and Weekend Update anchor Seth Myers had a skit on Hader's last regular appearance where they got married. Stefon had not changed, but the gay critics had.
I thought of Larry Kramer today because of a New York Times profile that appeared in connection with the upcoming release of the movie version of his play "The Normal Heart." Though in poor health recently, he is as pugnacious as ever. There are few people who generate more mixed feelings in me than does Larry Kramer. What he did in the 1980s and onward in regards to the AIDS crisis and the plight of gay people throughout those most virulent plague years was titanic, iconic and just plain awe-inspiring. He galvanized and helped lead a movement and a community through its darkest days. And he earned my gratitude and my awe.
On the other hand, on so many other issues and outlooks he is, in my opinion, totally wrong. In many ways he's still living in the 1980s, his heyday, sort of like those people who only like the music they grew up with. Further, he vehemently seems to see only one "proper" way to live the gay life - his way - and anyone who deviates from that path earns his considerable wrath. The "new millennial gay experience" would be utterly incomprehensible and abhorrent to him, and I'm pretty sure he'd hate my guts. From what others have said of him, he's a "difficult" person, with all the traits that code word implies. He seems to be constantly railing against "enemies" of all kinds, both in and out of the gay community. Concepts like consensus, diversity of views, and trying to understand where others are coming from seem foreign to him. The Times piece closes with this quote:  "You do not get more with honey than with vinegar." Actually, sometimes you do. The wise man understands that, and knows the difference between those situations that require vinegar and those that would be better served with honey. 
So what connects in my mind these most disparate of personalities? First of all, it is this:  if Stefon were a real person, and if Larry Kramer were to meet him, Kramer would be utterly appalled by him. Stefon is the new wave, living openly and without anger, unimpeded by his sexuality, fully embracing and celebrating his freedom. Kramer is the angry old wave, not fully recognizing how far we've come, locked in traditional ways of thinking, and disdainful of people like Stefon. Yes, Stefon's freedom to a signficant degree comes from what Kramer and his contemporaries did. And perhaps Stefon neither understands nor appreciates that. But the new world is here, and Stefon is enthusiastically living in it. The ultimate connection between them is the irony that Stefon's world is partly the result of what Kramer's world did, and yet neither understands what that really means.
Categories: The Blog
/