Shopping Cart
Your Cart is Empty
There was an error with PayPal
Click here to try again
Thank you for your business!
You should be receiving an order confirmation from Paypal shortly.
Exit Shopping Cart
The New Millennial Gay Experience
Being gay in our emerging new world
| | |
| --- | --- |
| Posted on July 21, 2014 at 3:55 PM | |
By Dennis Stone
A couple of nights ago I was aimlessly flipping TV channels, and I came upon a show on Palladium called "MTV's New Artists To Watch." I'm always up for that sort of thing, so I hung around to see if I could discover a great new band or singer. The band playing was called "Rixton," and I had never heard of them. (Though when I looked into them further I realized I had many times heard their catchy single, "Me And My Broken Heart.")  They were all rather cute, and the song, "Make Out," was infectious. 
At one point the lead singer, Jake Roche, walked over to the super-cute bassist, Danny Wilkin.  He grasped the back of Danny's head, their faces less than two inches apart, as he sang, "I just wanna hold your hand, I just wanna pull you closer."  Danny nodded eagerly several times as the crowd's cheers rose.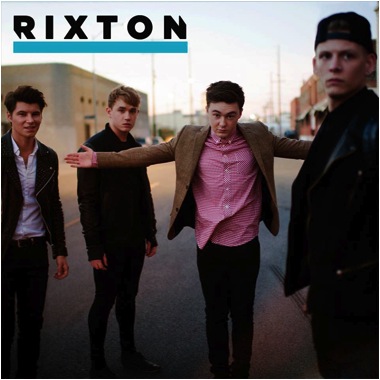 Charley, Danny, Jake and Lewi.
Hmmm....what do we have here, I thought, a gay boy band I've never heard of? I did some research, and it appears all the members are straight. (There appears to be a bit of ambiguity about Jake.) So what we actually have here is a quintessential example of the comfortable, open way in which the Millennial generation views sexuality. Imagine the Backstreet Boys or the New Kids On the Block casually having an overt homoerotic moment on stage, with the crowd cheering in appreciation.
While looking into the band I discovered the following video:  https://www.youtube.com/watch?v=Q5eksUxnHKc
Guitarist Charley Bagnall tries to break the world record for most double cheek kisses in 30 seconds by kissing drummer Lewi Morgan.  They fail miserably, but it's adorable. At the end Charley says to Lewi, "I'm just gonna cuddle you," and they have a big hug.  
And then there is their video for "Make Out," which was the first video they made. It spoofs some of the more prominent videos of 2013, including "Wrecking Ball" by Miley Cyrus, "Blurred Lines" by Robin Thicke, and videos by Rihanna, Katy Perry and Justin Bieber. It includes many homoerotic moments, and a fair amount of skin, all done in a playful and fun way.  There's a section toward the end where they sing "Make out!" over and over again during a succession of scenes where couples of all types are passionately kissing.  Including two girls and two guys.  Check it out:  https://www.youtube.com/watch?v=eHQkaH4J4Ps
Right-wingers and evangelicals and others can try to hold on to their anti-gay attitudes all they want, but they are doomed. A lot of gay people don't agree with me, but anti-gay sentiment as a meaningful social phenomenon in the United States is in its death throes. (Though significant parts of the world will have to wait a bit longer.) As in all death throes, the process is throwing up dirt and fire and noise, but the outcome is inevitable. You can see it in the shockingly swift way in which marriage equality is sweeping the states. You can see it in the fact that almost all companies of any size have sexual orientation protections written into their policies. You can see it in Michael Sam's remarkably seamless integration into the St. Louis Rams football team. You can see it in the fact that any celebrity who says anything anti-gay is instantly turned into a pariah. And you can see it in the utterly casual way in which Rixton treats same sex attraction, a way reflective of their generation. 
Categories: The Blog
/