Shopping Cart
Your Cart is Empty
There was an error with PayPal
Click here to try again
Thank you for your business!
You should be receiving an order confirmation from Paypal shortly.
Exit Shopping Cart
The New Millennial Gay Experience
Being gay in our emerging new world
| | |
| --- | --- |
| Posted on January 1, 2016 at 2:20 PM | |
By Dennis Stone
New Year's Day might be my favorite holiday.
But before I talk about that I have to say a few words about the truly seismic event of 2015: Drake redefining both music and video with the release of "Hotline Bling." OK, just joking. The really big news was Zayn exiting One Direction, leaving a big hole in my heart.
Well, actually, you know I'm referring to marriage equality becoming the law of the land in all 50 of the United States, thanks to the Supreme Court ruling in June. Most gay people consider that a really significant event, but in my experience a lot of people nonetheless underestimate how truly landscape-changing it is. It not only gives gay people all of the rights surrounding the concept of marriage (and there are a lot more than most people realize), but it also is a powerful symbol of the fact that we've essentially won the cultural war that we've been fighting at least since the formation of the Mattachine Society in 1950.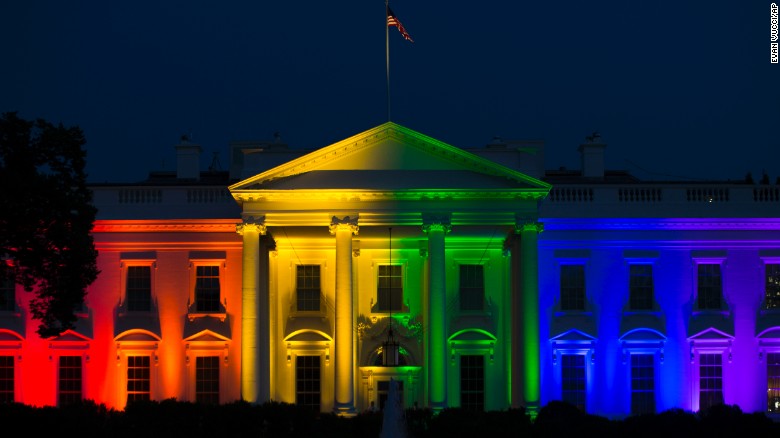 Photo:  the White House illuminated in rainbow colors following the Supreme Court decision.
Yes, we still have a lot of work to do, and there remain a lot of bigoted folks out there, but the concept of gay equality has carried the day in the U.S., and there is no going back. The polls all show it, and support grows by the day. Any celebrity who says anything anti-gay becomes a pariah, and very soon issues an apology. Almost all companies of any size have gay protection policies. Even the Republican party, which for years used anti-gay paranoia to drive voters to the polls, very rarely generates any anti-gay rhetoric. 2015 was the year when our cultural victory in the United States was achieved.
So why do I like New Year's Day, apart from the fact that it shares its name with my favorite U2 song? The essence of the day is renewal, an opportunity to look at the world with new optimism, and to look at my life as offering exciting opportunities. Never mind the fact that my track record of maintaining resolutions is a bit, ahem, spotty. Each year I get another crack at it. Yes, I can make changes in outlook any time during the year, but symbolism is a powerful force in the human mind, and the symbolism of New Year's Day can be a useful tool.
For me 2014 had been, for many reasons, a difficult year. In response to that, 2015 became a year of stabilization, a year of reestablishing "normalcy" and eradicating the negative. But it didn't really stand out, it didn't give me anything that would make the highlight reel of my life. But now it's a new year, and I'm looking forward to a lot more than stability.
One of my primary resolutions is to write regularly in 2016. The urge is always there; I just have to turn that urge into tangible results. This is the year! Then there's my plan to start to meet people again, and create some new meaningful relationships. My eye issues have put a real strain on my social life over the past few years, but I've come to see that to some degree I've used that as an excuse to settle into a rut. So I'm going to turn that around. This is the year! Then there is my annual resolution to get to bed earlier and get more sleep. I take care of myself really well in other respects, but sleep is an important factor in health, and I just don't get enough of it. This is the year!
I have two resolutions that are more philosophical. In thinking of the first I'm reminded of an episode from the original "Star Trek." The crew encounters the last three members of a race that had evolved to the point where they were pure energy, without bodies. They convinced Captain Kirk to allow them to inhabit the bodies of three crew members (including Kirk) for a short time so they could experience physical sensations. They marveled at how incredible and stimulating was the experience of the five human senses, how wonderful it was to go through life being able to feel and interact with everything around us. We take that wonder and potential joy for granted, or we even forget that they are possible. I resolve in 2016 to be consciously aware of just how phenomenal life is, and to see the wonders – both grand and seemingly insignificant - all around me.
The last resolution is simple: be a better person. That should be the top resolution for all of us. We can do that in many ways every day. Give someone a compliment. Overlook the flaws in others, knowing we have our own. Be a source of comfort when someone is hurting. Donate to a good cause. Try to understand points of view that differ from our own. Be more inclusive in every aspect of life. Work hard. Get some exercise. Have goals and try to achieve them a little more each day. Just be nice to people. No matter what our spiritual outlook is, see the people around us as our brothers and sisters.
2016 is the year!
Categories: The Blog
/