Shopping Cart
Your Cart is Empty
There was an error with PayPal
Click here to try again
Thank you for your business!
You should be receiving an order confirmation from Paypal shortly.
Exit Shopping Cart
The New Millennial Gay Experience
Being gay in our emerging new world
| | |
| --- | --- |
| Posted on January 3, 2016 at 5:05 PM | |
By Dennis Stone
As I was coming home late last night I heard a song on the radio that I vaguely recognized. Great romantic tune, beautiful voices, the type of song that makes me feel I'm in love even when I'm alone. Then the words of the chorus hit me:
Something happens when I hold him
He keeps my heart from getting broken
When the days get short and the nights get a little bit frozen
We hold each other
We hold each other
Even in today's world that's the sort of lyric you don't hear every day. I remembered hearing it a couple of months ago, and I planned to research it with an eye toward writing something on this site. But I hadn't resumed writing at that time and the idea drifted away. But last night I finally looked into it, and was glad I did.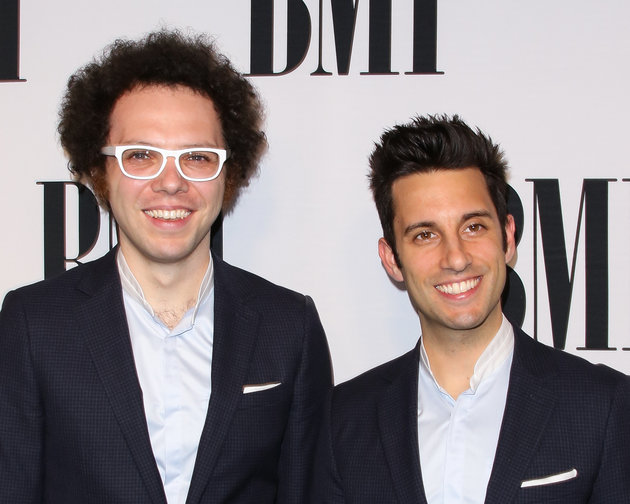 Ian and Chad
First of all, the song is called "Hold Each Other, and it's by a duo named "A Great Big World." You may remember them for the monster hit "Say Something" with Christina Aguilera. That was another beautiful melody. They also had their song "This Is the New Year" covered by New Directions in the fourth season of "Glee."
The guys (Ian Axel and Chad King) did a great video for "Hold Each Other," and you can (or should!) watch it here:  https://www.youtube.com/watch?v=pSMb50u78Aw" target="_blank">http://https://www.youtube.com/watch?v=pSMb50u78Aw
Ian Axel is straight, and sings the first verse and chorus with female pronouns. Then Chad King, who is gay, sings a verse and chorus with male pronouns. That is followed by a rap interlude by Futuristic. On paper that sounds like an idea that wouldn't work, but it does, wonderfully. In fact, the whole video gives me a feeling of human unity, with disparate parts perfectly combined: straight and gay, black and white, pop and rap. Everyone getting along happily in a peaceful and loving urban setting. Sigh…What the world COULD be like.
Originally Chad was going to sing his section with female pronouns, simply because that's how pop songs historically have been done. The funny thing about that is that he's been out for about eight years. The plan wasn't to hide anything, but simply to conform to pop music conventions. But the more Ian thought about it, the more "off" it seemed to have Chad do that. And so they did it the "right" way.
Chad was amused to read several stories that referred to this song as his coming out. To some degree we all have to keep coming out as we go through life. If you go to work for a new company you have to come out there, even if you were fully out at the prior company. If you meet new people you have to come out to them, even if everyone else in your life has known you're gay for several years. For a celebrity, you can be out in all aspects of your personal life, but if you haven't had the "People" magazine cover story with "I'm Gay" in big letters on the front you're not really out in some people's minds. I'm not complaining at all about any of this, it's just how things work.
There are some overtly "new millennial" aspects to this story. The guys took their newly recorded album to Epic Records chairman L.A. Reid, who you may remember as a judge on the American version of "X Factor."  He insisted on issuing "Hold Each Other" as the first single. That wasn't a bold "statement" on his part. Nor was it an attempt to generate buzz and sales. Rather, it was simply the most radio-friendly, most appealing song on the album. According to Ian and Chad, the gay aspect wasn't on his mind at all.
Considering that the guys originally weren't going to use male pronouns in "Hold Each Other" it was a bit surprising to find a song on their first album with the endearing title "Everyone Is Gay," issued a year before "Hold Each Other." It starts out like this:
If you're gay then you're gay
Don't pretend that you're straight
You can be who you are any day of the week
You are unlike the others
So strong and unique
We're all with you
If you're straight well that's great
You can help procreate
And make gay little babies
For the whole human race
Make a world we can live in
Where the one who you love's not an issue
'Cause we're all somewhere in the middle
And we're all just looking for love to change the world
Categories: The Blog
/