Shopping Cart
Your Cart is Empty
There was an error with PayPal
Click here to try again
Thank you for your business!
You should be receiving an order confirmation from Paypal shortly.
Exit Shopping Cart
The New Millennial Gay Experience
Being gay in our emerging new world
| | |
| --- | --- |
| Posted on January 20, 2016 at 12:25 AM | |
By Dennis Stone
Can anyone be "queer?"  
I've been asking myself that question the past two days after seeing a series of stories across the internet announcing "Rowan Blanchard Comes Out As Queer!"  Rowan is the 14-year old star of Disney Channel's "Girl Meets World." In a series of tweets she has identified herself as queer. Cool! I thought, a Disney star being queer can only be a good thing, bringing awareness to a corner of the entertainment world that has been very cautious about all things LGBTQ.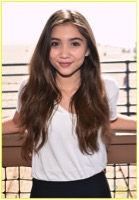 However, when I read the tweets the story isn't quite as straightforward as it had appeared. The situation began when a fan tweeted a hope that Riley, Rowan's TV character, might have a bisexual relationship. Rowan tweeted back:  "Would really be here for this! If not Riley — it's (very) important to me, being queer, that there is representation on our show." She followed up with:  "In my life — only ever liked boys. However I personally don't wanna label myself as straight, gay or whateva so I am not gonna give myself labels to stick with — just existing." And then:  "yes open to liking any gender in the future is why I identify as queer."
I find all of this really admirable. She is obviously an extraordinarily intelligent and socially conscious young woman. She received some attention awhile back for writing a provocative essay about intersectionality in feminism. And her willingness to eschew labels and identify with the non-conforming LGBTQ community warms my heart. But the whole thing brings me back to my original question:  can anyone be queer? Is it legitimate to adopt the label if you have no same-sex experiences and no overt same-sex attractions? 
I find myself having mixed feelings. On the one hand, a lot of people seem to use the term very broadly.  Here is PFLAG's definition:  "Think of queer as an umbrella term. It includes anyone who a) wants to identify as queer and b) who feels somehow outside of the societal norms in regards to gender or sexuality. This, therefore, could include the person who highly values queer theory concepts and would rather not identify with any particular label, the gender fluid bisexual, the gender fluid heterosexual, the questioning LGBT person, and the person who just doesn't feel like they quite fit in to societal norms and wants to bond with a community over that."
Rowan's self-identification certainly fits into that definition, and if that's how we as a community decide to define the term I won't object. But a part of me just feels a bit uneasy. When I personally use or see the term I think of a community of people who are and have been outsiders to the mainstream community, who have had to fight oppression and misunderstanding and, for many, self-doubt and fear. People like Rowan just don't fit into that category. There is some level on which using the broader definition feels like a cheapening of the identity. 
I have a couple of other points to make about this story. I found it amusing and vaguely annoying that so many media outlets used the term "coming out" in their headlines and stories. Can you be said to be "coming out" if you're simply announcing you don't like labels and would be theoretically open to a gay relationship down the road?  Again, it somehow feels like a cheapening of the coming out and underlying struggle of genuinely gay people. 
Rowan indicated in a tweet that she had received a lot of criticism for her tweets and self-identification. I haven't yet discovered whether she is referring to criticism from cultural conservatives or from LGBTQ people. I'd guess it's the former. It's vital that we at all costs protect the children, and we can't have someone associated with the wholesomeness of Disney causing the youngsters to think in an open, welcoming, supportive way! Though criticism from either source would be invalid. (And nothing I've said here constitutes any criticism of Rowan, who I admire.)
None of this is anything I'll lose any sleep over. But it's always interesting to me to observe how we observe and label ourselves, and how the broader society does so.

Categories: The Blog
/