Shopping Cart
Your Cart is Empty
There was an error with PayPal
Click here to try again
Thank you for your business!
You should be receiving an order confirmation from Paypal shortly.
Exit Shopping Cart
The New Millennial Gay Experience
Being gay in our emerging new world
| | |
| --- | --- |
| Posted on January 31, 2016 at 6:55 PM | |
By Dennis Stone
If you want a classic example of the difference between the "bad old days" and the new millennial gay world in which we now live you need look no further than the life of Alan Turing. I was reminded of that last night when I finally got around to watching "The Imitation Game," the 2014 historical drama about Turing. The film featured a terrific starring performance by Benedict Cumberbatch and received eight Oscar nominations.
There are aspects of his reaction to being gay in a darker time that strike me as new millennial, and remind me of my own reactions growing up in the pre-AIDS world. I'll discuss that later in this piece.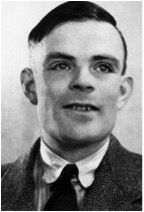 Most readers probably know much about the Turing story, either through the movie or because Turing has in recent years become a bit of a gay icon. I consider him to be one of the great geniuses of the past century, on the same level as Stephen Hawking. He was perhaps the most important person behind the pivotal British breaking of the German Enigma naval code in World War II. Historians estimate that the achievement shortened the war by two to four years, and saved perhaps fourteen million lives (a majority of which were likely additional Jewish holocaust victims). Some observers even think that without the breaking of the code Germany could have won the war.
In addition to that achievement there were many others. Turing's work and theories were important in the development of the modern computer, and he is widely considered the father of both computer science and artificial intelligence. When "Time" magazine named him one of the 100 most important people of the 20th century they said this about him: "The fact remains that everyone who taps at a keyboard, opening a spreadsheet or a word-processing program, is working on an incarnation of a Turing machine."
In the gay world Turing is as much known for the persecution he suffered for being gay as for his incredible achievements. In 1952 he was arrested and prosecuted for "gross indecency," which meant he had been reported as having a sexual affair with another man. The law and society considered such a thing to be a grave assault on morals and the upright fiber of the country. He was convicted and given the choice between prison and chemical castration. He chose the latter, which made him impotent and led to enlarged breasts and other physical reactions. He lost his security clearance and therefore his ability to work for the government. He was barred from entering the U.S.
In 1954 he died of cyanide poisoning, which was ruled by inquest to be a suicide. However, there are some who doubt the suicide finding and think the death was an accident since Turing did have cyanide in his house for scientific experiments.
(Here is a bit of historical context about British law regarding homosexuality. In 1533 sodomy became a crime punishable by death. That remained on the books until 1861, when imprisonment replaced death as the penalty. In 1885 a new law extended the crime to encompass any sexual acts between men. Interestingly, the laws never addressed lesbians. During the 1940s and especially the 1950s the police strongly enforced the law, and in 1954, the year Turing committed suicide, there were 1069 men in prison in England and Wales for gay activity.
Finally, in 1967 a limited decriminalization was passed. The age of consent was set at 21, compared to 16 for heterosexual acts, and only two people could be present, even if a third person was in another room. The courts interpreted "in private" to exclude hotel rooms. These restrictions were finally overturned in 2000.)
So here we have a true hero of the country, one of the most important people involved in winning the war and preserving that country, a man credited with saving millions of lives. And simply because he liked men rather than women he had his life essentially destroyed. Simply because he was "born that way" his incredible contributions to his country and to humanity as a whole were tossed aside.
To some degree I consider Turing to be a bit of a "new millennial" thinker. He was much more open about his homosexuality than the "Imitation Game" implies. He told friends and colleagues about it, and was apparently quite bold in approaching guys he was interested in. After his arrest he was not apologetic at all, and apparently made a statement that angered prosecutors. As far as I can tell, even in the 1940s he considered his gay nature to be normal, different but equal. It wasn't anything special, just one of the characteristics that made him who he was.
That's how I thought of myself growing up as well. I never made much effort to hide my nature (though I didn't go out of my way to broadcast it either), and just basically took it for granted. I recognized it as something much or most of society had problems with, but I never had the slightest problem with it myself. As with Turing, it was a part of my life, but didn't dominate my life.
Seeing the Turing story on film also got me to thinking about how much different the world is today. It also got me to thinking about the degree to which so many people don't recognize and/or appreciate that difference. Knowing how things used to be, not all that long ago, I find it hard to get exercised if "Teen Wolf" doesn't have as much gay content as I'd like to see. I find it hard to get enraged when a Christian expresses love and support for the gay people in their lives, but can't get past the idea that it's a sin. I find it hard to get my undies in a bunch when someone calls a person homosexual rather than gay. (I just saw enraged comments online about that the other day.) Thinking about Alan Turing I have trouble thinking "Teen Wolf" showrunner Jeff Davis is a gay turncoat because he didn't allow "Sterek" to become reality.
In philosophical terms, historical knowledge and perspective helps us to understand in proper context the world we now live in. A lot of people could use a bit more of that perspective.
Categories: History Lessons
/