Shopping Cart
Your Cart is Empty
There was an error with PayPal
Click here to try again
Thank you for your business!
You should be receiving an order confirmation from Paypal shortly.
Exit Shopping Cart
The New Millennial Gay Experience
Being gay in our emerging new world
| | |
| --- | --- |
| Posted on February 12, 2016 at 12:05 AM | |
By Dennis Stone
I've noticed that the coming out process is evolving as the new millennial gay world evolves. I was reminded of that yesterday when I learned that a college football player from my hometown Minnesota Gophers had just come out publicly via a self-penned story on "Outsports." Luke McAvoy played for the Gophers from 2011-2014, and had come out to his teammates in February 2014. There are several aspects of this story that are quite remarkable, and reflect our rapidly changing world.
First, a bit more background. Until Luke told two of his teammates about his orientation on February 11, 2014, during his junior year, only one person in the world knew he was gay. He had told his mother a few days before his senior year of high school. Because he so desperately wanted to play college football, and because he was convinced that the sports world would not accept him, he took her advice to hide his identity. Later that year he was elected homecoming king of his high school. He seemingly had it all, but he was deeply unhappy. "Hiding who I was became my obsession," he says. "I became reserved, I became a fake." He couldn't imagine being out and being a football player. Neither Michael Sam nor basketballer Jason Collins had yet come out."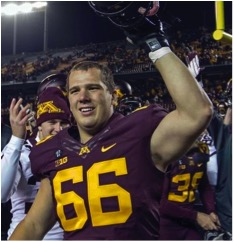 In his third year of college he couldn't take it anymore, and he told two of his teammates. He was inspired by Michael Sam, who had come out two days before. The big burly football lineman was terrified, but he did it. And he was met with instant acceptance. Word spread through the team, and he was almost shocked by the positive response. Acceptance wasn't universal, but, as he says, "the support, acceptance and love I felt outweighed all the negativity."
Luke's experience reflects something I've noticed about the recent coming out of people in the public eye, whether athletes, music people, actors and actresses, YouTube personalities, etc. Almost everyone remarks about how apprehensive they were, but how easy it turned out to be, how much acceptance they felt, and how relieved they felt as a result. They also say that they wish they would have come out sooner. They realize that the weight and fear they had carried around for years were completely unnecessary. The bottom line is that coming out isn't nearly the ordeal it used to be.
In fact, people who DO have a problem with gay people are often the ones on the outside looking in. The acceptable thing to do, even the "cool" thing, is to be supportive. That is certainly true in the "public square." When Michael Sam came out there really weren't any significant public figures or fellow athletes who voiced a problem with Sam. It just wasn't acceptable.
I have been struck by how little "play" Luke's story has gotten in the national media. It's been mentioned by a lot of local media here in the Twin Cities, but it isn't a big story nationally. Five years ago it would have been. Imagine, a college football player – and a big bruising lineman at that – coming out as gay! That would have been "YUGE," as Donald Trump would say. Now it's not worthy of being picked up by most news outlets. Yawn.
I found it interesting that Luke said that he really knew he was fully accepted when teammates began making jokes with him about his orientation. As he says: "On the team, things that are not really accepted don't really get mentioned. Things that are accepted or don't really bother people are what we joke about." To some people that seems odd, but that's the athletic ethos, and also the ethos of a lot of what I'll call "regular folks." That resonates with me personally. When I can joke around with friends or co-workers, and they are comfortable enough to do that, I know they are genuinely comfortable with me. That's much better than people being so afraid to offend or say the wrong thing that they avoid the topic at all costs.
Luke is now a middle school teacher in Milwaukee. That's another aspect of this story I find remarkable. Back in the 1970s and 1980s the idea of a gay man teaching children was anathema to much of mainstream America. "We must protect the children" was a rallying cry. One of Harvey Milk's greatest successes was helping to defeat California state Proposition 6 in 1978, which would have made the firing of gay teachers mandatory. Fear of gay teachers was a big factor in the defeat of many gay rights ordinances around the country in that era. But today a gay man teaches middle school with so much confidence in his acceptance by society that he feels total freedom to write an article in a nationally known publication talking about his coming out.
Some gay people think that those of us with the new millennial gay outlook overlook the fact that there is still a long way to go for LGBTQ equality. However, we are fully aware of societal shortcomings. We just choose to focus on the positive, on the speed with which society is moving in our direction, and especially on how dramatically different gay life is today compared to the past. Luke expresses that awareness when he says: "Yes, there is still discrimination against the LGBT community. Yes, I have lost some friends and family members." But he adds: "The reality [of coming out] was so much better than I ever imagined. When I was hiding and full of fear, I would imagine coming out and it always ended with rejection, hate or loneliness. I did not once expect it to go OK. In reality, it went great. I was surrounded by people who cared and supported me."
As a symptom of the fact that there's still a lot of progress that needs to come, I will point out that soccer player Robbie Rogers is currently the only out male athlete currently playing in a major American sports league. It is certain that there are gay athletes – perhaps many – in those leagues. The fact that they don't feel the freedom to come out is telling. But, based on Luke McAvoy's experience and the experience of other public and private people, I am confident that if they did come out they would be surprised at how easy it was. And they would regret not doing it sooner. In essence, society has progressed markedly. It's just that not everyone realizes it yet.

Categories: Commentary
/