Shopping Cart
Your Cart is Empty
There was an error with PayPal
Click here to try again
Thank you for your business!
You should be receiving an order confirmation from Paypal shortly.
Exit Shopping Cart
The New Millennial Gay Experience
Being gay in our emerging new world
| | |
| --- | --- |
| Posted on March 12, 2016 at 6:45 PM | |
By Dennis Stone
In my last blog entry I addressed the question that an "Advocate" writer contended was asked by all gay people at some point:  "why me?"  While the angst of that question continues to diminish in our new millennial gay world, it was my guess that it would continue to be asked by almost all people who realized - whether suddenly or gradually - that they were markedly different from their peers. Sexuality is a big deal - always has been and always will be. To be so different from the overwhelming majority of people in such a basic and life-altering way seems the sort of thing that will inevitably lead people to wonder why they were "chosen."   Or so I thought.
A story about Noah Galvin, the 21-year old gay star of ABC's "The Real O'Neals" has me wondering if I'm wrong.  He came out at the age of fourteen, first to his mother, who had been asking him about it.  He says he had no issues with the realization, and fully accepted himself from the beginning. Further, he says that friends his age just don't see why being gay should be an issue. Older people do express to him the feeling that it's more of a big deal, but of course they grew up in a much different world.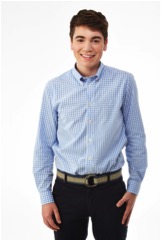 As I related in my last post, I personally had no self-acceptance problems myself, and never asked the "why me?" question. But I assumed that was because I didn't identify as gay until I was nineteen, and I was a dedicated philosophical non-conformist by then. But now, when I combine my personal experience with that of Noah, I'm thinking that perhaps we are moving toward a world where being gay will be so accepted that for many, the realization will be experienced as just one of the many human differences that we see around us. I'm not convinced of that yet, but Noah has me wondering.
Of course, I have to add the caveat, as I always feel I must in contexts like this, that we are nowhere near a world where such acceptance will be anything approaching universal. But if Noah Galvin is a harbinger of things to come we're in for even more of a revolution than we think!
Though Malcolm Venable, who reviewed "The Real O'Neals" for TV Guide, isn't quite on board.  He commented on how matter of fact was the coming out of Noah's character (Kenny) in the first episode. To him it rushed by like a "meh" moment (his word), and he says it felt like a "non-event."  Of course, from my perspective that was the whole point. The revelation came as part of a cathartic family conversation in which the veneer of the "perfect" Irish-Catholic family was removed as each family member shared a secret that had been hiding behind that veneer. I'm tired of the "big gay reveal," where the ground shakes, the cymbals crash, and everyone is forced to recognize the coming out as a momentous event. It's not that big a deal, the show is saying. 
While reading about the show I learned that Executive Producer Todd Holland desperately wanted a gay actor to play the role of Kenny. Unfortunately, his desires were complicated by a California law that bars producers or casting agents from asking actors about their orientation. Obviously the purpose of the law is to protect gay actors, but in this case it had the reverse impact. But Holland got his gay actor.  He says he "had a sense" about Noah.  Which means his gaydar is working!  Though he also claims he overheard him talking to someone else about coming out to his family. 
Having seen three episodes I will say that Noah is absolutely perfect for the part.  But philosophically I disagree with Holland's position. He said that the role "should not be played by a straight man pretending to be gay."  Of course, pretending to be something you're not is the essence of acting. After seeing the impact on "Milk" of Sean Penn's performance, and the impact on "Brokeback Mountain" of Heath Ledger's and Jake Gyllanhaal's performances, i would urge producers to always hire the best actor for the role, regardless of orientation.  In the case of Noah Galvin, we got both a gay actor and the best man for the role.
Categories: The Blog
/