Shopping Cart
Your Cart is Empty
There was an error with PayPal
Click here to try again
Thank you for your business!
You should be receiving an order confirmation from Paypal shortly.
Exit Shopping Cart
The New Millennial Gay Experience
Being gay in our emerging new world
| | |
| --- | --- |
| Posted on March 23, 2016 at 11:10 PM | |
By Dennis Stone
I enjoy the introductory letters or memos of "Advocate" editor Matthew Breen and "Out" editor Aaron Hicklin in their respective magazines (though Aaron doesn't write one for each edition of "Out").  Both guys understand and champion traditional LGBT concerns and issues on the one hand, but also understand the emerging realities and viewpoints of the new millennial outlook. Matthew's "Editor's Letter" in the new edition of the "Advocate" is a piece I could have written myself.  But since he wrote it I don't have to!
The basic premise of the essay is that we as a community are too intent on vilifying straight people for the less than enlighted attitudes they might have held in the past, while overlooking where they are now, and the evolution that brought them there.  Bernie Sanders is criticized for not officially supporting marriage equality until 2009, while Hillary Clinton didn't make her change of heart official until 2013.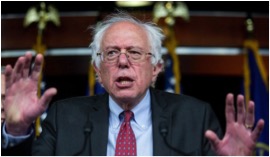 There are many other people who were late to the party, and many gay people can't overlook the past. Matthew confesses to doing that himself in regard to Ohio senator Rob Portman, who converted to support of marriage equality after his son came out. Matthew rejected Portman's support as illegitimate. "Who the hell did this latecomer think he was?" Matthew wondered. "He only supported my rights once the issue was relevant to his family. Had he never imagined that this matter was real, important, vital to anyone else?"  There are many gay people who can't forgive the past, and many of them are intransigently virulent in their scorn. 
I've never felt that way about anyone myself.  I have a bedrock belief that one of the primary goals of life is to experience, learn, grow, change and evolve. Some people say that there are two types of people in the world:  dog people and cat people.  I also say that there are two types:  those who do learn, grow and evolve, and those who are basically the same people at 50 as they are at 20 (if not less open-minded as they age). I utterly don't care one whit what you thought in the past, or even what you did in the past.  I only care about what you think and do today. In fact, there is something very appealing to me about the "conversion" process. In a way, someone who has held a view or lived a life that is less than exemplary, and who then changes his/her outlook or life, seems to me to often have a fuller, deeper understanding of the issue, or of life itself.
The point of Matthew's letter is that he too has changed his viewpoint on this issue, and now is accepting of where people are today on the important LGBT issues, not where they were at some point in the past. He's one of those people who do learn, grow and evolve, and like me, he values the evolution of others, and focuses on where they are now.  His conclusion is perfect:  "It's wonderful to have espoused picture-perfect pro-equality viewpoints all along, but not everyone did. We have to stop eating our own after they've come around."  
Click here to read Matthew's piece.
Categories: The Blog
/