Shopping Cart
Your Cart is Empty
There was an error with PayPal
Click here to try again
Thank you for your business!
You should be receiving an order confirmation from Paypal shortly.
Exit Shopping Cart
The New Millennial Gay Experience
Being gay in our emerging new world
| | |
| --- | --- |
| Posted on April 22, 2016 at 6:15 PM | |
By Dennis Stone
I've become a big fan of "The Real O'Neals" on ABC, the first new comedy I've fallen in love with for some time.  Partly that's because of how adorable Noah Galvin is (as gay 16-year old Kenny), partly it's because of the occasionally off-the-wall, surreal humor, partly it's because of the relatable family dynamic, and partly it's because of how smart the show is in handling Kenny's gayness.  The gay stereotypes come fast and furiously, but they work. I'm hoping to write a piece on why they do indeed work, even the hoary broad ones that previously would have offended most gay people.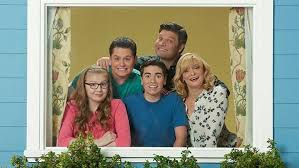 The adorable Noah Galvin and his TV family.
Based on interviews I've read, Noah Galvin is the quintessential new millennial gay guy. On the other hand, one of the show's creators was Dan Savage, who to a large degree is part of the "old guard."  Though I have been impressed by Dan as a thoughtful, independent thinker, unlike some other members of the old guard.  The show's gay attitude has been, to me, a bit of an amalgamation of new millennial and old guard outlooks.  I've been happy with how they've handled the gay issue, though I was initially dubious about an important aspect of episode seven, when Kenny's grandma comes to visit. 
Grandma came to visit accompanied by her VERY conservative Catholic worldview, and also by her racism and homophobia. (Unlike what some non-thinkers on the progressive side of the aisle believe, "conservative" and "Christian" do not for most people equate to racism and homophobia.)  To Kenny's dismay, his mother Eileen had not told his grandmother about his sexuality or about the fact that Kenny's parents were divorcing. Eileen wanted to keep her mother in the dark about both matters, while Kenny insisted that they both come out of the closet about their situations. 
Kenny eventually told his grandma that he is gay, and she predictably did not take it well. He hoped she would mellow and come around - he's her grandson, after all, and grandmas always love and support their grandchildren, don't they?  But at breakfast the next morning she hit Kenny where it really hurt.  "God doesn't accept you," she told him. "He thinks you're broken, and so do I."  The look on Kenny's face - shocked, devastated that his own grandmother could say such a thing - was heartbraking. Noah did a remarkable job in that scene.  With only the slightest movement in his face, the degree of hurt he felt was palpable. His eyes still haunt me as I type this. Noah apparently didn't channel any of his own personal experiences, since he has talked about how he had no issues of acceptance in his own coming out process. But he nailed the reaction.
As I thought about it after the episode ended, I initially thought the show had made a mistake by making the grandmother so one dimensional and heartless. The reality in America is that many grandparents, raised in a MUCH different era, will have difficulties when they discover a grandchild is gay. Many will have strong religious objections, and many will simply not understand something that for them essentially didn't exist for much of their lives. But most will still love and value their grandchildren, most will do their best to understand, or at least not directly chastise them. My first thought was that the show would have been more accurate and more fair both to religious people and to the older generation if it reflected that attitude. If, in other words, it was more nuanced.  
But then I realized that those people DO exist out there, and many real gay kids do have parents or grandparents much like that. I decided it was worthwhile to show someone with hardened, inflexible attitudes, and especially to show how much pain those attitudes can inflict on sensitive kids at an important point in their lives. I'm seeing Kenny's eyes again, and if parents or grandparents feel through his reaction how much pain they can or have caused, and as a result become more accepting, the episode will have done a great thing.
On another note, I love how Kenny is being patient and loving toward his mother, even though she is obviously still having issues with his sexuality. As Kenny says in a voice-over, things in the family are going well, and his mother "is even referring to my sexuality as 'the situation,' which is step two of the 94 steps in accepting your gay child." He doesn't resent that she is still having issues, and he's OK with her not being a poster parent for PFLAG.  Kenny trusts that his mother loves him and will eventually come around, and he understands the evolutionary process that some good people need to go through.
Eileen lives up to that trust in the end. After grandma says the hurtful things quoted above, Eileen angrily springs to Kenny's defense.  "That's enough Mom," she says forcefully. "Kenny is NOT broken. And if you want to talk about someone not accepted by God you can talk about me." In protecting her child she had found the strength to tell her mother about the divorce, transferring the disapproval from Kenny to herself. I think Kenny's Mom is going to be just fine.
Categories: Commentary
/