Shopping Cart
Your Cart is Empty
There was an error with PayPal
Click here to try again
Thank you for your business!
You should be receiving an order confirmation from Paypal shortly.
Exit Shopping Cart
The New Millennial Gay Experience
Being gay in our emerging new world
| | |
| --- | --- |
| Posted on May 28, 2016 at 6:40 PM | |
By Dennis Stone
The world in which I grew up was a much simpler place than the one I inhabit today. It was an almost universally Christian farming community in rural Wisconsin. The men worked to support their families, while the women raised the kids and kept the house. Gay people were rare, exotic, sinful and dangerous people who lived in big cities. The human race consisted of two utterly distinct genders. That's how God planned it, and no one had any reason to doubt God's plan.
I do recall one rift in the certainty of the binary gender classification.  I was quite young when my parents told my brothers and me about the strange case of Christine Jorgensen, a woman who had been born a man, but who had become a woman following a series of operations. The operations had occurred way back in the 1950s when my parents were young, and it had been a huge story throughout America. What I remember most vividly today is the total lack of judgment displayed by my parents toward Jorgensen. It must have seemed incomprehensible at the time.  Imagine it:  a man having operations to turn into a woman! Why would a man ever want to be transformed into a woman?  In retrospect I'm surprised my parents didn't characterize her as sick or perverted, but they simply told us about her in a matter of fact way.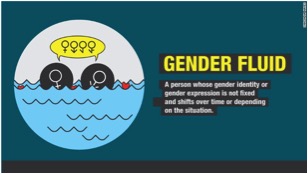 As I grew up I was fully supportive of transgender rights and dignity. But until recent years I nonetheless considered gender to be a predominantly binary situation.  You were either a man or a woman, though occasionally a person would be born with a body that didn't conform to their psychic gender identity. In recent years it has become clear that the situation isn't so simple. As with sexual attraction, gender identity is sometimes a matter of gradation. I conceive of it as being a bit like the Kinsey scale for sexual attraction.  Perhaps a zero would be completely male, a six would be completely female, and the numbers in between would represent a mixture. As best I can tell, the overwhelming majority of Americans still see gender as a binary identity. 
The issue hit me personally a week ago when a good friend's ten year old daughter texted her father to tell him she considers herself "gender fluid."  I have a special relationship with her and her sister because of my years of friendship with her father.  I was her godfather for her recent Catholic baptism (though I am not Catholic myself). She wanted to know if her father could accept her self identity.  I suspect she texted rather than talked to him in person because she was a bit afraid of how he'd react, and she wanted to give him time to think things through before responding. My friend has become increasingly conservative as he has entered middle age, and when he began telling me about this I was a bit concerned as to how he had responded to her. But he had handled it perfectly, telling her that she was totally loved and accepted, no matter what. I haven't talked to her since, but she must have breathed a huge sigh of relief.
I'm really curious how this situation will develop as time goes on. She told her father that she often feels more like a boy than a girl, and tends to identify more with the boys. She prefers her hair short for that reason. This could possibly mean that she will eventually identify as transgender, and will want to make big changes in her life. On the other hand, perhaps she is a traditional "tomboy," and will evolve over time to identify as a woman. My one and only girlfriend relationship was in high school with a girl who had very much been a tomboy when younger, and who seemed to identify with the boys. Which is likely why my nascent gay self became friends with her. But she evolved into having a fully female identity. (I still see her now and again.)
Perhaps my friend's daughter will have an identity that isn't fully male or female, but a combination of the two. Some people identify more as male on certain days or at certain times, but then identify other times as female. About a month ago CNN published an interesting piece about this situation, which is well worth a read:  "What Does Gender-Fluid Mean."  I was a bit surprised to hear the degree to which identity changes for some people from day to day. It appears that a lot of gender fluid people of that type prefer the pronoun "they" to "him" or "her." That makes total sense, though it will take some time and practice for my brain to get used to it. There are also people who have a fairly steady identity over time, but that identity consists of both male and female aspects.
What absolutely flummoxes me about humanity's generalized response to gender identity issues is that people seem threatened by anything beyond either a binary construction or anything that contradicts the birth sex. I don't understand why anyone would care if someone identifies as a gender different from their birth gender, or if they feel and experience a combination of genders. But even in today's connected-to-the-max world people seem so often appalled, or derisive, or threatened. On the other hand, there are more accepting people every day, and the world is a more welcoming place. The fact that my friend's ten year old daughter understands enough to identify as gender fluid, the fact that her conservative Catholic father is unquestioningly supportive, and the fact that she has a whole network of supportive friends and family, is a testament to that.
Categories: The Blog
/