Shopping Cart
Your Cart is Empty
There was an error with PayPal
Click here to try again
Thank you for your business!
You should be receiving an order confirmation from Paypal shortly.
Exit Shopping Cart
The New Millennial Gay Experience
Being gay in our emerging new world
| | |
| --- | --- |
| Posted on June 26, 2016 at 4:45 PM | |
By Dennis Stone
Three of the grand marshals for today's San Francisco Pride parade dropped out on Friday. One of them was the Black Lives Matter movement, which had been selected in connection with the chosen theme for this year's parade: racial and economic justice. The withdrawal was due to the announced increased police presence at this year's parade.
The Orlando shooting has much of the queer community on edge. A friend rented a downtown Minneapolis hotel room for him and his husband for this weekend's festivities, but he confided that he was feeling uneasy about his safety. That surprised me a bit since he is a very confident person who rarely expresses trepidation about anything. I personally think that all the unease is both unwarranted and unfortunate, but that's the subject of a different piece.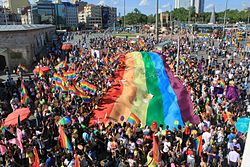 The Black Lives Matter group in San Francisco feels more unease about the police being at the parade than they do about the potential for any sort of terrorist or homophobic violence. Their statement said this: "For us, celebrating Pride this year meant choosing between the threat of homophobic vigilante violence and the threat of police violence. We had a tough decision to make, and ultimately we chose to keep our people safe by not participating in any event that would leave our communities vulnerable to either."
On one level I understand what they are saying. The San Francisco police force has had a few high profile race-based issues in the past year, which ultimately led to the resignation of the police chief. But I was disappointed to hear about the withdrawal, for two major reasons.
First, I think their assessment of the danger is off base. The mistreatment of black and queer people that has occurred is by a small percentage of the police force, and occurs as part of police responses to calls and reports, often in dark and lonely places where society can't see the transgressions. One of the most prominent Pride parades, with close to two million queer and queer-friendly people attending, is not the venue where rogue officers are going to target people. It's easy but not helpful to try to demonize an entire police force.
Second, I think parts of the Black Lives Matter movement have veered into a place I call "Flakyville." A lot of self-described "activists" from all sorts of movements wind up there at some point. I've certainly experienced it with some frequency in the gay community over the years. Flakyville is where people take good ideas too far, where they let paranoia overcome reality, where stridency rules, where it's "us vs. them" with no middle ground, and where slogans and rhetoric trump reasoned thought.
Regarding BLM, one small incident here in Minneapolis bothered me the most. There was a 20 minute video taken by a participant in a demonstration at a police precinct about a week after the death of Jamar Clark at the hands of police. For most of the video the camera was pointed at the row of police standing guard in front of the precinct building. One of the policemen was black, and for the entire 20 minutes he stoically withstood a non-stop barrage of disparaging comments. The tenor of those comments was that the black policeman was a traitor to his race for joining the police force, that he was a disgrace, an Uncle Tom, a pariah.
I have been rather astonished at the reactions I've seen online on comment sections of progressive/liberal sites that reported the San Francisco story. I would have expected widespread support for BLM's decision, but most people were critical. One of the most common comments was that extra security was welcome after Orlando, and that if anything happened there would be major recriminations about NOT taking steps to provide extra protection.
There were other comments questioning why a festival dedicated to celebrating queer life and identity had been given a theme of "racial and economic justice." Those comments raise an interesting point. Most queer people heartily favor justice of all types, but Pride is the one weekend during the year specifically meant for us, and since that is so it may be a good idea to keep the focus on the queer experience for that one weekend.
I can't know the souls of the people involved in this decision, but I can't overcome my suspicion that a big factor was the opportunity to make a political statement in a high profile, newsworthy manner. Which was more important to them than bonding with the queer community and celebrating our lives, our victories, and our aspirations.

Categories: The Blog
/