Shopping Cart
Your Cart is Empty
There was an error with PayPal
Click here to try again
Thank you for your business!
You should be receiving an order confirmation from Paypal shortly.
Exit Shopping Cart
The New Millennial Gay Experience
Being gay in our emerging new world
| | |
| --- | --- |
| Posted on August 3, 2016 at 7:50 PM | |
By Dennis Stone
Don't follow the crowd.  Think different.  Or, put another way, think for yourself.
I watched the movie "Steve Jobs" last night.  The last set of scenes was  built around the 1998 launch of the iMac. As Jobs talked with other characters on stage the viewer could see snippets of the iconic "Think Different" ad campaign, which featured images of innovators such as Albert Einstein, Bob Dylan, Gandhi, Thomas Edison, and Muhammad Ali.  The point of the campaign related to innovation, to coming up with new ideas and new ways to approach technology or the world itself.  However, I choose to "think different" about the slogan, and interpret it in terms of how we all think about and react to the world and the society around us.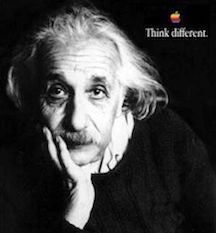 The world today is excessively stratified into distinct groups based around politics, identity, cultural outlooks, etc. The internet enhances that tendency, allowing each group to stick together easily, the members reinforcing and supporting each other, while ignoring or deriding competing groups. Each group has its own metaphorical "little black book," which tells the members how to think, when to be offended, what language is acceptable, etc.
Liberals, conservatives, gay people, feminists, Foxbots, Berniebots, Black Lives Matter, pro-life people, pro-choice people, and many more - all subliminally, and in many cases overtly, enforce a conformity of thought. As someone who has valued independent thougtht from the time I discovered Hermann Hesse at the age of 15, and as someone who finds it ludicrous that all members of ANY group would think alike, I'm troubled by this conformity. 
Let's take an example from my own most basic group, gay people. Everywhere I turn I keep seeing comments about how we are "surrounded by hate." All the many emails and letters I've received recently from HRC use that phrase. Editor Matthew Breen of "The Advocate" used it in the most recent issue, as has Michelangelo Signorile and many, many more. They are referring to both Orlando and the spate of "religious freedom" bills introduced in many states. But when I choose to think for myself, to "think different," I don't come to that conclusion at all. Orlando was one man, and was possibly gay himself. He absolutely wasn't channeling right wing American or Christian thinking (both of which were anathema to him), as an alarming number of gay people tried to assert. 
I have a lot of conservative and Christian relatives and acquaintances, and I have talked to many about gay marriage and the religious freedom issue.  I have even convinced six individuals to change their minds and support marriage equality. But not one of the people with whom I have discussed these issues had any hate, or even mild dislike, for gay people. They simply had a religious conviction that the concept of "marriage" had religious significance that forbade gay people from being included. Or they felt that people who did disagree with the concept should have the right to uphold their beliefs. I even have a good friend who has always supported equality but now supports religious freedom bills to "protect" people who don't share his belief.  I passionately disagree with him, and with anyone supporting these bills, but using the word "hate" in this context is simply inaccurate, and is actually a rather grotesque mischaracterization. I'm not "supposed to" think that, but I never think something because I'm supposed to.
There are other ways that my thought diverges from what you could call the gay mainstream. And ways where I diverge from the progressive mainstream. And that's how it should be.  It means I'm thinking for myself. 
I think one of the primary scourges of the 21st century will be the way we band together into non-thinking reactive groups dominated by the conformity-enforcing "little black books" of "proper" thought. It has already happened, but I see it getting worse. People with strength of character and independent minds have to resist those forces and think for themselves. They have to look for the flaws and distortions in the outlooks of the groups to which they belong. They have to put their "little black books" in a box in the attic.  They have to "think different." 
Categories: Commentary
/