Shopping Cart
Your Cart is Empty
There was an error with PayPal
Click here to try again
Thank you for your business!
You should be receiving an order confirmation from Paypal shortly.
Exit Shopping Cart
The New Millennial Gay Experience
Being gay in our emerging new world
| | |
| --- | --- |
| Posted on October 16, 2016 at 12:10 AM | |
By Dennis Stone
I fell in love with Noah Galvin just a little bit when his ABC show "The Real O'Neals" premiered early in 2016. Noah, of course is the 22-year old out actor who portrays gay teenager Kenny on the show, which kicked off its second season this past Tuesday. I assumed Noah was like Kenny: thin, cute, sensitive, self-deprecating, a bit shy but bold at the same time, proud of his identity but not over-reactive to the imperfect straight people around him. All the things I love in a guy!
Then came the interview in "Vulture" magazine. Colton Haynes had just come out after a lifetime struggle that included mental illness and the suicide of his father. Haynes eschewed the "People" magazine "I Am Gay!" cover story, and instead came out in a rather understated way. Noah Galvin was not happy about how long it took Colton to get to that point, and he was not happy about his manner of coming out. Among other harsh comments about Haynes he said this about his coming out: "That's fucking pussy bullshit."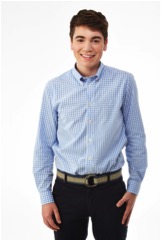 He had choice comments about others in an interview that came across to me as more than a little arrogant and self righteous. About Modern Family's Eric Stonestreet: "he's playing a caricature of a caricature of a stereotype of stereotype...there's a lack of authenticity" About director Bryan Singer, the subject of a sexual abuse lawsuit by a man since discredited and imprisoned: "Bryan Singer likes to invite little boys over to his pool and diddle them in the fucking dark of night."
I had issues with many things he said, but my biggest problem was with his criticism of Haynes. I have always felt passionately that no gay person should presume to tell another gay person when and how to come out. Personalities are so different, circumstances are so different, accumulated baggage is so different, that we have to grant to everyone the freedom to come out in their own way and on their own schedule.
The interview spawned significant criticism in the gay community, which I was glad to see. Five years ago when I was regularly commenting on AfterElton there were many people who viciously attacked anyone (e.g., Matt Bomer, Zachary Quinto) who was perceived to be gay but not yet out. And they attacked people who came out "too late" or too quietly. Several years ago when George Takei came out I read comments about how useless it was because he was no longer prominent. He should have come out when he was on "Star Trek," when it would have made a difference.
But now there seemed to be many more people criticising Noah than agreeing with him. He quickly rushed out an apology. Some said it smacked of insincere damage control, and, based on what I have read, that is possible. ABC executives appear to have been shocked and disappointed at the interview, and there apparently was serious consideration given to reducing the number of season two episodes. According to the "Hollywood Reporter" Noah had been admonished several times about his "ego and entitlement."
There are two kinds of people in the world: those who learn and grow as a result of their life experience, and those who don't. Recent events make me hopeful that Noah Galvin is of the former type. On October 6 "Out" magazine published an essay by Noah that again apologized and stated that he had learned from the fallout of his "Vulture" interview. To me it comes across as heartfelt and real. He explains why he was so quick to judge Colton Haynes: "I came out to my liberal New York family full of artists, therapists, and yoga teachers at the age of 14. I would've come out sooner but for an offhand remark my mom made while we watched the 2002 Winter Olympics about how hard life can be if you're gay. That one remark was the extent of the gay-bashing I experienced growing up." He seems to genuinely understand the "privilege" resulting from such an easy coming out, and that many others aren't so fortunate.
Not everyone was convinced that the essay reflected the real Noah Galvin, and they speculated that the new "placid and plain" Noah was the result of "intervention" from ABC, his publicist, or others. For my part, if being understanding of the different roads that others travel is "placid and plain," then I'll be happy to be "placid and plain."
The season premiere of "The Real O'neals" touched directly on the coming out issue. Kenny created an LGBT club at his Catholic high school, and expected that to bring several of his fellow students out of the closet. Unfortunately, the only one to join was Allison, a shy and quirky girl who had always tended to blend into her surroundings. Kenny, as the self-described "Gay Moses" of his school, convinced her of the need to come out to her parents. After discovering via a question from Allison in the club's question box that her parents would kick her out if she were gay, Kenny rushed to intercept her before she risked her home. He got there just in time.
The speech he gave her is one that seems to reflect what he may have learned from the fallout of his "Vulture" interview: "It was wrong of me to force you to come out to your parents before you're ready. That's not my call to make. It was important for me. I got caught up in my experience, and how now that I'm out, everybody else should be too. But my journey is not yours. You have to come out when it's safe and right for you."
Amen!
In the "Out" essay Noah referred to the season premiere with this comment: "I'm very proud of it." (In an interesting twist and/or coincidence the episode was broadcast on National Coming Out Day.)
I am hoping that the "Out" interview and the "Real O'Neal's" premiere reflect the "real" Noah Galvin, a young man who has listened to the criticism he received, has reflected upon it, and has become more understanding of the multiple paths that gay people have trod, and the wide differences of psyche and personality they have.
Diversity in life is a good thing. Diversity of ethnicity, diversity of our physical manifestations, diversity of thought, diversity of experience. And, for the gay community, diversity in our coming out stories.
Categories: Commentary
/