Shopping Cart
Your Cart is Empty
There was an error with PayPal
Click here to try again
Thank you for your business!
You should be receiving an order confirmation from Paypal shortly.
Exit Shopping Cart
The New Millennial Gay Experience
Being gay in our emerging new world
| | |
| --- | --- |
| Posted on November 3, 2016 at 12:00 AM | |
By Dennis Stone
Several people have suggested that I watch the Netflix series "Stranger Things," and I've put it near the top of my watch list. I had no idea there was any possible gay connection until recently, when I read a story that 12-year old actor Noah Schnapp had made an Instagram post addressing the social media debate about his character's sexual orientation.
Noah plays Will Byers on the show, an outsider who is the subject of bullying, including homophobic taunts. His friends are also derided as freaks, perverts, weirdos, queers, etc. Many observers, both journalists and "regular" folks on social media, equated the outsider perception with the "otherness" that LGBT people have traditionally felt. And they equated the bullying and name-calling with the oppression and marginalization that defined the youth of so many gay people.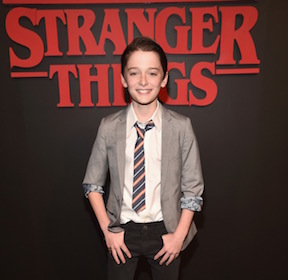 There is quite a debate on social media about whether the show is a metaphor for homophobia and the gay experience, and about whether Noah's character is gay. "The Advocate," not reticent about reading homophobia into situations, published a piece titled "Homophobia Is the Real Monster in 'Stranger Things'".
Noah's Instagram post said this: "I think everyone here is missing the point….For me, Will being gay or not is besides the point. 'Stranger Things' is a show about a bunch of kids who are outsiders and find each other because they have been bullied in some way or are different. Does being sensitive, or a loner, or a teenager who likes photography, or a girl with red hair and big glasses, make you gay? I'm only 12 but I do know we all relate to being different….I hope the real answer never comes out!"
I love those comments! They reflect the "new millennial gay outlook" as I define it on this site. Being gay isn't the big, all-encompassing deal it used to be. Determining whether a character is gay or not isn't so important anymore. Not long ago identifying a character or celebrity as gay was a huge development, and became the talk of the gay world. But that has to a large degree become a ho-hum situation as it relates to both characters and real life celebrities. Of course that's not universally true as the internet debate makes clear. But the movement in that direction is inexorable.
I was most impressed by Noah's comments about how kids (and older people as well) are bullied and marginalized for all sorts of differences from the norm. Ever since I began reading gay sites on the internet I've noticed a rather large segment of the gay population that sees being gay as the preeminent signifier of victimhood, especially for kids. I don't think that's true today, and I don't think it's ever been true. When I was a kid I felt like an outsider because I was a bit of a nerd, I was shy, I was skinny, my adams apple stuck out, I wore glasses, etc. I didn't totally identify as gay until I was nineteen, but I never really felt like an outsider because of my sexuality.
I find it especially amazing and impressive that someone who just turned twelve years old is so wise about so complex an issue. I think back to where my psyche was when I was Noah's age. I remember an incident from when I was about twelve or thirteen that starkly shows the difference between then and now when it comes to how people understand and respond to the gay issue. Our school librarian was thought to be gay, though I didn't know that until later. One day I was at a table in the library with a friend. He passed me a note that read: "Berndt is a homo." I lived in a small Christian town, and I did not know what the term meant, other than that it represented something to be derided. But I chuckled knowingly in reply to the note.
Today twelve year olds are posting wise Instagrams about the gay issue, and understanding it as just one of many differences that can make one feel like an outsider. It's a new world. And I like it.
Categories: Commentary
/