Shopping Cart
Your Cart is Empty
There was an error with PayPal
Click here to try again
Thank you for your business!
You should be receiving an order confirmation from Paypal shortly.
Exit Shopping Cart
The New Millennial Gay Experience
Being gay in our emerging new world
| | |
| --- | --- |
| Posted on July 2, 2013 at 11:35 AM | |
By Dennis Stone
Most readers will know Robbie Rogers as the 26-year old gay soccer player who made history in May 2013 by becoming the first openly gay male to play in a major American professional sports game. Since then Rogers has become a gay advocate, and has become a visible example to other young gays, especially those in the sporting world. And, he's cute!
 In the latest edition of ESPN The Magazine, twelve athletes, including Rogers, were chosen to write a letter to their younger selves. Rogers wrote to his 14-year old self, when he was a high school freshman soccer player wrestling with his identity. Here's part of what he said:
 "I'm not going to tell you to come out at 14 years old. I'm not going to tell you what's going to happen in the future either, because the journey is important. But I want you to realize that God made you this way for a reason. You're not damned or going to hell. You didn't have a choice in this. But you do have a purpose in life, just as everyone does."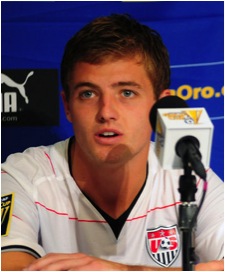 That's the voice of someone who has his life together. He's been through the "important journey" he talked about, he faced his moral and religious fears, and he came out just fine. He knows who he is, and he's happy with it.
 I also found this advice to his freshman self fascinating:  "When guys say things in the locker room, remind yourself that most of them don't actually feel this way. They aren't really homophobic. These are people who are trying to please others, or think that's what they're supposed to say."
 That's a remarkably wise observation, and I wish more people could see the reality of that situation. That is not at all to excuse the comments; it would obviously be best if high school boys became wonderfully sensitive creatures, always concerned about how what they say might be perceived. Somehow I don't think that's going to happen anytime soon. The point is that it's become all too easy for many of us to see homophobia everywhere, and to perceive the world in a black and white manner. People are either wonderfully supportive allies who never sin against the gods of political correctness, or they are homophobes and enemies whom we must vilify.
 That outlook does no favors to ourselves or to the emerging gay kids out there. People's reactions to the whole gay issue are remarkably complex, and to reduce those reactions and those people to an "allies or enemies" dichotomy is genuinely harmful. Unfortunately, I see that sort of thinking everywhere.
 Rogers is reminding us that people are more complex than that, and we shouldn't always assume the worst. Specifically, he's addressing the "macho code", an habitual reaction that has evolved over decades. The thing is, straight guys – and I've been friends with many over the years, whether through my tennis addiction, my fantasy baseball playing, guys at work, etc. – often have little concern for sensitivities and the feelings of other guys. They are "rough around the edges", they make a sport out of harassing each other, they haven't read the "Gay Man's Guide To How Straight Guys Should Conduct Themselves." No amount of high minded clucking about how "they shouldn't be doing that" will change the situation.
 When I was in high school the Polish joke – or Polak joke, as we called it (and that's the correct spelling in Polish, I'm told by a Polish friend) – was by far the most popular joke type. I don't remember any of the jokes today, but at the time I thought they were hilarious. I was always more sensitive to others than my peers, but I never thought about how such jokes might affect young Polish kids. In fact, I had a good Polish friend with whom I played a lot of tennis, and he never seemed bothered by them. My one concession to propriety was that I never told Polish jokes in front of my friend. That should have told me something, but at the time it didn't.
 The point is that there was no anti-Polish animus behind these jokes, and we didn't think less of our Polish friends. I have no idea why Polish jokes became popular. It was just part of our culture at that time, and we went with it because, well, the jokes were funny. When I became an adult, the "Ole and Lena" Norwegian jokes became popular in my hometown. My family is Norwegian, and no one delighted in a good Norwegian joke more than we did.
 The gay jokes of the locker rooms and playgrounds of today often aren't quite as innocent, but many of them are, and many of those talking that way have no dislike for gay people. It's the heritage they grew up with, and as with us and our Polish jokes, they're part of life. Again, I'm not excusing them; we'd be better off without them, and we're moving ever so slowly in that direction. But a gay joke is not automatically indicative of a homophobe, as Robbie Rogers realized. In his case his old high school team was wonderfully supportive after he came out. He celebrated his 26th birthday with those very guys earlier this year – at a gay bar in Los Angeles.
 My fantasy baseball league gets together periodically at a local sports bar to talk baseball, make trades, and just hang out in that typical straight guy fashion. I've been out to the league for over five years, and no one changed in any way how they interacted with me after I came out. I'm commissioner again this year, as I have been several times before. About a year ago one of these guys – one of my best friends in the league – made a gay-based joke about one of the players performing in the game we were half watching on the big screen in the bar. Suddenly he realized that I was sitting across from him, and he looked chagrined. He apologized, and then later he privately apologized again. I've known this guy for 13 years, and he is totally supportive. He just fell into the old straight boy culture he grew up with, where gay jokes are a part of life.
 What he said was something that in a perfect world wouldn't have been said. But did it mean he was a homophobe? Knowing him as I do, that would be absurd. It was fascinating to see the ingrained habit patterns come out like that, and then to see his reaction when those habit patterns came into conflict with his real feelings. More and more guys are encountering those conflicts, and that is what will gradually change this culture. But it certainly won't happen overnight.
 What I'm trying to say here is twofold. First, to young gay kids out there, don't assume everyone saying "that's so gay" or making gay jokes dislikes gay people, or would be your enemy if you came out. As Robbie Rogers discovered, that just isn't true. Most gay kids who come out (though certainly not all) later express surprise about how much support they received.
 Second, let's not be seeing homophobia behind every bush and under every rock. Not every kid who makes a gay joke is a homophobe. Not every sincerely religious person wrestling with the contradiction between what he was taught from childhood and his more inclusive instincts is a homophobe. Not every actor with anger issues who tweets in a rage is a homophobe. Not every straight guy who is uncomfortable seeing two guys kiss is a homophobe. Not every person who thinks Tracy Morgan is funny is a homophobe.
 There are enough real homophobes out there – from Bryan Fischer to Antonin Scalia to Pat Robertson to Victoria Jackson to many others – that we don't need the added burden of seeing them where they don't exist. It's insecurity that leads us in that direction, that requires that we see homophobia in anything that comes up short of the rainbow nirvana.
 OK, back to Robbie Rogers, who understands that. Here's one more section from his letter to himself:
 "I know I said I wouldn't tell you what your future holds, but I will tell you that everything's going to be fine – one day you'll be happier than you ever thought possible. And while you can't envision sharing your secret now, the world is changing. People are becoming more accepting. And when the time is right, the day might come when you're ready to face the world as the beautiful person you truly are."
 What more can I add to that? For Robbie Rogers it truly did get better. May his journey be more and more common for others. May his peace and self perception be repeated over and over and over again in this brave new world of ours.
Categories: Commentary
/