Shopping Cart
Your Cart is Empty
There was an error with PayPal
Click here to try again
Thank you for your business!
You should be receiving an order confirmation from Paypal shortly.
Exit Shopping Cart
The New Millennial Gay Experience
Being gay in our emerging new world
| | |
| --- | --- |
| Posted on July 7, 2013 at 10:35 PM | |
By Paul Johnson
"Excuse me. Um, I was just wondering: How accepting is your campus of gay students?" 
I'm touring more campuses in my state as I approach my senior year of high school, and I find myself having to worry about my open life for the first time in years. Since the ninth grade I've been able to take for granted that everyone in my school life already knows I'm gay and is witheringly indifferent to it. I actually don't know how I'd be able to function in an environment where it's a big deal.What would it be like to have to catch my pronouns, to look around before flirting with a guy, to have the threat of harassment become a part of my everyday life? Needless to say, I've been checking with each college tour guide for any potential dangers.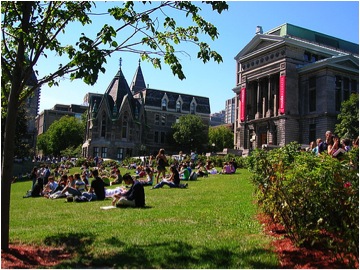 But there's a flip side that I feel a little ashamed to even be considering. My parents recently had me visit a legendarily liberal campus in my area. When I saddled over to ask a couple of tour guides my customary question, both leaned in with huge grins and began bursting with information. They told me about a dozen LGBT and Gay-Straight Alliance groups. They told me how diversity was celebrated and gay couples frolicked through the streets. If I came there I would be appreciated and celebrated for my homosexuality, and for my brave decision to share it with a hateful world. After about two minutes, I managed to cut them off and get them talking about their pre-Med program instead. The visit went on for another two hours, but I'd already made up my mind. This simply was not the school for me.
One of my favorite things about my current school's student body is that, even though I'm the only openly gay student there, they've never pigeonholed me as "The Gay Guy." It sounds somehow wrong and non-Prideful to admit that, but most days it's nice to just be known for being me. I'm the guy who's always three minutes late to first hour because the teacher doesn't care. I'm the guy who gets away with the filthiest "your mom" jokes because everyone knows they're not meant even the tiniest bit seriously. I'm the guy who studies one month ahead in Physics so he can help other people with their labs. The guy you ask when you want to find out what the next X-Man movie will be about.
When being gay IS part of the equation I like it to be relaxed and casual. So when a teacher tries to get us jazzed for a Christmas project by inquiring "Do you like to give AND receive?", I'm the guy who replies "Yep!" and derails the class for a minute while the teacher tries to get the students to stop laughing and fist-bumping me.
I like being known for all these things, and I'm a little worried that my new classmates will ignore them, and make me into the "Gay Kid" that I've avoided being so far. Either because they're too eager to celebrate my sexuality, or because they're too uneasy with it to see past it. I've actually felt like this for a while, but I didn't know how to verbalize it, since "not wanting to be known for being gay" sounded like internalized homophobia. This was actually part of my motivation for buying my shirt in my first article:  I needed to prove to myself that I really was okay with letting others know I was gay, as long as I did so in a way that also revealed other aspects of my personality:  my nerdy interests, my love of Mario games, my shameful preference for the new Wii version over the Nintendo 64 ones.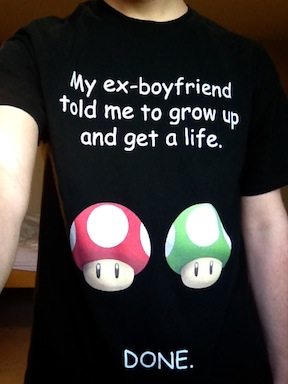 Lucas' shirt.

It's not to say that I have no interest in gay groups or Pride.  My long-standing attendance on AfterElton and my current participation here clearly indicate otherwise. I have a deep appreciation for the generations that have preceded me, and I find stories explaining things as they used to be utterly fascinating. But I also know I wouldn't want those to be the primary studies of my life. So much of the gay agenda up until this point has been built on the idea that someday a gay kid would be able to grow up and have the same life as every straight kid around him.
I'm now able to be that kid. So what does it mean that I'm thankful and happy for that, but at the same time I feel a need to identify with my fellow gays?
Categories: Other Voices
/