Shopping Cart
Your Cart is Empty
There was an error with PayPal
Click here to try again
Thank you for your business!
You should be receiving an order confirmation from Paypal shortly.
Exit Shopping Cart
The New Millennial Gay Experience
Being gay in our emerging new world
| | |
| --- | --- |
| Posted on July 12, 2013 at 3:05 AM | |
By Dennis Stone
Assimilation.
To a lot of gay people that is akin to a curse word. Especially to gay people who came of age in the 80s and before, and especially to those who were activists in the gay rights or AIDS struggles.
"Assimilation" is a word generally used to refer to the process of gays trying to become more like straight people, to become more "conventional, bourgeois and conservative", as longtime activist Don Kilhefner (a co-founder with Harry Hay of the Radical Faeries) put it. That is interpreted as a betrayal and abandonment of their gay identity, an almost cowardly act of desperately trying to fit in with the dominant society, as opposed to the glorious past of standing proudly apart from that whitebread mainstream. Kilhefner again: "Inherent in assimilation ideology is the disappearance of the gay community and gay identity. Gay people would become like hetero tapioca pudding."
The quintessence of assimilation is the gay family, with two "married" (whether legal or not) partners and children. The archetypal "American dream": PTA meetings, soccer practice, report cards, family dinners. Contrast that reality with the "traditional" gay lifestyle, as touted by Kilhefner and others: rejection of monogamy and other forms of convention, parties, camp, bars, activism, the arts.
I was thinking about the subject of assimilation the other night while watching "The Fosters". If you haven't seen it, it's a drama on ABC Family about an interracial family headed by a lesbian couple. It was co-created by Peter Paige of "Queer As Folk" fame. Lena and Stef are living a life that really is very much like that of a typical straight family. They work hard to provide a good life for their children, their lives tend to revolve around their children, they face all the normal problems and experience all the normal joys of the straight families that live around them.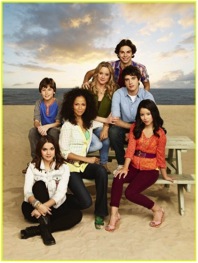 The first thought I had while watching this gay family was that it seemed somehow completely "right". I couldn't imagine Lena and Stef without their children, or living any other lifestyle. The second thought I had was that both women would reject out of hand any chastising that their fellow gays might give them for not living a traditional gay lifestyle. I'd like to see Kilhefner try to tell Lena that she had become "like hetero tapioca pudding", or that she was contributing to "the disappearance of the gay community". Those words would ring awfully shallow in the face of her obligation to raise, guide and provide for her children, and in the face of the immense satisfaction, love and joy those children provide her.
After the show had ended I continued to ponder the whole concept of assimilation in today's "new millennial" world. What, I asked myself, are gays like Kilhefner really trying to hold on to by remaining resolutely separate from the straight society all around them. I identified several things:
1. Identity and purpose. A sense of identity is one of the primal human needs. Straight people get their identity largely from being parents. Gay people until recently have not had that opportunity, and so the distinct gay community provided that needed identity. We were part of something important, something bigger than ourselves. Our sense of being separate also helped to provide purpose. Some found their purpose in overt activism, fighting for our rights, while others found it simply in defying the conventions of the tapioca pudding people.
2. A sense of being special. To quote Larry Kramer: "I think we are smarter. I think we are more talented. I think we are more aware. I think we make better friends. I think we make better lovers. I think we're more tuned in to what's happening, tuned into the moment, tuned into our emotions, and other people's emotions. Yes, I think that gay people are better than other people." I'm afraid that's self-glorifying poppycock. But if you think that way, then "assimilation" is a denial of that superior nature. If we're no better than straight people, then we lose something.
3. Sexual freedom. The ethos of the traditional "gay community" is to be "sexual outlaws", to have lots of sex with lots of people. Not everyone thought that way, of course, but it was a dominant strain in the thought. Partly it was just fun, but it was also a finger-in-the-eye rejection of the conventional, oppressive society.
4. Perpetual adolescence. This attribute is not flattering, but that doesn't make it any less true. "Freedom" can be a wonderful opportunity to live beyond the normal obligations of a conservative majority, but it can also be a rejection of growing up and taking responsibility for life beyond your own pleasure. Parenthood demands that you make major sacrifices for the welfare of your children, and accept obligations beyond your own desires. In contrast, the gay lifestyle has been historically free of those sacrifices and obligations, leaving us essentially free to party, camp it up if we choose, have sex wherever and whenever we want, and basically live like carefree teenagers. We convinced ourselves it was a revolutionary act to live like that, but to a large degree we were deceiving ourselves.
One of the most common human traits is an inability to relate to or understand experiences beyond those you have had yourself. And so gays who lived most of their lives surrounded by hate and distrust have trouble understanding those who have come of age with a primarily accepting straight world around them. Gays who forged an ethos of rejection of the dominant, oppressive society can't understand those who don't feel oppressed. Gays who saw the traditional family as a symbol of a hateful and hurtful world feel betrayed by those who now want to pursue that lifestyle.
A concept overlooked by the vehement foes of assimilation is that the reasons for that assimilation have dramatically changed over the past several years. Until recently many of those gays who tried to assimilate did so out of self protection. They sought respectability and acceptance. Straight society disliked gay people partly because they were so different, and therefore so frightening. If gay people could show that they weren't really so different they could be a part of that society rather than be despised outsiders.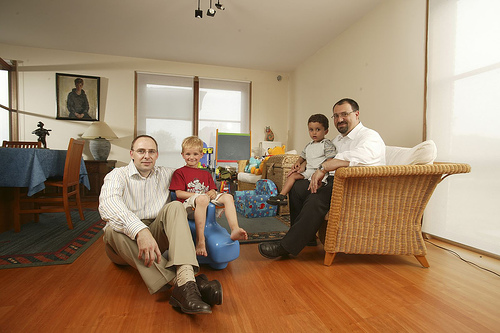 Photo: "Our Family II" by Poes In Boots, via Flickr Creative Commons. License: http/creativecommons.org/licenses/by/2.0/deed.en

Today the story is much different. Mainstream straight society is now overwhelmingly accepting. The virulent haters who remain are increasingly seen as a fringe element. It was telling that when basketball player Jason Collins recently came out there were no critical voices whatever in the mainstream media, and any of the very few critical voices in the rest of society were strongly and immediately shushed. Compare that to the societal environment that existed throughout the 20th century.
When gay people live what Kilhefner would call assimilationist lifestyles they are not doing it in a desperate attempt to gain acceptance, but because those are the lifestyles they want to live. Lena and Stef Foster want to raise their children because that's what their psyches tell them to do. They adopted Jesus and Mariana, and are fostering Callie and Jude because they feel driven to make lives better for others. I suspect that the overwhelming number of gay parents today aren't trying to be straight, aren't seeking to be tapioca, aren't going conservative, but feel a calling to grow up, take responsibility, and live for something and someone beyond themselves.
Within this reality is the truly revolutionary nature of what I call the "new millennial gay experience". Gay people of the past COULDN'T live "normal" lives, they were forced to construct separate communities to feel accepted and understood. To their credit they made the best of a bad situation and created meaningful and fulfilling lives with pride and purpose. They also bravely pushed and fought and agitated for acceptance and equality. Ironically, it's their success that has created today's world, where living within a unique, separate community is not the only practical option. I just wish they could see today's "modern" gays as a product of their success, rather than as a challenge to it.
Categories: Commentary
/