Shopping Cart
Your Cart is Empty
There was an error with PayPal
Click here to try again
Thank you for your business!
You should be receiving an order confirmation from Paypal shortly.
Exit Shopping Cart
The New Millennial Gay Experience
Being gay in our emerging new world
| | |
| --- | --- |
| Posted on July 19, 2013 at 11:15 PM | |
By Andy Nemec
Like summer, Pride comes a little late to our town here in the "Great White North". There are a few good reasons for our Pride celebration's tardiness. One is that June has terribly unpredictable weather in this part of the country. Another is that June has Milwaukee's Pride festival and parade; so does Madison. Scheduling ours too close to those may get people "all Prided-Out", to coin a phrase. Another reason is historical – a key local LGBT group was formed in mid-July in the 1970s.
The past three years I have volunteered to help out in our Pride celebration. I do little compared to the other volunteers who start at 6:00 A.M. and finish at midnight. Really, I am all too happy to stand guard over the performers' parking lot and operate a welcome table. These tasks require little in the way of effort or expertise. In the process of doing them you get to meet some interesting people, enjoy a bit of sun, and know that you're helping out a little.
The weather was warm this year with a variable breeze, about the mid-80s (low 30s C), with mixed sun and clouds. My first assignment was to watch over the performers' parking lot. It's not a complex job, you simply check to see if someone who wants access to the lot is supposed to get in there, and if they are, you move a roadblock to let them in. The hardest part of it was trying to keep the parking passes from taking flight when the wind kicked up. There's lots of down-time, so you get to do a little people-watching. And this year, there were plenty of people to watch – and meet.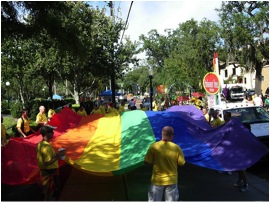 Photo: Rainbow Flag by Manny Hernandez via Flickr Creatve Commons. License: http://creativecommons.org/licenses/by-nc-nd/2.0/
I was at the far southern end of the park, right at the street and sidewalk. About 50 or so yards to the north were two groups of people gathered on or near the sidewalk. The first group I could easily see. The second was obscured by the first group. Later, I learned that the second group was a small band of protesters. They were perhaps the most inept protesters in the country.
It seems that they had brought along signs that, although being approximately 2.5 feet high and 2 feet wide, had a long, rambling discourse about "fisting" and NAMBLA in letters that were about 2 inches high. There was no way anyone driving by could have read them. I later joked about that, saying that they could have taken lessons from a certain awful "church" known for their bizarre protesting of homosexuality in unrelated venues.
This brought out a group of people who took it upon themselves to stand about 50 feet south of the protesters, holding a big rainbow flag and waving at cars as they drove by. They were counter-protesters, and were doing a great job. Lots of people were driving by, honking their car horns and waving as they drove by to show their support! It was amazing and heartwarming to see people and families of all ages, genders, and economic classes smiling and waving back at our crew.
We also had a freelance protester. He was a somewhat odd man, perhaps in his 40s, who lacked front teeth and was walking up and down the sidewalk. As he approached me, he asked "Are you gay?". I replied "Yes". He then was kind enough to let me know that "It's an abomination" as he walked by on his first trip northward. At the time, I didn't respond – someone wanted to get into the parking lot and I had work to do.
On his return trip, he once again was kind enough to inform me that "it's an abomination". To which I replied:
"Oh, are you wearing mixed fibers? Do you eat shellfish? How about pork?"
He replied "All I'm sayin' is it's an abomination". 
I could have engaged him in a respectful, thoughtful debate. However, it was clear to me that this would have been pearls before the swine (see how Biblical I can get?). Instead, I responded with "Well, hey, I'm sure Jesus loves you in spite of the fact that apparently, he once sent someone to knock out your front teeth." I know, it was mean, but I simply could not help myself. Even though I may go to hell for saying it, he did not want to hear me and kept on walking. I would have relished the opportunity for his additional insight and an attempt at meaningful conversation, but he cheated me out of it by leaving so soon.
We also had some "clandestine" Jehovah's Witnesses stop by. I don't know who they thought they were fooling, one can't really go "under the radar" at a Pride fest wearing white shirts, black ties and neatly-pressed black dress slacks while carrying black backpacks. They kind of stood out in a sea of people wearing rainbow clothing and accessories. They were quickly escorted out of the park. We had a few LGBTQ supportive churches that had booths there, and they did things the right way. The right way, of course, was to be supportive and to have a booth. One church group was even giving away free water, which was a very nice and charitable thing to do on a warm, sunny day.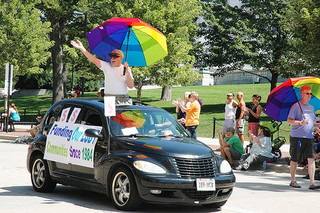 Pride in Wisconsin;  Photo:  Wisconsin Capitol Pride, by Emily Mills via Flickr Creative Commons; license:  http://creativecommons.org/licenses/by-nd/2.0/deed.en
It was great to see a number of very supportive straight people not only attending, but also acting as volunteers. One such young volunteer was helping out with security when I was taking care of the performers' parking lot. We had an interesting conversation about various matters, and I thanked him for his support. It really is gratifying to have such allies in our corner, of course, and they deserve our thanks.
Eventually, my shift at the parking lot was done and it was time to move on. After catching a bite to eat, the next job was at a welcome center. It consists of a table with free LGBTQ-interest magazines, a giant four-fingered plywood painted hand and a sponsor board. My job was to smile a lot (easy in the fun atmosphere), answer questions about the location of various facilities on the grounds and to politely let people know that carry-ins were not allowed. From time to time, other volunteers would stop by to see if anything was needed, or just to chat and kill a little down-time. I was also delighted to see a few of my good friends stop by to show their support by attending and to say hi. About 6:00 the flow of people picked up as the band billed as the main attraction was due to go on at 6:30. Being as it is an outdoor event, the band was easily heard from my vantage point and they put on a good show.
By 8:00 we closed down the welcome center and I was free to take in the rest of the show. By that time, a DJ had the crowd dancing, people were enjoying drinks at the beer tent and I was running into a few more friends. I stuck around for a while, bought a couple of things (and some more food) from vendors. By 9:00 I was ready to leave, but that was easier said than done. I mean that in a good way, of course.
On my way out, I ran into the volunteer coordinator with whom I had been working and one of the Pride board members who had been driving around in a golf cart shuttling staff and supplies around the park (along with acting as head of security). They were taking a break and took the time to thank me. However, I felt kind of sheepish as they both had been there since 6:00 A.M. and clearly had been knocking themselves out trying to make this festival a success. The woman who acted as volunteer coordinator (who was wearing a lovely rainbow dress) and I got involved in a very nice conversation. She told me her story.
She is straight, and her son, who is now in his late teens, had come out to her as gay when he was in his early teens. She was very supportive at a time when the school her son was attending would not let him bring a date to the prom, or allow anyone to start a GSA. She had also turned her home into a "safe house" for other local high school students who had been kicked out of their houses by their parents for no other reason than being gay. She had acted as these kids' advocate and step-mother of sorts. They live in a small community about 20 miles south of the city in a rural area that is obviously far from progressive. She has taken in many a gay kid who had nowhere else to turn. Truly, she's a gem of a person who touches others' lives in ways that are truly memorable.
We are in the same age group and both marveled at how much better things have gotten for a young person coming out, and in such a very short time. Of course we both noted things are not ideal, but with straight allies like her, we're getting closer to the day when a kid won't be kicked out of the house because they love a person of the same sex, feel that they are in a body that doesn't match their gender, or just don't identify their gender.
We shared a hug, and I walked away from the festival feeling so much richer for the experience of having met her and the other volunteers. I did my little part, and marveled at those who gave far more than I – not only in making this a successful Pride event, but for their efforts at making the world a better place for us all.
Categories: Commentary
/