Shopping Cart
Your Cart is Empty
There was an error with PayPal
Click here to try again
Thank you for your business!
You should be receiving an order confirmation from Paypal shortly.
Exit Shopping Cart
The New Millennial Gay Experience
Being gay in our emerging new world
| | |
| --- | --- |
| Posted on July 28, 2013 at 7:15 PM | |
By Lane Forsman
This was a personal journal entry I wrote about a year ago, but it still holds true.
Sex.
The potential reactions one can have to sex are as varied as the types of people there are in this world. There have been debates upon debates about sex. There have been debates about the proper ways to debate sex. If you ask me, sex is a pretty simple thing to understand, and we make it all more complicated than it needs to be. We humans are good at that. Today, however, we aren't focusing on the sex debate so much as we're focusing on one potential outcome.
Babies.
Now, for obvious biological reasons I will not be producing babies through sexual activity. I do hope to have a family of my own one day, and a biological child is a desire of mine, but the reality is that I have both financial and ideological barriers to that goal, so it may never happen. However, a number of my friends can, will, and have produced babies. This is a fascinating thing for me. The establishment of a family is one of the truest forms of creation I believe humans can participate in, and this has all come to the forefront of my life with the recent addition of a little boy to my community. Two of my friends just recently had a kid, and they called him Dax, and he was awesome. I met him this last Tuesday.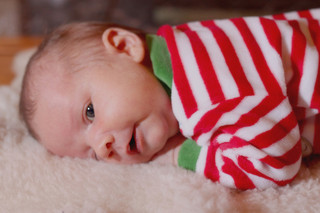 Photo:  "Baby"  by I_Am_Allan, via Flickr Creative Commons;  License:  http://creativecommons.org/licenses/by-nc/2.0/deed.en
This is not the first time a friend of mine has had a child. As a 27-year-old South-Easterner, I think it's more remarkable how few of my friends have kids, but what makes this time different is that I've never felt quite so invited into the process. Obviously not the making process, but into the rearing process, the family process. Dan and Lindsay, the mommy and daddy to the newly minted Dax, have been completely upfront about their expectation that their community, or family as we've been called on multiple occasions, will be a part of the process of shaping this young life. In fact, when I went to their house on Tuesday and commented on how eager I was to see Dax's personality develop Lindsay mentioned that I would probably have an effect on that personality.
Wow.
That's a lot of responsibility. It's also an incredible honor.
Beyond the responsibility and the honor it is a great example of humanity. See, Dax is being raised by parents with conflicting views on the biblical understanding of homosexuality. Dan believes that homosexuality is contrary to God's plan for humanity. I won't speak for him by trying to elucidate his personal theology, but we have had conversations about the fact that, for him, it doesn't seem to fit with God's intentions. Lindsay, on the other hand, has a fully accepting theology that sees homosexual relationships as no different in the eyes of God than heterosexual ones. While this disparity in view is true, where these two lack disparity is in their biblical understanding of how to treat people. I've never once been treated as "other," and discussions of my romantic life have been as frank and honest as any other member of our group. And now I'm being given equal opportunity to be a part of the life of this new child. That's both humbling and exciting.
Some might view my acceptance of Dan's behavior as "accepting crumbs" from an individual who thinks I'm a "sinner." This couldn't be further from the truth. This disagreement is no different for me than a theological disagreement over transubstantiation, predestination, or denominational affiliation. The issue isn't central to our faith or our friendship in any way. It is a point of discussion at times but never a point of discrimination. Dan was the best man in his sister's wedding, to another woman. It is possible to disagree with someone without oppressing them. It is possible to see the world differently than someone and to still be happy for him or her when they find success pursuing something with which you disagree.
I know that some people may have an adverse reaction to the fact that I'm giving someone credit for recognizing my humanity as though that's something they should be proud of, but the truth is they should be. Too many times in our world people forget that those we disagree with are also human beings. Any time we can come together as people and be not just accommodating, but friendly and loving towards each other despite our differences, it should be celebrated. This seems a task that is significantly harder for people of faith, which is entirely counterintuitive. So, when I find examples of it in my own life I'm definitely going to celebrate it.
Little Dax is a cause for celebration on his own, but he also gets to be a part of an amazing picture of family. One I've been invited into.
Categories: Other Voices
/