Shopping Cart
Your Cart is Empty
There was an error with PayPal
Click here to try again
Thank you for your business!
You should be receiving an order confirmation from Paypal shortly.
Exit Shopping Cart
The New Millennial Gay Experience
Being gay in our emerging new world
| | |
| --- | --- |
| Posted on July 29, 2013 at 10:05 PM | |
By Dennis Stone
Gay marriages will be happening here in Minnesota beginning this Thursday, August 1. It was less than a year ago that the outcome of the state ballot initiative to put a prohibition of gay marriage into the state constitution was seriously in doubt. The polls were extremely close, and equality opponents have historically voted in greater numbers than supporters. We all breathed a huge sigh of relief when that initiative was defeated, but many observers felt it could be several years before marriage was legalized.
And now here we are, less than a year later! On Thursday there will be multiple stories of happy couples being among the first to exercise their new rights to equality. Project 515 – a terrific local group named for the 515 ways in which the lack of marriage equality impacted gay people – is holding a midnight wedding reception to celebrate equality at the minute it becomes possible.
But I'll bet you didn't know that there is one Minnesota gay couple that has been legally married for almost 42 years. It is a fascinating story, though it amazingly got almost no mention during the past year.
Jack Baker was a law student and activist at the University of Minnesota in 1970, and Michael McConnell was a librarian. They had been together for four years when they first applied for a marriage license that year. Unsurprisingly, the application was denied. They appealed the case all the way to the U.S. Supreme Court, which chose not to hear the case in 1972, citing the lack of a "substantial federal question."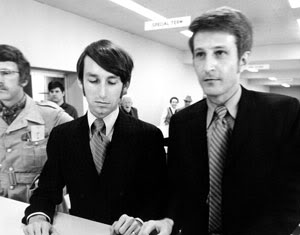 Baker (right) and McConnell applying for a marriage license.
The appeal to the Supreme Court was aided by the Minnesota Civil Liberties Union, though the American Civil Liberties Union seemed to have little interest. Many of Baker's fellow activists also had little enthusiasm for the idea, the post-Stonewall generation seeing marriage as a heterosexual institution and counter to the free love revolution many of them preferred.
In the meantime, Baker and McConnell tried a different strategy. McConnell legally adopted Baker, and Baker changed his name to Pat Lynn McConnell. (That is still his legal name today, though he commonly uses "Jack Baker".) They moved to Blue Earth County and applied for a marriage license, using Baker's new name. The subterfuge worked, and the license was granted.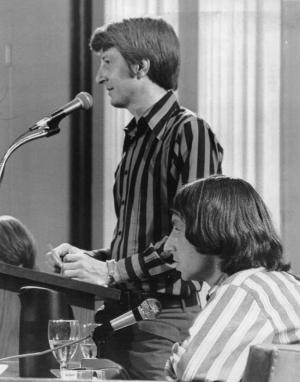 Baker (standing) and McConnell.  (AP file photo)
The couple planned a large wedding in Minneapolis, and enlisted a Methodist minister to officiate since the Methodist Church at that time had no rules against officiating at same-sex weddings (presumably because no one ever thought they could occur). They went through weeks of pre-marital counseling like any other couple. However, 24 hours before the ceremony the minister changed his mind and dropped out. At the last minute Pastor Roger Lynn, also Methodist, stepped in. Lynn had worked with Baker and McConnell at a Minneapolis drop-in center offering support and counseling to gays.
On September 3, 1971, the marriage took place. Lynn pronounced the couple "husband and husband," and history was made. The first legal gay marriage had occurred. The Hennepin County (Minneapolis) attorney tried to invalidate the marriage license because it had not been obtained in the county of residence of the bride, as required by law. Of course, it was impossible to meet that requirement of the law because there was no "bride". The attorney convened a grand jury to hear the case, but the grand jury decided the issue wasn't worth pursuing. The marriage license to Baker and McConnell has never been revoked, and they therefore have been legally married since their wedding. They still live in Minneapolis, and they will celebrate their 42nd anniversary in about a month.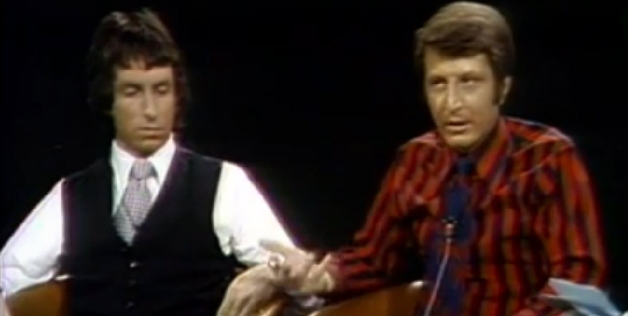 McConnell and Baker on the "David Susskind Show" in 1973.
Baker was quite a prophet. He had said, beginning in 1970, that some day marriage equality would become law. He thought there was no alternative, since a reading of the law that eliminated preconception and emotional bias could come to no other conclusion. While most of us are surprised that marriage is happening so rapidly, based on what Baker said many times I'm guessing he is surprised it took so long. The arguments he used from 1970 on are the arguments that are used before the Supreme Court today.
Here is a link to a YouTube video of Baker and McConnell on the David Susskind show in 1973. (Baker is doing the talking.)
(Coming: Part 2. There is a lot more to the story of Baker and McConnell, and you can read about it in the second part of this story.)
Categories: History Lessons
/