Shopping Cart
Your Cart is Empty
There was an error with PayPal
Click here to try again
Thank you for your business!
You should be receiving an order confirmation from Paypal shortly.
Exit Shopping Cart
The New Millennial Gay Experience
Being gay in our emerging new world
| | |
| --- | --- |
| Posted on August 10, 2013 at 12:50 AM | |
By Paul Johnson
2008. It's the summer before 7th grade, and I'm sitting in the living room watching Friends on DVD. I'm working through the entire series for about the sixth time. I have yet to figure out what the guys from school see in Jennifer Aniston that's apparently so awesome, but I figure it'll hit me soon. After all, I turn 13 in September.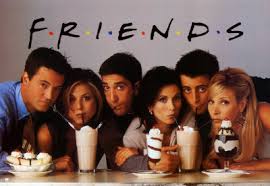 Over the course of 6th grade I'd started to find it really, umm…, "interesting" when guys in my superhero movies got their shirts ripped off mid-battle. That was weird, and I wasn't quite sure what to make of it, so I mostly ignored it.
Nearing the end of Season 7 I start up "The One with Chandler's Dad." The plot revolves around Chandler planning to invite his oft-mentioned drag queen father to his upcoming wedding. He and fiancée Monica arrive at the drag show and Chandler looks away, embarrassed, while his father swishes across the stage. As go-go boys in Speedos turn around and break into a choreographed "It's Raining Men" set, something horribly and irrevocably clicks into place in my head.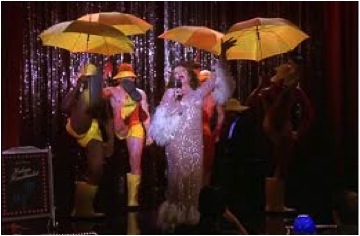 Kathleen Turner as Chandler's Dad singing "It's Raining Men"
Guys. I like guys. That's why I keep getting weird pants feelings from superheroes. I'm physically attracted to them. And this... stuff happening on my TV screen. That's what gay people are into. That's what they spend their life doing. That's what I'm going to spend my life doing, if I'm gay.
Except... Well, clearly I'm not gay. I don't want to spend my life having my (entirely straight) friends looking embarrassedly away from me as I dance to disco in a Speedo. I'm way too "normal" to like stuff like that. Clearly, I'm not gay. I think…
As soon as the episode ends I rush to put the DVD away. I walk up to my room, hoping my mom doesn't notice my alarmed face, and try to calmly close the door.
As the next few days pass I try to push certain thoughts out of my mind. If I just hadn't watched that episode I wouldn't have gotten the mistaken idea into my head that I could be gay. Without it, I'd be starting to get into girls. If I just keep those thoughts out of my head long enough, my latent attraction to women will burst forth. The one time I thought I was gay will become a wacky tale I tell my wife one day.
The thoughts keep coming. If I were gay, I reason with myself, I'd know it already. I've read stories in "Chicken Soup" by homosexual people, and they all had same-sex crushes in elementary school. Why hadn't I had one? Clearly, I was nothing like them.
I definitely couldn't mention this to anybody, though. They'd either mistake me for being gay and punch me, or mistake me for being gay and tell me to accept myself. No one else could understand that I was just accidentally getting boners from guys every once in a while, and they'd stop soon anyway.
No one else could ever understand.
Categories: Other Voices
/