Shopping Cart
Your Cart is Empty
There was an error with PayPal
Click here to try again
Thank you for your business!
You should be receiving an order confirmation from Paypal shortly.
Exit Shopping Cart
The New Millennial Gay Experience
Being gay in our emerging new world
| | |
| --- | --- |
| Posted on August 19, 2013 at 10:45 PM | |
© 2013 Ulysses Grant Dietz
In the middle of this July just past, my partner Gary and I went up to the North Shore of Massachusetts to attend a wedding. The two young men getting hitched are fairly recent friends of mine. I met Michael (now 31) through a work-related project a year and a half ago – he was acting as art director for a television segment being filmed for CNN about a MacArthur Prize-winning silversmith whom I've known for decades. Although Michael is young enough to be my son, we hit it off, and before long Gary and I started trekking into New York on the occasional Friday evening to have dinner with him and his fiancé Daniel (now 26).
I suspect that what initiated this friendship was Michael noticing the pictures of Gary and our kids on the shelf behind me in my office. What I remember is that during our chat, while the camera crew set up behind him, Michael mentioned his boyfriend – and then amended it to fiancé. Being out at work has been my policy since I started my job at the Newark Museum at the age of 24 in 1980. There have been plenty of moments over the past 37 years when I have wondered what the negative consequences of my personal policy have been. That my openness triggered Michael's candor and forged the first bonds of a friendship was an amazingly powerful validation for me.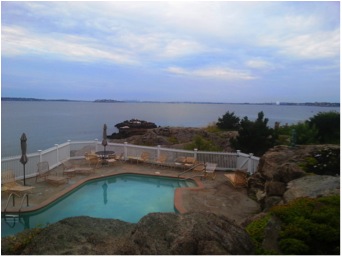 The site of Michael and Daniel's wedding, July 2013, near Salem, MA.
Yes, validation. I am not ashamed of needing validation, even at 58 years old and moving all too fast toward the end of my career. It seems to me that I've spent so much of my life seeking validation of one sort or another – working to be pleasing to other people in whatever way I could. Pleasing my family, pleasing my teachers and professors, pleasing my bosses, my patrons, my audiences. Fortunately, my need for validation makes me a good curator, since pleasing others is a major part of what we are supposed to do.
The hard part was receiving validation for who I was inside. In elementary school, being a straight-A student got me all the validation I needed. In middle school, being smart wasn't quite enough. Being funny – now that without question saved me from the typical bullying with which a wimpy, somewhat sissy boy might have been targeted. But being funny and making others laugh wasn't really the kind of validation I needed.
As I began to come out to myself at the age of sixteen while in prep school at Exeter, the kind of validation I'd always sought seemed like something I was going to lose by being gay. My attraction to boys had been obvious to me since middle school, but my inculcated understanding that society would frown on this – would be displeased - kept me in denial for years. Even after my self-acceptance, it would be four long years – until I was twenty and a junior at Yale – before my fear of losing that all-essential validation from family and peers gave way to my even greater fear of never being a complete person. Self-repression is the opposite of validation – although it takes time to realize that.
On October 14, 1975, I walked into the room where the Gay Alliance at Yale was meeting, and was offered a kind of validation I'd never experienced. For the first time in my twenty years on earth, I was welcomed because I was gay. I was largely oblivious to the overt flirting going on (total virgin, clueless), but I was very aware of the warmth and enthusiasm that my mere presence elicited. My being gay pleased this room full of young men. Particularly one young man with long black hair and blue eyes. I found myself jumping in a car with my new friends after the meeting, ready to learn what my new gay life might be about. That evening, all I did was talk with this cute guy – Gary, his name was – and gave him my dorm phone number (no cell phones, no computers, no internet). His evident interest in me was yet another kind of validation. Here was someone to whom I was attracted who was interested in me because I was gay. And interested in more than just a, you know, friendly way.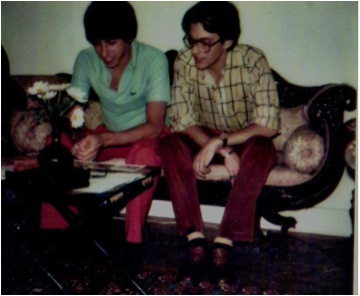 Gary and Ulysses, 1977, New Haven
Sexual validation is an especially important thing for young gay men. It surely was for me and every gay friend I had. Of course, all young people, gay and straight, go through the sexual validation thing, which is just part of growing up. But when you make up a small minority of the population (whether you believe in the 10 per cent model or the five percent version), your opportunities for validation at this level are substantially reduced. The significance of the fact that I stumbled across THE ONE on my first night as an out gay man was something I didn't quite appreciate until years later, looking back. Perhaps that's what's given me my unshakable faith in the possibilities of young romance and monogamy (but that's a different essay).
The sexual freedom in the gay world of the 1970s and 80s – at least in large urban settings and gay resort areas – was a reflection of the joy of experiencing validation for being who you were as much as it was an expression of the "just because we can" feeling that being gay held for so many of us at this period. It took the nightmare of AIDS in the 1980s to destroy that bubble. The need for sexual validation didn't disappear, by any means; but in my generation, and in my world, it shifted toward closed relationships and a frenzy of nest-building. Gary and I clung to the validation we received in our suburban Valhalla. We abandoned sexual validation for social validation.
While some millennial gay folk feel that validation of your gayness isn't important for them any more, I'd posit that those lucky souls are living in a place that is itself special in some way and for whatever reasons. I do think kids coming out in high school today (this from my own high-school-aged children's reports and experiences) have an easier time of it to a degree. But I do not at all agree with the notion that they receive the same sort of validation, either social or sexual, that their straight friends do. The high school student who doesn't feel the need for validation because he's gay is probably getting lots of validation in other areas.
Likewise, coming out at college (assuming it's not a religious school) is also undoubtedly easier than when I was in college in the mid-1970s. But the fact is that I had a pretty easy time, and found my gay self validated pretty strongly way back then. Gay presence on college campuses has gotten larger and more important in the past forty years, but even so I am still surrounded by recent stories of men in their twenties not coming out until after college by reason of a variety of fears – and a total lack of validation of their gay selves - that resonate with my own experience of a generation ago.
I was just crazy enough at the age of 25, when I got my first (and current, and apparently only) job in New Jersey, to want to move to the suburbs. This was in 1980, when the trend for lesbian and gay couples to move to the 'burbs hadn't really taken off. Gary and I, five years together and proud of it, decided we wanted to have the Leave it to Beaver experience. Well, honestly, I decided it; Gary, being my patient and long-suffering boyfriend, just agreed to go with it.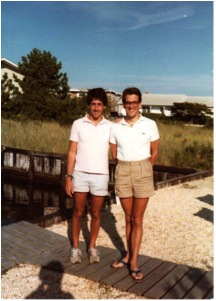 Gary and Ulysses, 1984, Harvey Cedars, NJ.
We were fully prepared to put up with a certain amount of intolerance or abuse – or at least to be shunned; and yet we never were. Not once. We received an unexpected level of validation as a gay couple, and this made our suburban choice seem less risky and more comfortable than ever.
I even joined a church – after fifteen years of self-imposed exile. I became an Episcopalian again at the age of thirty, and found a spiritual home that I'd never imagined I'd have. This was all due to the validating presence of one John Shelby Spong, the most outspoken, nay, notorious, Episcopal Bishop in the history of American Anglicanism. To this day my parish is a magical, embracing place, where being gay is barely noticed, even though the parish is still predominantly straight families. My little church of St. George's has become the most post-gay place in my life.
But, remember, we live all of twenty miles from Manhattan. The big-city liberal bubble of that island village had its influence; and over the years a trend did indeed begin – and the sister towns of Maplewood/South Orange, New Jersey became a veritable hot-bed of gay couples, eventually with children in tow, as Leave it to Beaver gradually morphed into Modern Family. When we adopted our own two children, Alex and Grace, in 1996, we received the ultimate validation as a gay family, with all the joys of pre-school and strollers and mommy-and-me sessions at the local Y. Being gay, per se, didn't seem all that important any more.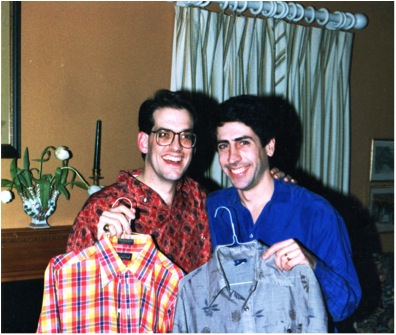 Gary and Ulysses, 1990, at their 15th anniversary party; holding the shirts they were wearing when they met
But I have come to understand that, if you really look closely, you discover that even the sort of big-hearted liberal acceptance we experienced from the straight majority around us is only marginally rooted in a real, profound understanding of what being gay is. I know many straight people in all aspects of my life, professional and private, religious and secular, and I am fully aware that these folks still have very little understanding of what being gay is or how it affects the way one sees the world. Many of them still don't quite grasp the fact that Gary and I are not a couple in most of the United States; nor that we could not have adopted our children if we lived in most states in the union. They genuinely do not realize that the validation they receive daily from our entire culture is still withheld in scores of little ways for gay people.
We still don't hold hands when we walk down the street or in the park. We are very cautious about any sort of PDAs, because we know how quickly validation can be withdrawn, even in the gayest of neighborhoods.
If you maintain that being gay doesn't affect the way you see the world, that it doesn't matter in your life; then I'd suggest that you're not really looking at the world very closely.
Back to the wedding (you did realize I'd come back to that, right?). We had discussed Daniel and Michael's wedding plans during our dinners in New York. It was after about six months that it dawned on me that we might get invited, as indeed we did. At first I was slightly appalled that these boys would invite me and Gary to their wedding. I didn't feel that we knew them well enough to be included in this life-changing and important event. But they clearly wanted us, and both Gary and I realized that we really wanted to go. It was evident that Michael and Daniel saw us as this sort of cool thing – two older gay guys who'd lived a life together and had a history. We were, after a fashion, their goal. They never actually said that, but we could tell.
And so we found ourselves on a Friday evening in July, after a hideous seven-hour drive from New Jersey to Salem, arriving very late to the rehearsal pizza party to which only the families and wedding party had been invited. Disheveled and hungry, we had made our way to this beautiful spot on the North Shore, looking due south at the Boston skyline as twilight fell and the lights twinkled on.
Michael and Daniel's hands after the wedding, with the rings they made. The rings were made at the studio of the silversmith through which Ulysses and Michael met.
We had been included in this intimate gathering because our friends wanted me to speak at a special beachfront event that night. Michael had called me at work out of the blue and asked me to do this; and being the validation-seeking attention whore that I am, I was totally flattered and agreed without hesitation.
As night fell, a couple dozen little blue glass lanterns were lit, and we strolled down to the nearby beach. Daniel and Michael paused in the shallow surf as the group made an arc around them. Holding Gary's hand, I stepped forward to join them, facing the gathered group, whose faces were lost in the cool darkness. All I could see were shadows and all of the little blue lanterns flickering.
As soon as Michael had asked me, I knew what I wanted to say.
"We are here tonight, because thirty-three years ago, when we were in the exact same place in our relationship that Daniel and Michael are now, the only thing we could do to tie ourselves together legally was to buy a house and share a mortgage. In 1980, when we moved to New Jersey at twenty-four and twenty-six, the wedding that is going to happen tomorrow was not just impossible, but unimaginable to us. The idea that we would someday be allowed to actually marry legally anywhere in our world was beyond our comprehension. The idea that our families and friends would gather together to celebrate with us was equally hard to conceive. And yet, here we all are. Gary and I look at Michael and Daniel, and in them we see our past. But in us, they see their future – if they're lucky, and with all your support."
Then Michael (clearly the instigator in that couple, just as I am in ours) held up a bottle, with a message scroll inside. He told everyone that these were their hopes and dreams for their marriage. Then the boys held hands and dashed into the chilly surf of Nahant Bay and tossed the bottle as far as they could. The applause from all the onlookers, gay and straight, young and old, validated their relationship – and ours as well. It was an amazing moment. The very thought that our life together as a gay couple would encourage and support another gay couple young enough to be our kids, threw a new light on everything we'd been through together over nearly four decades. This, we realized, is what straight couples hope to see at their children's weddings - something we had never imagined experiencing. It was not simply the validation of our couple-ness; but the validation of our gayness. What set us apart from other couples was what made our presence meaningful to our friends. It was a lesson for their parents and grandparents and aunts and uncles and cousins. They could be us. They would be us – with the support and validation of the people they loved.
Gary and I may have assimilated into the larger world of American culture; by being a couple, by moving to suburbia, by deciding to raise children, by going to church. But not for one minute have we forgotten that, in spite of this all, we are different from the majority. Being gay matters to us, and it defines us in a way that sets us apart. We know that everything we have achieved we have achieved in spite of society, not because of it.
We have earned our validation, and we're not ashamed to relish it.
Categories: Commentary
/