Shopping Cart
Your Cart is Empty
There was an error with PayPal
Click here to try again
Thank you for your business!
You should be receiving an order confirmation from Paypal shortly.
Exit Shopping Cart
The New Millennial Gay Experience
Being gay in our emerging new world
| | |
| --- | --- |
| Posted on August 28, 2013 at 10:00 PM | |
By Farid-ul-Haq
Pakistan might not be the perfect country in which to be born gay, but it isn't the worst either. Most of you probably know that when it comes to LBGT support, a Muslim country is not the best place to look. Homosexual acts are illegal in such countries, and punishments range from lifelong imprisonment to being beaten to death or hanged. Officially, LBGT support is non-existent in Pakistan. However, being a Pakistani myself and a member of the LBGT community, I know that if you take a closer look you can find all the support you need from the people around you.
Things are changing all over the world and, though the change is slow in my country, it is surely happening. Am I saying that Pakistan has suddenly transformed into a gay paradise? No, I am not. What I'm saying is that things aren't as bad as some of you might think. Sometimes the negatives are given so much attention that the positives are overshadowed and it's as if they don't exist.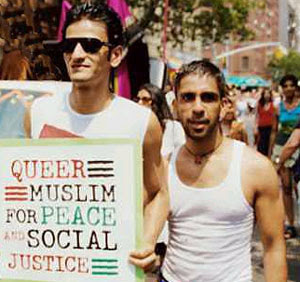 I am a 22 year old Muslim Pakistani, and I am very comfortable with who I am. I knew that I was attracted to men as well as women from a very young age. Truth be told, it wasn't ever confusing for me. If I liked a boy, okay fine, I liked a boy. If I liked a girl, okay fine, I liked a girl…Quite simple. It wasn't much of a big deal for me, nor for my parents. They accepted it from the start, and for me it was the most awesome thing any LBGT person could ask for.
Walking Around Holding Hands
One of the best things about my country is that you can show public affection without anyone raising an eyebrow. Men can walk around holding hands. They can have dinner dates, go to the movies, share a drink, etc. They can hug each other. To the public, these are gestures that are common when it comes to male/male interactions, even if they are straight. Walking hand in hand won't make anyone throw the word "faggot" or "gay" at you. People won't think of you as being a homosexual. Yes, that's not the same as acceptance, but do you really need to walk around wearing a bright PRIDE shirt and telling everyone? Isn't it enough that you are able to enjoy the day with your loved one without anyone giving you second glances or calling you rude names?
For me, this freedom to express open affection, in both straight and gay contexts, is amazing, considering the country I live in. As far as I know, men holding hands or showing any similar kind of physical intimacy in other countries, even those with LGBT support, leads people to immediately think that they are a couple, even when they are not. You might get someone who thinks you are going to hell because you are gay and you might get someone who thinks you are an 'amazing and beautiful couple' even when you are straight. I like the fact that in my country all people can be open and affectionate without it causing any problems. And that makes it a lot easier for gay people to express physical affection for each other.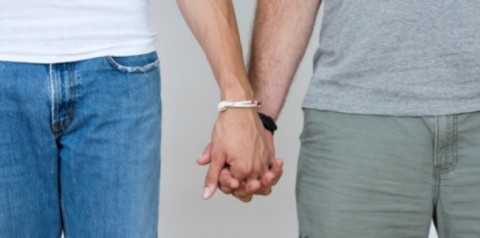 Education Helps
When it comes to just sex, you can find that in the most uneducated parts of the county. However, if you are looking for an actual relationship, the more educated the area, the more accepting the people. I grew up in areas where people were well-off and studied in good schools. At the university level no one really cared if someone was gay or bisexual. There were a few who would make jokes, etc., but what was important was that the group of people you called your friends were accepting. Some of my closest friends are from my high school years. All of them are straight and they know about me being bi. They are more concerned about excelling in their fields of education and having a fun time when we find the time to hang out than they are in pointing fingers at who I am, or trying to figure out why I would be interested in kissing another guy. They have accepted it and we have been friends for years. To them, being bisexual is just a small part of who I am.
As I said, the more educated an area is the more 'open minded' it is. Women don't have to cover their faces if they don't want to, they can get jobs, etc. Things aren't as dire as the pictures painted by a lot of media outlets. The same is true with homosexuality. Personally I know gay people in their mid thirties, living in my area, who are excelling in their lines of work and are accepted by their close relatives. And these are guys for whom the Muslim religion plays an important role in their lives. They might not have told everyone about themselves and might be seen as living "under the radar", but the point is that no one is stoning them to death or hauling them to prison. The community accepts them and that's all they could ask for.
Things are changing in Pakistan. It will take time for LBGT support to enter politics but that will come after people are given their basic human rights in the country first. Until then, I feel that living in a community that accepts you is a major positive.
Living under the Radar?
Some of you might think that living "under the radar" is the way to go in my country. Personally, I have never lived under the radar. I came out to my family and my friends a long time ago and those are the people I care for the most. If not telling my bus driver or every single person I meet about myself means that I'm living under the radar, then there's nothing I can do about it.
I feel that I have the right to come out to the people I want to and live my life the way I want. I am by nature not a very physical person, and holding hands while walking isn't something that I would do just to make a point. I am living the life that I want to live. My sexual orientation is just a part of who I am, and I am more concerned about excelling in what I want to do. When I meet new people I don't feel the urge to start the conversation by saying that I am bisexual. I want people to acknowledge me for what I have done and who I am as a person. This is also the mindset of a lot of people I know, straight or otherwise. Sexual orientation should not be the major defining aspect for a person, and that's why I don't think that I am living under the radar or living a secret or lying to someone or myself. It shouldn't be "straight people are different from me" or secluding yourself with one group. We are all people; different, but still, people.
I hope this changed some of your minds when it comes to homosexuality in Pakistan, and you realize that being born gay or bisexual doesn't mean that you will be stoned to death as soon as you come out. It may be that not everyone will accept you, families included, and it may be hard for you in the start, but keep in mind that there are a lot of accepting people as well.

Categories: Other Voices
/