Shopping Cart
Your Cart is Empty
There was an error with PayPal
Click here to try again
Thank you for your business!
You should be receiving an order confirmation from Paypal shortly.
Exit Shopping Cart
The New Millennial Gay Experience
Being gay in our emerging new world
| | |
| --- | --- |
| Posted on September 3, 2013 at 11:40 PM | |
By Lane Forsman
Over the years I've noticed that there is a perception about the southern gay experience, and it's not a positive one. Living in a college town and going to a Tier One research university with several top 5 arts programs I get exposed to a lot of gay individuals who came here for the schooling, but who plan to bolt for the north or the west as soon as their four years are up. People think there is nothing gay about the South and that the next lynch mob or fanatical preacher is just around the corner. They're afraid to venture out and explore what the South has to offer. Which is sad to me.
The fact is, the South has a lot of culture to offer and a lot of fun things to explore. Beyond that our metropolitan areas are amazingly gay friendly and the South offers three of the gayest places I know in the U.S. outside of The Castro, Chelsea and Boystown. Don't believe me? Then take a trip to Savannah, GA; New Orleans, LA (especially The Fruit Loop during Southern Decadence); or Key West, FL (Fantasy Fest will blow your mind). Also, our rural areas tend to adopt a live and let live attitude; they aren't as vehemently anti-gay as people expect.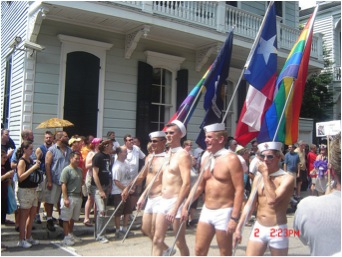 Southern Decadence, New Orleans 2007, photo by DoctorWho via Flickr Creative Commons (License: http://creativecommons.org/licenses/by-nc-nd/2.0/)
I'm a proud Southern boy. Granted, my accent only really comes out when I've been drinking or when talking to my relatives, but I attribute that to growing up in a capital city and college town. We have a lot of transplants so most Tallahassee natives don't have a pronounced drawl, comparatively speaking. (Yanks always notice my use of the word "y'all" though.) I grew up on sweet tea, summers in Georgia playing in the fields, family reunions at the farm, and calling everyone older or wiser than I sir or ma'am. I wouldn't trade it for anything.
One of the biggest complaints I hear from new gays to town is that our city, and a number of cities in the South, lacks a "gay scene." This isn't true of the South as a whole. The cities I mentioned above, plus notable areas like Atlanta, Memphis, Orlando, Tampa, Miami, etc., all have specific gay attractions. However, the more medium-sized cities don't tend to have the same offerings, and honestly I think it's because we 'mos are more fully integrated into those cities. Tallahassee used to have 2 gay clubs but they both closed and it wasn't because the gays were fleeing the city, it was because we weren't looking to segregate ourselves from it. Even when those clubs were open, one, "Brother's," billed itself as the "Pansexual Playground" because its clientele was far from exclusively gay.
I don't fear going out at night with a date to areas not specifically targeted toward my sexuality. One of my best friends in undergrad was a straight dude from Tallahassee who would watch Queer as Folk and go to 80's night at Brother's with me. I get a little annoyed and saddened when gay people think that we have to have our own space in order to meet each other and hang out. One thing I love about this city is that if I'm out for an evening, or there's someone new on the edge of one of my circles and I'm interested in them, I can approach the guy and if he doesn't play for our team he simply will say so. And if a girl approaches me it's the same thing. There's no disgust or hard feelings and I've even made a couple friends that way.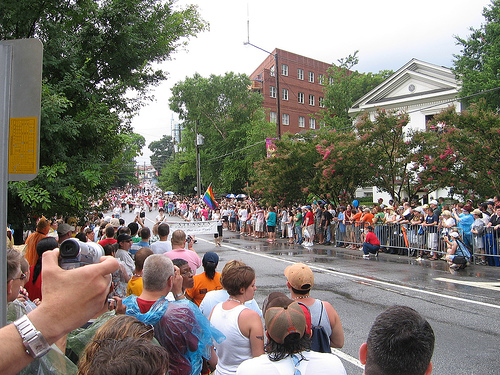 Atlanta Pride Parade, photo by Eggrollstan via Flickr Creative Commons (license:  http://creativecommons.org/licenses/by-nc-sa/2.0/)
I know there might be a perception that my experience is colored by living in a blue city in a very red state, and I'm certain to an extent that's true. But the reality is that most cities in the South that are Tallahassee's size or larger tend to lean socially blue (though they're still pretty red fiscally). And Tallahassee isn't my only experience with the South. I've been all over, to West Virginia, Alabama, Georgia, Louisiana, Mississippi, and I've lived in most of these places, not just visited. I may not shout about my sexuality when I get invited to a pot luck at the local Southern Baptist church, but that has more to do with not wanting to hear some sweet old lady spend 30 minutes explaining to me that I just haven't met the right girl yet. And really, I'm not going to waste my time trying to explain the realities of sexuality to a 70-year-old woman who is more interested in whether or not I liked her pecan pie than whether or not she agrees with me about my "life choices." She's harmless and I've dated her grandson. As more people in our country get to know gay people, or rather realize that they know gay people, they are becoming increasingly accepting.
Sure, the politics in the South are a bit backwards when it comes to the LGBT community. Our states have constitutional bans against gay marriage (though we are far from alone on that one); Tennessee keeps trying to pass the "Don't Say Gay Bill" for public schools; and one of the Virginia gubernatorial candidates is trying to uphold the legality of his state's anti-sodomy laws. But do you know what this is? It's the old guard. They're aging out and fading away. A lot of people consider them to be loud and obnoxious and are just waiting for them to finally fade into obscurity.
I'm telling you, our nature views are amazing, our people are the friendliest around, our food is to die for, and our parties will leave you hung-over for a week. If you tell me you never have any intention of exploring the South then all I can say to you is, bless your heart.
Categories: Other Voices
/