Shopping Cart
Your Cart is Empty
There was an error with PayPal
Click here to try again
Thank you for your business!
You should be receiving an order confirmation from Paypal shortly.
Exit Shopping Cart
The New Millennial Gay Experience
Being gay in our emerging new world
| | |
| --- | --- |
| Posted on September 16, 2013 at 2:10 PM | |
By Dennis Stone
During the "Comedy Central Roast Of James Franco" there were 26 jokes relating to Franco being gay or talking about him having gay sex. That did not go over well with a lot of gay observers in the media.
Neil Drummond at Salon.com wrote a story headlined "The James Franco Roast's Homophobia Problem." He characterized the jokes as "assigning gayness as a way of instantly impugning another's character, worthiness or talent…Does it disturb me? Well, sure."
"The Atlantic" said that in the context of a roast, the jokes were "not actually an insult to him [Franco], only to gay people."
"The Backlot" ran a story by Louis Virtel titled "Guy Branum Calls Out Homophobia At the James Franco Roast," relating to a routine by comedian Branum where he said the following about some of Franco's roasters. Sarah Silverman: "Using gay as an insult doesn't make you look cool; it makes you look old." Jeffrey Ross: "I understand why you think gay sex is disgusting, because any sex involving you would be disgusting." The roasters as a group: "the guys on that show think gay sex is ridiculous." Virtel himself referred to "the gay panic in the room" and characterized Branum's "throwdown" as "damning."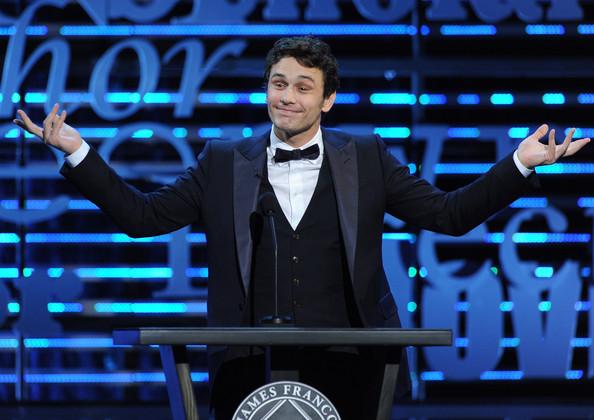 Well, hmmm…, I certainly wouldn't enjoy that piece of "entertainment", not with all the homophobia and gay panic on display. But when I saw the roast I was left wondering if I had seen a different version. Perhaps the "uncut" version of the roast aired originally, and I was seeing a version with the homophobia and gay panic removed.
But no, it turns out I saw the original version of the roast. So what's going on here?
It appears we're dealing with the over-sensitivity and insecurity I see so often in my community. We're dealing with that very real psychological situation where a person's preconceptions and ideology color their perception of reality. We're dealing with a profound misunderstanding of what comedy is.
How else to explain the cognitive dissonance between Silverman's joke about Franco, and Branum's characterization of "using gay as an insult." Silverman said that she didn't think Franco was either gay or straight since "he literally can't open his eyes enough to see who he's fucking," a reference to his usual sleepy, squinty-eyed look. THAT is using gay as an insult???
Branum said that Jeffrey Ross' jokes came from Ross thinking gay sex is "disgusting." Ross said that he hoped his insults hadn't been too mean "because my girlfriend and I both want to fuck you after the show." Could someone point out to me how that joke reflects Ross' disgust?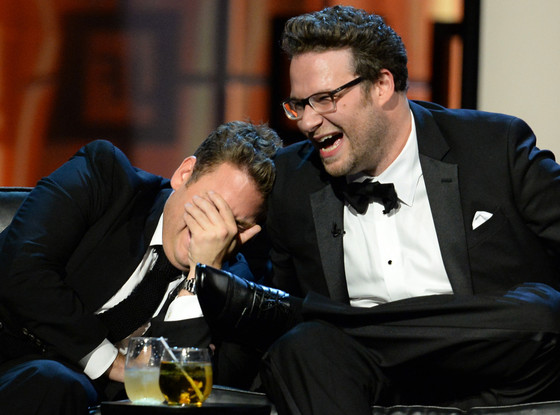 Jonah Hill and Seth Rogen
Virtel's gay panic assertion is especially odd. I watched the roast again, specifically looking for anything that could possibly be classed as "gay panic." I couldn't even find one that I could use in a sentence beginning "the closest I could get was…" I have no idea to what Virtel could possibly have been referring. Andy Samberg, in fact, had all four of his jokes include himself as being a part of sex with Franco.
What it comes down to is that some people see as homophobic ANY joke where the punch line refers in any way to someone being gay. "We're the joke," I've heard people say many times. Superficially, I can understand the thought process of these critics. The goal of a roast is to make fun of someone, so if you tell a joke that includes a statement or insinuation that the subject is gay, then it would seem you're saying that being gay is something to laugh at, a source of ridicule.
But that's the surface perception. Let's delve deeper by taking a look at comedy theory. What makes a joke funny? There have been many theories put forth, ranging from the "superiority theory" (the misfortune of others, such as slipping on a banana peel, is humorous) to the "incongruity theory" (when there's a big difference between one's expectations and the actual payoff – as with Monty Python).
Professor Peter McGraw of the University of Colorado, Boulder, has come up with a "Grand Unified Theory" of comedy that he claims will explain all types of humor. As he describes it, "Laughter and amusement result from violations that are simultaneously seen as benign." The "violations" can be of any type – violation of personal dignity (the banana peel again), social norms (any sort of strange behavior), linguistic norms (the funny accents of those "wild and crazy guys" from SNL – Dan Aykroyd and Steve Martin), or "moral" norms (where a lot of our edgy humor comes from).
The second half of that theory – that the "violations" are seen as "benign" - is crucial. The violation of a given joke can't be seen by the listeners as a threat to them or to how they see the world. As an example I did a Google search for "famous jokes" and pulled up the first site listed. Their first joke was this: "You remind me of a famous movie star." "Really? Which one?" "Lassie." You can see the violation to personal dignity, and I would assume the overwhelming number of readers would feel no threat from that joke.
McGraw claims the theory is universal for all humor, but I'm not so sure. Nonetheless, it does apply to a remarkable number of examples that I considered. I do think the context of where and how a joke is told is also important. It's much more funny if told in a humorous way, and in a setting where one is expecting to hear a joke. And it's helpful to have the joke include some sort of unexpected twist or clever connection.
Let's look at a specific non-gay joke from the roast that illustrates all of these concepts. Jeffrey Ross pointed out that Franco's 92-year-old grandmother was in the audience. Referring to Franco's recent movie "127 Hours", he intoned about grandma: "127 hours is all she has left." The crowd laughed, though with a palpable nervousness. SHOULD they be laughing at that joke? many were undoubtedly thinking.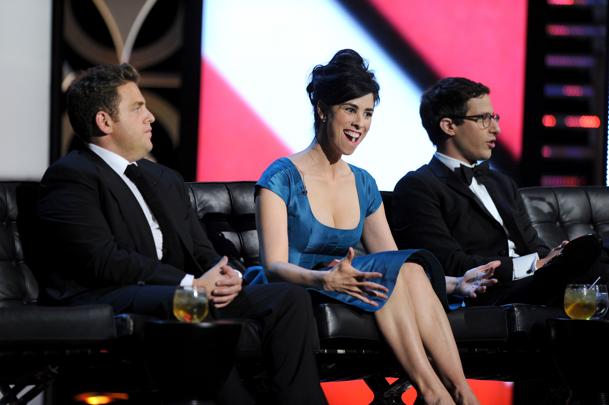 Jonah Hill, Sarah Silverman and Andy Samberg
The centerpiece of the joke, what gives it its power as humor, is clearly the violation, both of the grandmother herself and of what we consider the need to respect our grandparents. Added to that is the context – a roast where jokes are expected, delivered by a comedian whose every line is EXPECTED to be funny. Then there is the unexpected and clever twist, using the title of a Franco movie to make the joke. So the one remaining angle is the "benign" part of the equation. If the violation passed a certain point on the violation meter, if it went too far, you wouldn't find the joke funny. If it didn't pass that point, even if it went right up to the edge, you would find it funny because it covered all aspects of the humor formula.
Now let's look at the Franco roast overall, in the context of McGraw's comedy theory. If you're writing jokes for a roast, the very first thing you do is look for all the most recognizable traits about the roastee – what aspects of him stand out and are familiar to everyone? What aspects DEFINE that person? Then you figure out how to say something that is some sort of violation of the person or of something related to the person, based on those traits. Lastly, you look for some sort of twist, and then hone your comic delivery.
With Franco, several obvious traits spring to mind – the Oscar hosting debacle, the bad or poorly performing movies, the squinty eyes, the multiple and sometimes odd career choices (from soap operas to low budget art house movies to short stories to music to university teaching to studying for a PhD at Yale), the performance art aspect of much of what he does. AND – the ambiguous sexuality.
If I look at all his attributes the one most obvious as comedic fodder is the ambiguous sexuality, though NOT because there's something funny or negative about being gay. Rather, it's a subject rife with opportunity for various twists, and it's a subject easy to satisfy the comedic need for violation. There's the violation of "common decency" in using sexual terms and talking about things like sucking balls; there's the violation of implying a man may not even know himself what he is; there's the violation built around the fact that until recently this has been a fairly taboo subject; and there's even the added violation that for some members of the viewing public, being gay is a violation of their moral norms.
In none of this is the expression of the idea that simply being gay is funny; that the comedians think gay sex is "disgusting," as Guy Branum inexplicably and inaccurately stated Ross had said; that being gay is an insult; that gay sex is "ridiculous" (another Branum charge against the roasters). In none of this is there ANY expression of gay panic.
The second part of the comedy equation – that the violation not be a threat – is also met here. It's met because to these comedians there is NOTHING WRONG WITH BEING GAY. It's the exact opposite of what Guy Branum and other critics said. No one was "assigning gayness as a way of instantly impugning another's character, worthiness or talent," as Neil Drummond claimed. In the modern world jokes that actually did try to do that from a gay angle wouldn't work because the violation WOULD be a threat, and wouldn't be accepted by Franco or the broad viewing public. Which is why Tracy Morgan's gay jokes went over so poorly – they were not benign, they WERE a threat.
As I've said, context is important. Consider a roast of Pat Robertson by Bryan Fischer and other far right asshats. If those roasters were making fun of Robertson by insinuating he was gay, then THAT would be using "gay" as a slur because the roasters and the audience would see it as a slur. When Jonah Hill, Seth Rogen, Andy Samberg and others of that ilk make jokes of that type, it's an entirely different thing. Being gay is not the joke. The ambiguity is the joke, the opportunity to engage in various types of violations around words and concepts that approach the line of decency is the joke.
So why did so many gay observers take offense? The answer is simple. For them, the second part of the comedy theory was not met. For them, the jokes DID threaten them and their worldview. They were not benign, and so they could not find them funny. Dr. Helmut Lackner of Austria did experiments based around looking at heart rates and breathing cycles in connection with comedy. He concluded that the more "social anxiety" one has about a joke the less funny he will find it. Obviously, people like Branum and Drummond and Virtel are feeling significant social anxiety about gay jokes.
As I said earlier in this piece, I think a lot of that comes from an over-sensitivity that many of my fellow gays have allowed to build within them over time. They are so attuned to affronts of various kinds that it becomes difficult to distinguish genuine affronts from those that are benign. I've talked before of the sense of victimhood that can easily settle in for people whose consciousness revolves almost totally around their gay identity. In some cases I think it's a matter of a sense of insecurity somewhere beneath the surface.
In closing I want to give two comedic examples of members of other minority groups who responded positively to jokes at the expense of their minority status.
The "Big Bang Theory" has made many jokes at the expense of Stephen Hawking, most memorably when Howard several times impersonated the voice coming from Hawking's voice synthesizer. They also had an episode portraying Hawking as an insecure poor loser when playing an internet game with Sheldon, and they made other jokes related to his wheelchair. The point of the jokes was his disability. In essence, Hawking WAS the joke. How did he respond? By doing a cameo appearance on the show. He obviously was not offended at all, since the jokes were affectionate rather than mean-spirited, and Hawking is obviously secure in his identity as a disabled man.
I saw the episode of "Seinfeld" last week with Marlee Matlin as the guest star. Most of the jokes in the episode were built around the concept of being deaf, and around Matlin herself being deaf. Being deaf was the joke. But Matlin, a prominent spokesman and activist for the deaf community, had no problem with it since there was nothing malicious going on and she was secure in her identity.
We as a community have to get to where we are secure enough that jokes built around being gay – jokes that come from friendly sources, with no animosity – are seen by us like any other jokes. Where a character like Stefon on SNL is instantly funny, rather than requiring an adjustment period while we gradually decide we aren't offended. Where we don't micro-analyze every gay joke to determine how far up the offense meter it goes. Where the "Comedy Central Roast Of James Franco" makes us laugh rather than feel offended.
Categories: Commentary
/