By Lane Forsman
My childhood.
Sounds fun, no?Truth is, it really was. That's not to say that I didn't have my hard times. My maturation into the confidently gay man of faith that I am today didn't come without its hardships. What my childhood did was provide me with an amazing perspective on the world. Each of these descriptors has some negative connotation to it. Yet, I wouldn't change my childhood for anything. It taught me so much and made me exactly who I am.
If there is one overarching thing I can say that I gained from my upbringing it is the ability to appreciate the world around me. When you grow up poor things don't come easy. You learn to appreciate the things you have because it was so much harder to get them. That either comes in the sense of you working for them, or in knowing that someone else, usually your parents, had to sacrifice for them. It makes it hard to take things for granted.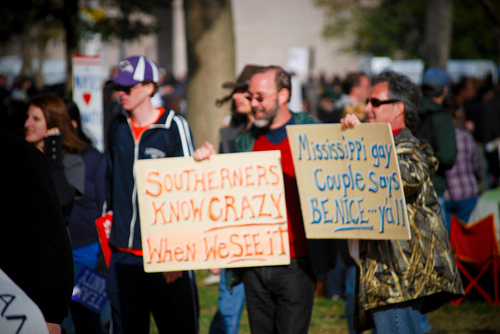 Photo:  "Mississippi gay couple says" by MGShelton (via Flickr Creative Commons, license:  http://creativecommons.org/licenses/by-nc/2.0/)
When you grow up in a tradition of faith you learn how to be amazed by the world, instead of skeptical of it. This isn't necessarily a concept exclusive to those of faith, but in my experience it comes more naturally. Please don't mistake this to mean ignorance. I look for the hows and whys in my world, and I understand that science is extremely important. But when your worldview is shaped with the understanding that everything around you is a gift I believe it fosters a sense of awe in our natural world.
I know there are a lot of stereotypes about us Southerners, and I've even written an article around the Southern gay experience, but we are a dynamic set of people. Growing up in the South teaches you how to live and appreciate a slower pace. Please understand: slower doesn't mean dumber, it just means slower. I'm not saying that slower is my natural pace from day-to-day, but unlike so many people I see from other locales I can sometimes stop and enjoy just being. I wouldn't give that up.
OK, so how did growing up fat have a positive impact on me? We make a lot of allowances for the pretty people of this world. Now, before I continue, I'm not trying to paint all attractive people with the same brush. I don't know all of them. I'm simply speaking of my own experience. See, I never had to wonder if the people in my life, those who called me friend, had an ulterior motive. I learned to be confident in the fact that those who liked me genuinely liked me. That's an amazing feeling to have.
Now, "gay" is the volatile ingredient in this recipe. Sticking with the recipe analogy, and since I am a bar tender, it all reminds me of an Irish Car Bomb. When mixed and consumed properly you get a delicious and creamy cocktail with a somewhat chocolaty flavor to it. When not successful you end up with a curdled pile of mess at the bottom of your glass that resembles an oversized loogie, far less appetizing. Adding gay into my mix of attributes had the chance to curdle my entire childhood, and especially adolescence, and it almost did. Being gay and any one of these other things is a hard thing to deal with, especially at a young age. I struggled to reconcile my sexuality into the rest of who I was. Do you know what I think the saving grace for me was: I was gay and all of these other things as well.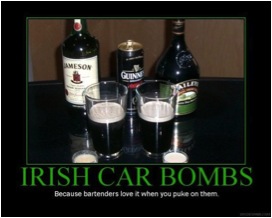 When you take from the first four attributes all of the strengths they offer - being able to appreciate what you have, living in awe and wonder of the natural world, having the ability to slow down and let the chaos around you go, and having a strong sense of self worth validated by the interpersonal connections in your life - you find a source of strength you didn't know you could possess. I had my struggles, my bad days; I prayed and cried to not have to deal with being gay; but in the end I was able to thrive because I wasn't just one thing. I was a full and whole person who had experience with adversity and who had learned how to live because of it. For that reason I wouldn't change a thing about my upbringing.
I've turned out pretty damn well because I grew up a poor, fat, and gay church boy from the south.