Shopping Cart
Your Cart is Empty
There was an error with PayPal
Click here to try again
Thank you for your business!
You should be receiving an order confirmation from Paypal shortly.
Exit Shopping Cart
The New Millennial Gay Experience
Being gay in our emerging new world
| | |
| --- | --- |
| Posted on November 22, 2013 at 2:55 PM | |
The Transgender Day Of Remembrance was this past Wednesday, November 20. (Even though I'm two days late it's very important to note and think about this day.) The DOR occurs in November each year, and its goal is to memorialize the transgendered people who have been killed because of anti-transgender hatred. Sadly, I saw little coverage of this day in the media. Even gay sites were generally muted or silent about this important day.

The Transgender Flag
The Day Of Remembrance originated following the murder of Rita Hester on November 28, 1998. That murder has not been solved, which is disturbingly common for transgender murders. Here is a link to the people being memorialized this year, all of whom were killed during the past 12 months.
To me, hatred of transgenders is even more inexplicable than hatred of gays. On some level I can at least see a glimmer of logic for people who are anti-gay. There are Bible verses, after all, and it's amazingly easy for fear and ignorance to generate twisted thoughts of child abuse or recruitment, or to see some violation of God's plan to "propagate." However, genderqueer people are simply struggling with being born in the "wrong" body, or have other gender incongruence issues. The absolute worst case scenario should be a presumption of some sort of mental illness. As utterly ridiculous as we know that to be, even that should never lead to fear or hate. And yet, equality and acceptance for transgenders is lagging way behind equality and acceptance for gay people. And hatred and violence are significantly more common.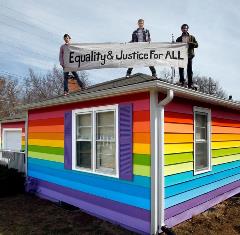 Equality House across the street from the Westboro Baptist Church
Even gay people are often guilty of prejudice. Large numbers don't see the transgender rights struggle as being related to the gay rights struggle. Yes, the underlying situations of being gay and being transgender are different, but we should be linked by our common history of rejection by the majority, and by the fact that we share a profound level of being non-conforming to the norms of sexuality.
We all know about the infamous Fred Phelps clan, and their hate-filled Westboro Baptist Church in Topeka, Kansas. (Though not everyone realizes that their church, which is constantly making headlines around the country with its boycotts of funerals and with its other activities, has only about 40 members.) Across the street from the church is the Equality House, purchased in 2012 by the humanitarian organization Planting Peace. In March of this year they made some news when they painted the house with the colors of the rainbow flag. The house serves as the organization's resource center for their equality and anti-bullying initiatives. This year for the Day Of Remembrance they painted the house with the colors of the transgender flag.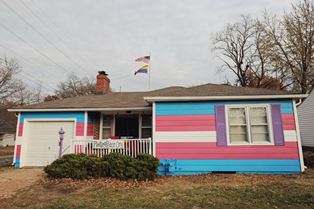 The Equality House in its new colors.
I'll end with the words of Planting Peace founder Aaron Jackson from an email to the Huffington Post: "Transgender suicide, as well as murders of those that are transgender, are alarmingly high. I wanted the Equality House to play a role in bringing public awareness to this issue and to let those in the trans community know that we care. It is my belief that if you are an ally for the trans community, it is imperative that you be open and vocal about it. Acceptance and inclusion comes from education. It is our goal to continue to show the world that we are all equal. But most importantly, we want those that are transgender to know that they have our love and support."
Categories: Commentary
/