Shopping Cart
Your Cart is Empty
There was an error with PayPal
Click here to try again
Thank you for your business!
You should be receiving an order confirmation from Paypal shortly.
Exit Shopping Cart
The New Millennial Gay Experience
Being gay in our emerging new world
| | |
| --- | --- |
| Posted on February 13, 2014 at 12:20 AM | |
By Lane Forsman
As we rejoin the boys, Patrick is at the office with Kevin working on a rough cut of the video game they're developing. (Which appears to be another first person shooter. I'm not much of a gamer, but how many of those can we have?) The boys take a break to peek out on the Folsom Street Fair. I'll admit that being both an Easterner and a Southerner I am not at all familiar with what this event is, but based on the show's depiction I would assume it's akin to Decadence in New Orleans. Incidentally, that is an event I attended once and decided was far too much for me. The guys have a pretty cute exchange about the goings on at the fair (including an old man masturbating in chaps, in public) and the actors do have good chemistry. When it comes to this show chemistry is not something any of these actors lack. The producers and casting agents did a really good job of finding actors who work well together. I have yet to see a relationship fall flat. That's definitely something in this show's corner.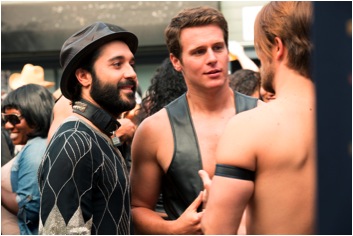 Getting back to the chemistry between Patrick and Kevin, we begin to understand why we're being exposed to it when it's revealed that Kevin is in a long distance relationship. I do enjoy this show, but if there is one thing it has not done it's surprise me. Maybe that's because the situations are pretty much organically understood, or maybe the writers aren't trying to be mysterious. I don't know. Either way the relationship between Patrick and Kevin IS going to cause tension between Kevin and his boyfriend. The only thing I am unsure of is how much tension the writers want to create there.
And the boyfriend calls… as they are talking about him… because of a miscommunication that has John (as we've just learned he's called) in a taxi after waiting for Kevin at the airport. Well, that didn't take long to get rolling.
Agustin interrupts Patrick as he's trying to be noble and work on the game alone so Kevin can spend time with John. There is no way this doesn't end at least awkwardly for Patrick. Patrick is definitely going to get caught up in the street fair and forget to go back to the game project. This could be bad since Kevin had made several references to a presentation the following day regarding the game. Perhaps the show should just be renamed "Patrick's Awkward and Predictable Mistakes."
Before I go on I understand that my reviews of this show are getting more critical as we go, and honestly I feel pretty confident in being able to call the plot. However, that hasn't stopped me from enjoying it. I know what's coming, but I still want to see it happen. Part of that is clearly because of how much fun the characters have in the show. We get great scenes like Patrick, Agustin, Doris, and Unidentified Bear in a leather shop trying to get Patrick to loosen up. They are jovial and full of honest friendship; they read as something genuinely enjoyable.
We end up finding out that the reason Dom isn't with the gang at the fair is that he is trying a little too hard to nonchalantly ask out Lynn (Scott Bakula's character from the bathhouse in the previous episode). Based on previews, I know this ends up getting down to Dom looking for an investor, but I'm still pretty convinced these two are going to end up dating. They have a nice scene with Dom spilling his guts about wanting to open a restaurant specializing in a dish no one has ever heard of.
Meanwhile, Agustin is practically drooling over the hustler he met the previous episode (we learn his name, but honestly I'm too distracted by the actor they have playing him and the storyline surrounding him to pay enough attention to remember it). It's clear that Agustin has the hots for this guy. It's also clear he's convinced that this new sex work career path is exactly what he needs. He keeps making romanticized comments about sex work, including comparing it to being a therapist. This character is so hungry for meaning, so clearly disdainful of the traditional Western paradigm, and so incredibly hung up on sex. He's a powder keg. I'm just wondering when he blows.
The exchange between Agustin and Mr. Prostitute ends up with Agustin desperately needing a bathroom (thanks to a vegetarian's first consumption of meat in years, not for any sexual reason), which takes them back to Patrick's office. Maybe the awkward payoff of Patrick leaving his work on the game to attend the fair with his friends will happen today instead of during the presentation tomorrow. Especially since Patrick is leathered out, and a drunk Doris and Mr. Unidentified Bear are at the office with them. Aaaaaannnnndddd jackpot! Kevin walks in. OK, so it doesn't end with the catastrophe of Patrick screwing over the presentation, but it does end with Kevin not really being able to look at Patrick in a leather vest with no shirt on.
All right, the writers caught me sleeping this time! See, Agustin makes an observation about Kevin and Patrick having a fake relationship, and Kevin getting to go home to his boyfriend. I didn't think the payoff was going to happen quite so soon, but it does. Patrick interprets Kevin's behavior towards the end of the night as flirting, and he proposes cancelling the presentation for tomorrow if they aren't going to finish it in order to excuse himself based on this information. Kevin is obviously troubled by the way the interaction turns out. Whether or not there is physical infidelity here, there will at least be emotional infidelity.
We end the episode, and the evening, with Patrick meeting up with his friends at a bar. It is made clear that Agustin has talked with Frank about his prostitute, but that he isn't being completely honest with either one of them. We also get a return appearance of Richie. As it turns out, part of the reason he left during his first, almost naked, encounter with Patrick is that he is circumcised, and he thought that Patrick was fetishizing uncut penises. After Patrick makes an honest attempt to mend the situation they hit the floor and dance out the episode.
Fair play, writers - you caught me twice tonight when I didn't expect it. I honestly didn't think that Patrick would react so soon or so strongly to Agustin's statements about Patrick and Kevin's relationship. I also didn't think that Richie's motivation for leaving the previous time would be because he is a circumcised Latino. Neither is a hard storyline to believe, and Richie's is somewhat sympathetic; it's just the first time the show has taken a direction I wasn't expecting. Maybe this is a new trend.
Categories: Other Voices
/