Shopping Cart
Your Cart is Empty
There was an error with PayPal
Click here to try again
Thank you for your business!
You should be receiving an order confirmation from Paypal shortly.
Exit Shopping Cart
The New Millennial Gay Experience
Being gay in our emerging new world
| | |
| --- | --- |
| Posted on February 27, 2014 at 1:30 AM | |
By Dennis Stone
I've been talking for years about the inevitability of gay marriage, legal equality and the generalized societal acceptance of gays and lesbians, at least in the Western world. But even I have been left in open-mouthed astonishment at how fast the process is proceeding. Just in the past couple of weeks we've seen several major developments that reflect a swift and massive cultural change, a change that reinforces the unstoppable inevitability I've been talking about.
1. Earlier this evening, Arizona Gov. Jan Brewer vetoed the discriminatory "religious liberty" bill that would have allowed businesses and individuals with "sincerely held religious beliefs" to refuse service to gay people. The veto is remarkable for what it tells us about the evolving American reaction to the issue of gay equality. First of all, Brewer is a far right political figure who has been aligned with Tea Party positions on everything from immigration to guns to gay issues. But she is also a pragmatic politician who can read the tea leaves, and she obviously knows that anti-gay discrimination just isn't socially acceptable, even in conservative Arizona. Remember, Arizona was the state that refused for many years to accept the Martin Luther King holiday, and that in 2010 passed a strict anti-immigration bill.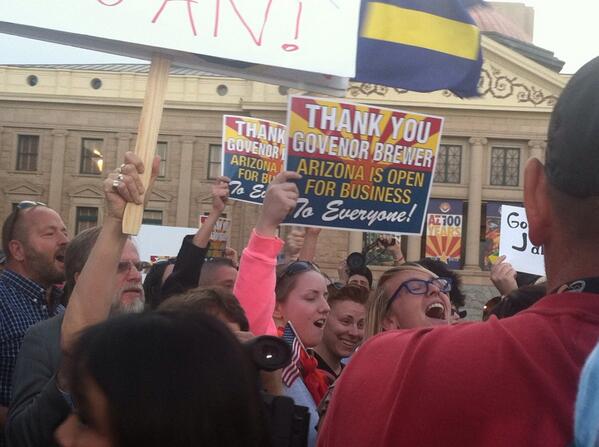 Both of Arizona's senators (John McCain and Jeff Flake) called for a veto – and both are Republicans. Three of the Republicans who voted for the bill changed their minds and urged a veto. Mitt Romney called for a veto. Multiple companies who do business in Arizona condemned the bill, and the National Football League was reportedly considering moving next year's Super Bowl from the state if the bill became law. This sort of popular uprising from all quarters of "traditional" society – Republican leaders, large corporations, the sports establishment – would not have occurred in the past. In simple terms, this incident shows that the American establishment is STRONGLY on the side of gay rights. It's not controversial or dangerous to support gay rights, as was once the case. Rather, it has become a dangerous and unacceptable thing to OPPOSE gay rights.
2. Also earlier today, a federal judge in Texas issued a ruling striking down Texas' ban on same-sex marriage. Judge Orlando Garcia called the Texas ban "state imposed inequality." His simple – and, in my opinion, unassailable – reasoning was that same-sex marriage is not some sort of new right separate from "straight" marriage, but is a part of the fundamental right of marriage that should apply to everyone.
I had always thought that Texas would be one of the very last states in which gay marriage was a reality (in the absence of a sweeping U.S. Supreme Court ruling). But there seems to be a growing consensus in the judicial system that same-sex marriage is required if equal justice and opportunity under the law is to be realized. There are now four states where judges have struck down bans (all four are under appeal), and there are two others where the states have chosen to not defend their marriage bans in court cases that have been filed. In all of these cases the legal arguments are the same, and judges seem to be consistently making the same rulings for the same reasons. That creates a powerful body of precedence and legal consensus.
In the U.S. there are now 17 states, plus the District Of Columbia, that recognize marriage equality. Those states cover more than half of the population. Then there are the additional six states where courts seem poised to grant equality (pending appeals, though I would be surprised if the appeals were successful). What we have here, folks, is a movement that can't be stopped. The consistency of the judicial rulings in the states provides additional reason to think the Supreme Court itself will eventually rule in our favor.
Think back to where we were five years ago. I don't think anyone – even an incurable optimist like myself – thought we could go this far this fast, with a future that's brighter by the day.
3. Last week basketball player Jason Collins signed a contract with the Brooklyn Nets, and last Sunday night he became the first gay person to play a game in one of the United States' "big four" professional sports. That was a monumental moment in our progress, but it was surprisingly anti-climactic. There was nothing but support from the league, Collins' teammates, opponents, the sportswriting establishment, etc. The game came and went, and the earth-shattering was transformed into the mundane. As a bit of icing on the cake, the league announced today that Collins' new jersey is the biggest selling jersey on NBA.com, topping the jerseys of superstars like Lebron James and Kevin Durant.
I assume most readers know the torturous journey endured by Jackie Robinson, the first black player in Major League Baseball. A large portion of fans, sportswriters, and the country as a whole couldn't accept the idea of a black man playing professional sports with whites. Compare that to the integration of Collins into basketball last Sunday night.
4. Missouri college football player Michael Sam came out as gay earlier this month, and he will almost certainly become the first openly gay NFL player after being drafted in May. (Unfortunately, his performance at this week's football combine – where prospects are interviewed by teams and undergo various testing – was remarkably mediocre, leaving serious questions as to how good a pro player he will be.) The key point is that Sam's coming out has been greeted with almost universal support. It is just not socially acceptable any longer to express issues with an athlete's sexuality. He received a standing ovation at a Missouri basketball game when he was shown on the arena video board. The only significant reservations had to do with the perceived amount of "distraction" that Sam's presence on a team will cause in the media, and most everyone who expressed those reservations did so anonymously.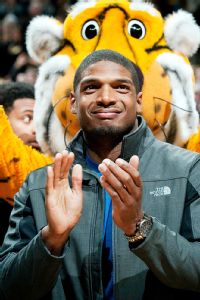 Michael Sam at the Missouri baskeball game, getting a standing ovation.
Here's what I think will happen with Sam. Unfortunately, because of his combine performance, and the fact that his physical size means he can't play his college position of defensive lineman, he will be drafted in a later round. He'll make the team as a special teams player. There will be a lot of media hoopla at training camp at first. But then, as with Collins, the issue will rapidly become devoid of drama, and Sam will essentially be just another football player. But a huge door will be broken down, and within a year one or more other players will come out.
Multiple team owners and executives have said Sam will be as welcome as any other player. Star players – such as Super Bowl hero Russell Wilson – have said the same thing. There will be taunts from some fans – there are taunts for everything since many sports fans come from an earlier human evolutionary strain – but the whole experience will essentially be free of drama.
All of this together represents nothing short of a societal revolution. But I don't think most gay people fully understand or appreciate how remarkable this cultural transformation really is. To read most gay sites and most comment sections we're still living in the dark ages, surrounded on all sides by homophobes and existential threats. The most frustrating thing about that lack of awareness is that it is often older gays – who lived through the 60s, 70s and/or the 80s – who don't really appreciate or fully understand what is happening.
There's an irony in all of this. As a community – especially those of us who have lived through some legitimate dark times – we have anticipated and dreamed about the big moments that we hoped to live to see. Repeal of Don't Ask, Don't Tell; marriage equality in even one state; a president fully in vocal support of our rights; gay football players; gay senators and representatives; gay romantic relationships on television taken for granted. We've now seen all of these things, and many others, in the past couple of years, and yet in many ways it all seems a bit anti-climactic. In an odd way it almost seems too easy. Rather than being earth-shattering moments, they just seem somehow inevitable. OF COURSE we have marriage equality for over half the population, OF COURSE we have a president that fully sides with us, OF COURSE there are gay professional athletes. It is our rapid and relatively easy success – success that now permeates most of Western society – that has robbed these moments of the sense of revolutionary triumph that our dreams had prepared us for.
May we have many more anti-climactic moments in the coming year.
Before we get carried away, though, I have to remind us that I am talking about the Western and developed worlds. Russia, Uganda and other places are still living in truly dark ages. Those of us fortunate to live in America and elsewhere must remember our brothers and sisters in these oppressive countries, and do whatever we can to help them. Give money when possible, agitate wherever and however appropriate, keep talking about those countries. Unfortunately, as individuals there isn't much we can do. I am hoping that the march of history, and the success of growing equality in the West, will have an evolutionary impact on Russia, Uganda and the other countries enveloped by the dark night of the human soul.
Categories: Commentary
/