Shopping Cart
Your Cart is Empty
There was an error with PayPal
Click here to try again
Thank you for your business!
You should be receiving an order confirmation from Paypal shortly.
Exit Shopping Cart
The New Millennial Gay Experience
Being gay in our emerging new world
| | |
| --- | --- |
| Posted on March 24, 2014 at 4:45 PM | |
By Dennis Stone
(Well, this was my first attempt to write a blog post, but it grew into the size of an article. That may not be an uncommon occurrence.)
I've been fighting a cold for the past few days, and while flipping channels aimlessly on the TV Saturday night I came upon "Guess Who's Coming To Dinner." It was toward the end of the movie, but I've seen it before and so that didn't matter. I decided to hang around to watch Spencer Tracy's wonderful soliloquy at the end. And to see Tracy in action with Katharine Hepburn and a stunningly debonair and handsome Sidney Poitier. Talk about dream casting!
The idea of Tracy and Hepburn playing a married couple had one meaning at the time the movie was made, and for many years later, considering the intensity of their off-screen relationship. It has an added meaning today, considering what we now know about their bisexuality. (Some would call them gay rather than bisexual, but both had multiple straight relationships, and Tracy's were quite intense. The more I see of life, the more I think "fluidity" is the most appropriate word for human sexuality.)
For anyone who hasn't seen the movie, it was made in 1967, and was about a young white woman (Hepburn's niece, Katharine Houghton) who falls in love with a black man (Poitier). Hepburn and Tracy played the woman's parents. Though Tracy's character was a liberal newspaperman, he was adamantly opposed to his daughter's plans to marry a black man. Hepburn was initially opposed herselfl, but was quickly won over. After much angst Tracy came around as well, leading to his marvelous speech in which he compared the love he felt for Hepburn when they met to the love that Houghton and Poitier were experiencing.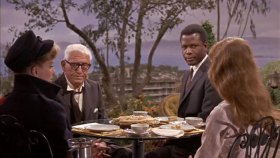 The movie is quite dated in some ways, but was provocative and daring in many quarters at the time. A poignant note is felt when watching Tracy, who died 17 days after filming completed. In the movie he seems so healthy and still vital.
I am writing about the movie because of a scene that I had completely forgotten about. Poitier's parents visit Tracy's home, where Tracy hopes to enlist them to help talk their children out of the marriage. That seems like a good plan since Poitier's father is more adamantly opposed than Tracy. In one of the pivotal scenes Poitier has it out with his father. He blows up, then turns around to compose himself. When he turns around again he tells his Dad that he will always love him, but...."You think of yourself as a colored man.  I think of myself as a man."
Wow. That hit me hard because that's exactly how I see the gay situation today, and how I see my place in the world. I am not a gay man. I am a man. The universality of the human condition trumps any individual characteristics I have. My identity as a human bonds me to my straight brothers and sisters far more than my identity as gay separates me from them. 
When I look at the gay community, though, I see men who see themselves as gay men, rather than simply as men. For them, being gay defines them, it sets them apart from the rest of humanity. They are like Sidney Poitier's father in "Guess Who's Coming To Dinner." Poitier's point to his father was that his self perception as a "colored man" limited him, defined him too narrowly, and as such it generated a skewed view of humanity and his place in the world. That is what I see in our community today. 
You can fight for gay rights, you can oppose intolerance and injustice, even if you identify first as a man, a brother to all rather than just to your fellow gays. You can be proud of your sexuality without it overwhelming all of your other human characteristics. You can be true to yourself and to your destiny if you remember Sidney Poitier's words to his father. They are liberating rather than limiting. 
"You think of yourself as a gay man. I think of myself as a man."
Categories: Commentary
/