Shopping Cart
Your Cart is Empty
There was an error with PayPal
Click here to try again
Thank you for your business!
You should be receiving an order confirmation from Paypal shortly.
Exit Shopping Cart
The New Millennial Gay Experience
Being gay in our emerging new world
| | |
| --- | --- |
| Posted on November 10, 2014 at 12:10 AM | |
I'm trying to get back to writing for the site regularly, and so I have to get to where I can just write things off the top of my head occasionally. So here's an inconsequential piece of fluff!
I watched last night's Saturday Night Live rerun, with guest host Bill Hader. My generalized view of the show is that the cast is quite good, but the writing often comes up short, and the show often feels stale and formulaic. The Hader episode was quite consistently funny, though, and even inventive. As usual, there were several gay moments. (That's not surprising since there are 2-3 gay writers, and of course Kate McKinnon is gay.) In one sketch McKinnon played Jane Lynch as the host of her real-life game show, introducing herself thusly:  "I'm Jane Lynch, America's #2 lesbian."  In an Update segment, Michael Che said that gay marriage is legal in 30 states, though he felt sorry for one gay group:  those guys who very much don't want to get married, and until now have had the perfect rationale not to. And, of course, Hader reprised his hilarious Stefon character.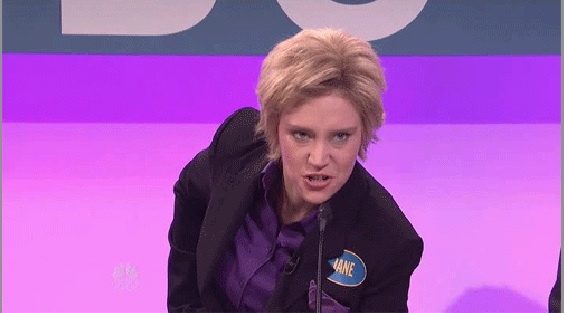 Kate McKinnon as Jane Lynch
I find it quite humorous that critics have been writing off the show for years, and the lament is generally that the show isn't what it used to be. I did a bit of research, and there have been articles written throughout the years that have made that claim. At each point in the show's history there have been wise media types who have said the show is dying. In fact, Chevy Chase left after the first season, saying the show had overstayed its welcome. He seems to have been slightly premature.
But the ratings have been falling the past couple of years, and the show does strike me as having become extraordinarily formulaic.  Almost every single show follows EXACTLY the same pattern. There's the cold opening, followed by a monologue, then a couple of skits, then a musical performance, then Update, then more skits, another musical performance, a final skit, and then a goodbye with everyone hugging each other.  EVERY SINGLE WEEK that pattern is repeated.
About the only exception I can think of in the past few years is the recent appearance by Prince, who did one musical performance for an extended eight minutes, with no second appearance. The total novelty of that innocent departure got me thinking about the stodgy predictability.  And it took me about two minutes to come up with a solution that could help to re-energize the show:  change the pattern, become unpredictable.  Brilliant!
I remember reading a psychology book years ago that talked about how important it is to change your routine habit patterns if you want to change the quality of your life.  For example, everyone puts on and ties the same shoe first all the time. So consciously change that. Put on the other shoe first!  Then extend that idea to other parts of your life. The simple act of changing small things like that opens the mind to the potential of more substantial changes. It subconsciously expands your perception of possibilities.
Why can't a staid, predictable television show do the same thing? When they have a big name musical guest, lead off with a song!  Why the hell not!  Or instead of announcer Darrell Hammond listing all the cast members over a filmed intro, do some sort of live introduction, with each cast member coming out for a bow, like actors might do after a play. Occasionally split Update into two parts.  Or end with a musical performance. U2 did that once several years ago, and it's one of my favorite memories of the show, with Bono flirting with Tina Fey and Amy Poehler.  There are all sorts of different ways to construct the show. The sense of unpredictability would be a big improvement over "the formula," and, as with tying the other shoe first, could generate new vitality and a sense of greater possibilities.
So there you go, Lorne Michaels.  Take my advice and you'll have a better show. Though, of course, finding a couple of really funny writers wouldn't hurt either. 
Categories: The Blog
/