Shopping Cart
Your Cart is Empty
There was an error with PayPal
Click here to try again
Thank you for your business!
You should be receiving an order confirmation from Paypal shortly.
Exit Shopping Cart
The New Millennial Gay Experience
Being gay in our emerging new world
| | |
| --- | --- |
| Posted on August 20, 2016 at 12:30 AM | |
By Dennis Stone
I like Tim Gunn. He has always come across to me as a guy who is totally confident in his sexuality, and who would be a fun guy to hang out with. He has a good sense of humor, doesn't take himself too seriously, and is classy without being uptight.
He is also a walking stereotype. He has a quintessential gay voice, he has gay mannerisms, and his entire being just exudes a gay sensibility. Some would call him a big ol' queen. All of which I love about him!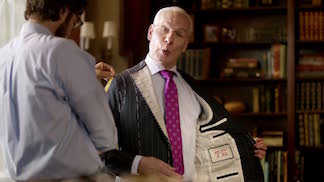 I have recently seen Tim Gunn as the star of a TV commercial for Allstate insurance. You can see the commercial https://www.ispot.tv/ad/ABon/allstate-tailor-featuring-tim-gunn" target="_blank">here. What struck me was how overtly stereotypical he is allowed to be in a mainstream commercial for a very old and very mainstream American company. It's as if the director was saying from behind the camera, "Flame it up! More! More!"
Seeing the commercial got me thinking on several levels. First, it certainly represents the degree to which gay people have become acceptable in straight society. Ten years ago (or even five) this advertisement would not have been considered. Ten years ago not even Neil Patrick Harris was out. Ten years ago it would have been rare for an out gay personality, even if completely straight-acting, to be in a mainstream ad.
I read an article that said that Allstate is using Gunn (in addition to SNL cast member Leslie Jones and "Modern Family's" Adam Devine) in a conscious effort to appeal to millennials. In other words, a stereotypical gay guy is seen as a boon in reaching the emerging American mainstream society. As someone who came of age before the AIDS crisis, I say: Wow!
My second reaction was how gay attitudes toward stereotypical representation have changed. I remember having arguments with people on AfterElton who said that Kurt on "Glee" was too stereotypical, and was therefore damaging to the gay community. The same arguments were made against Cam on "Modern Family." A lot of people wanted their representation to be characters like Luke and Noah on "As the World Turns" or Kevin and Scotty on "Brothers and Sisters." Guys who were indistinguishable from straight guys except for whom they slept with.
I think most - though not all - gay people have relaxed regarding gays like Tim Gunn. As self confidence and strength of identity increase it is easier to be relaxed about representations that fit into the "stereotypical" mold. It is easier to see the world as it really is. And in the real world gay people like Tim Gunn and Kurt Hummel are common. It's great that both the gay and straight worlds are now largely embracing them.
Though of course there are a lot of people that want to belie the last sentence in the preceding paragraph. In doing a Google search to find a good link for the Allstate commercial I came upon a site devoted to commercials that the creator of the site hates. One of them was Tim Gunn's Allstate commercial. There were comments about how the writer didn't mind gay people, but didn't like how "they" had to throw it in the faces of straight society by being so flamboyant. Another said he didn't mind gay people, but had an aversion to the overtly "prissy" ones. Other comments were along the same lines.
Well, you can't please everyone! But the bottom line is that major American businesses have one primary motive - making money. And if they and their research indicates that Tim Gunn will help their bottom line, then we've come a long way - in regards to both gay acceptance in general and acceptance of the more stereotypical segments of gay society.
Categories: Commentary
/